Of my blog for way too long!!! This makes my post, the first of 2013! Much of the things I need to blog about are long overdue. Let's get started and go back a few months...
First and foremost, HAPPY NEW YEAR! The world didn't end on Dec. 21 and another wonderful year has been tucked away under the belt. I'm striving for great and amazing things in 2013!
Second, I just celebrated my 22nd birthday. Being twenty-two just sounds so old... but saying that I'm twenty-one just makes me feel like I'm underage. Nonetheless, I'm still going to say I'm 21 and milk it for the next 20 years.
2012
2012 overall was an amazing year, but also on the other hand, it was somewhat rocky. I still am truly blessed for all the great things that happened to me. I celebrated a Secret Santa Christmas gathering with friends. Our gathering consisted of dinner, Secret Santa and of course drinking games. I gifted an orange world series tshirt, baseball ornament and a lottery scratcher to Josh and I got my Bare Minerals kit that I wanted from Ray!
For Christmas, I spent my weekend with babe and family. It was nice having a relaxing weekend and I watched Titanic in its entirety! I gifted babe's mom a GAP sweater, Hello Kitty plush toy, and Cocoa Bella chocolates, her boyfriend a GAP sweater as well, babe a superdry jacket and a massage chair topper, Ray an express argyle sweater and Mimi the MAC crushed pigments. I received the Too Faced bon bon palette, Benefit coralista, adidas jacket and a cold from babe.
2013
It was New Years Eve and I was still feeling a bit under the weather and I had nearly no sense of taste but babe made reservations to Espetus, a Brazilian steakhouse to ring in the new year. He made reservations for 7:30pm and when we arrived, we were told that we would be seated as soon as they had a table. Needless to say, the restaurant was extremely busy. Luckily they had a bar, where we saw a couple of friends. My boyfriend and I ordered some drinks with the friendly bartenders and chatted. A little later, we were offered a plate of appetizers by a server. The appetizer plate consisted of deep fried banana, mini popovers, and steak fries.
About 10 minutes later, we were seated and awaited our server. Our server came around and told us that we were to go to the buffet line and help ourselves while keeping in mind that they are sides. When we come back to the table with our plates and our little wheel trinket was set to "Sim, Por Favor" would we be served meats. The only menus for the night would be the wine list and the dessert menu.
Our server told us that there were 15 different meats to try as well as pineapple. However, I don't think we got to try all 15 different meats.
Me:
Sirloin
Filet Mignon
Chicken hearts
Sausage
Pork
Lamb shoulder
Grilled pineapple
Bacon wrapped steak
Bacon wrapped chicken
Lamb shank
Babe:
Sirloin
Garlic Steak
Filet Mignon
Chicken hearts
Sausage
Pork tenderloin
Lamb Shoulder
Beef ribs
Grilled pineapple
Bacon wrapped steak
Bacon wrapped chicken
Lamb shank
The best part of my meal was the exquisite sirloin. It was juicy on the flavorful on the inside and charred to a crisp on the outside. My boyfriend really liked the lamb shoulder. We both enjoyed the delicious grilled pineapple. It was like cutting into butter and it burst of sweet, sweet pineapple. For dessert, we shared a delicious creme brulee.
-----
SF restaurants participate in a program, bi-annually where restaurants have a prix fixed menu for lunch and dinner, called Dine About Town.
Babe and I went to Alfred's Steakhouse, however Alfred's Steakhouse should just be Alfred's because steak is clearly not their forte. I ordered oysters, the Caesar salad, boneless ribeye, and bread pudding while my boyfriend had the leek soup, New York steak and chocolate cake.
The oysters were good, just like any oysters you can eat anywhere else. We both waited at least 20 minutes for a simple Caesar salad and leek soup. 20 minutes! It's not like there was even a little garnish for presentation on my boyfriend's soup! An additional 20 minutes later, our main steak entrees came out. Both our cuts of meat were charred black with no flavor whatsoever. This is probably why they give you a gravy cup full of sauces of your choosing. Finally it was time for dessert, and boy was the bread pudding heavenly. The chocolate cake needed more work.
Thoughts:
- Upon arrival to Alfred's, the host seemed a bit discombobulated and unorganized with reservations.
- Our server never came to check on us and ask how our food was.
- There's a ridiculously whopping 17% service charge added to the bill. Supposedly everyone that works there gets a portion of that charge.
- 20 minute wait for soup and salad.
- Ambiance is like Maltese Falcon and Prohibition era speakeasy.
- Steak was terrible.
- Dessert was delicious.
I also had a delightful girls night out on the last day of DAT at Chez Papa Bistrot. The restaurant had indoor and outdoor seating available. The seating indoor is small and a bit cramped. The whole restaurant was also very noisy.
For dinner, I chose the mussels, the lamb and the apple dessert. The mussels appetizers were delicious and had a lot of flavor. I didn't experience any shell residue inside the meat when I bit down and it was cooked in a delicious soupy broth. I have to say though, that the portion was quite large and one could definitely get full off the mussels. The lamb entree was also very flavorful and tangy, however it was slightly salty. The apple dessert was petite and refreshing. My friends and I also paired our food with two bottles of wine. The wine was the right amount of sweet and dry.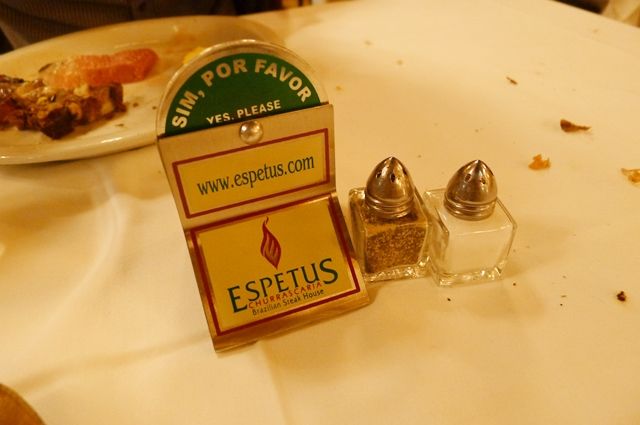 Creme brulee!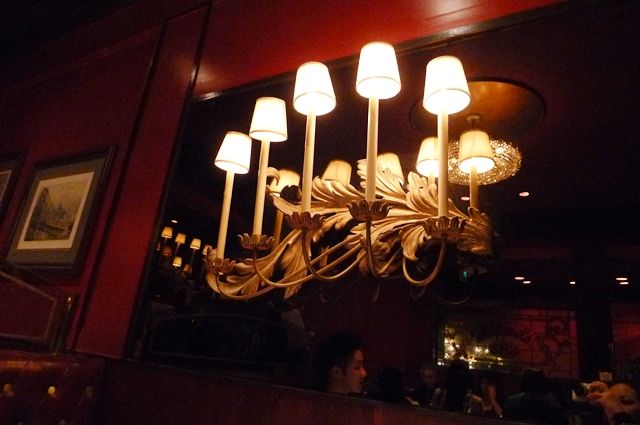 I like lighting fixtures :)
Aphrodisiacs ;)
Salad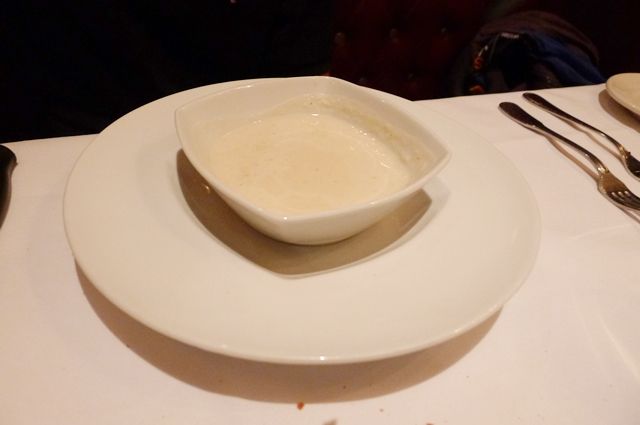 Boring leek soup!
Steak
Steak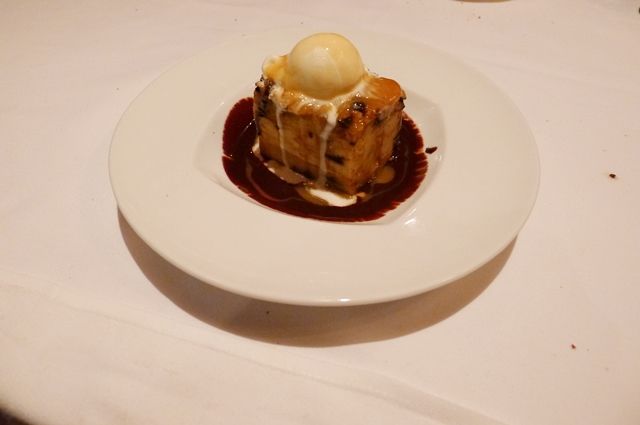 Delicious bread pudding
So so chocolate cake
Babe's escargot
Funny escargot contraption
Salad wasn't very good.
Duck wellington
Dessert! Pretty good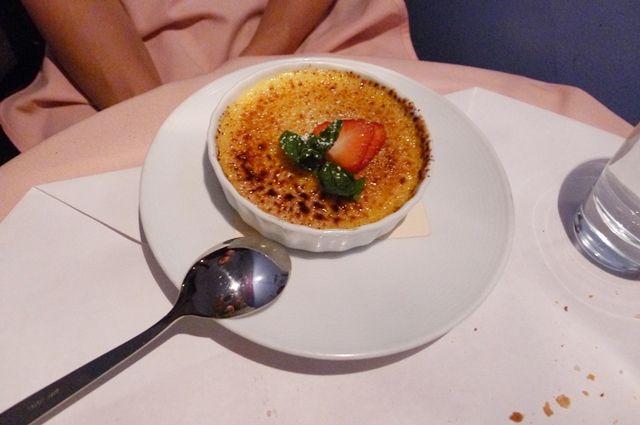 Creme brulee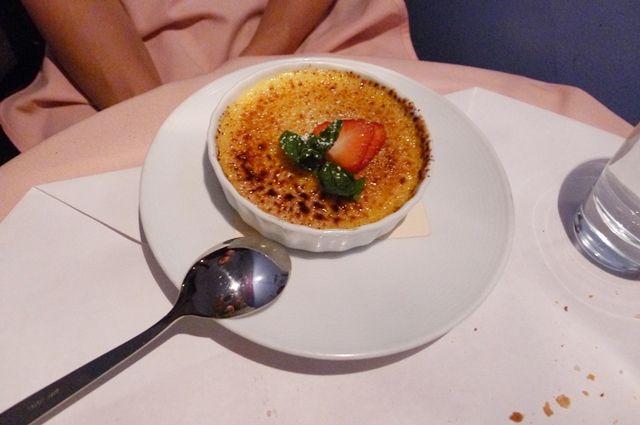 Ramen
Mussels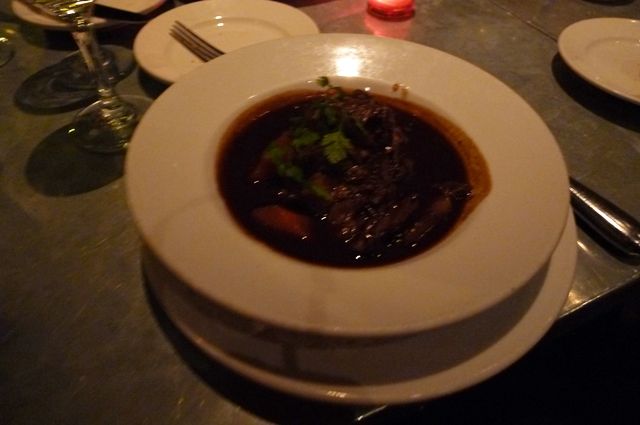 Lamb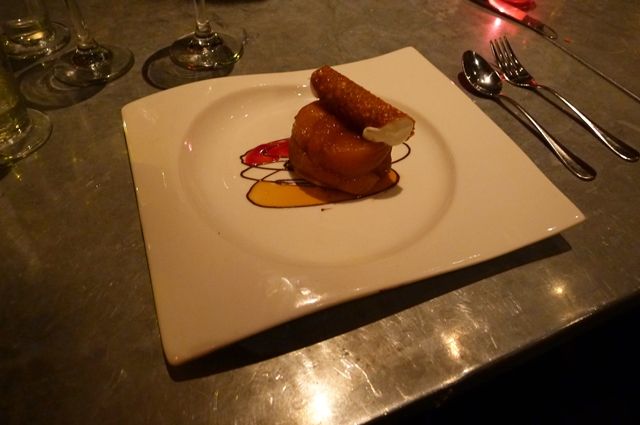 Dessert!