"What're you gonna be for Halloween?" racks up the most points of frequently asked question in the month of October. I.. have no idea what I'm going to be and I frankly don't care that much. There's nothing to do anyways, haha. Maybe pass out candy? Whatevs. As you all know and are aware of, I'm lagging in the blog entry department, but hopefully that'll change soon. There was a lot of changes made within the past few months and a lot of adjustments that needed a taking use to. So forgive me and my hiatus. Man, I really ought to get all my pictures in order. -_-
Friday, October 7th, 2011
Teammate brought me to this amazing and trendy Japanese place. We became WAYYY too full off the good eats there. We got there around 6pm maybe, and there was already a line out the door. Talk about popular and good! Teammate didn't make reservations so we put our name down and took a stroll at Safeway, haha. -_____-' They called us back within 30 minutes when she said the wait would take up to an hour. We had to rush back before our seat was given away to some asshole. This isn't your typical Japanese restaurant... it comes in small plates and no sushi. And so we ordered.... bacon wrapped enoki mushroom x2, bacon wrapped mochi x2, ramen x2, sake steamed clams, house chicken wings, tofu steak with assorted mushrooms, chicken thigh skewers and duck skewers. HOW DO 2 PEOPLE FINISH THAT?! Needless to say, it was dericiouz. the bacon wrapped enoki and mochi were my favorites. So fattening but so good.
Friday, October 14th, 2011
I suggested we eat at Asian fusion cuisine. Teammate and I ordered the Cabo San Lucas for starters, I ordered the Havana and teammate ordered the Manila. I dug into my plate of Havana and tasted the Asian and the fusion. The steak was delicious as was the rice. The rice had a hint of ginger in it. Teammate's Manila was good as well, delicious stir fried noodles with lemon and chicken, complete with lap cherng too! HAHA.
Friday, October 21st, 2011
Craving for Vietnamese food! We headed off to a place I went to with my family and found it to be an absolute gem. We didn't order a lot but it was definitely filling for the both of us. We got the spring rolls for starters and I ordered the flaming beef, and absolute show right in front of our eyes. Teammate ordered the lemongrass chicken. This isn't your typical Vietnamese cuisine either, we got to hand roll our own "spring rolls" with rice paper, mint, lettuce, and sauce. Frikin' delish!
Saturday, October 22nd, 2011
Amylatte was kind enough to invite me to the Nordstrom Trend Show for 2011. I woke up damn early for this and didn't get as many samples as I thought I could. Fun regardless! There were lite refreshments (what they call "breakfast") available for us to try as well as coffee. It was 8am, good choice Nordstrom. There was someone to greet us at the door and hand out pink ribbons with Prada's new fragrance "Candy", smelled wonderful bythewayz. Then there was someone to greet us at each escalator as we went up to view the show. There were SOOO many many prizes and raffle gifts that neither of us won... stupid old ladies, what're you gonna do with those anyways?! The show was over and the whole 4th floor of Nordstrom rushed downstairs to get their make up done. There were so many choices to choose from.... I had time to think about it while in line for Philosophy's oxygen mask. That isht does wunderz mang.... Well anyways, I love the product but they have sulfates and parabens in it, so... sorry. After the wonderful oxygen mask, Amy and I looked around for an available make up counter that would do our makeup. I chose Smashbox... bad idea. Amy didn't feel like waiting around for Dior so she also got her makeup done by Smashbox. I went up first, so I finished first. I had to wait for my Amylatte to finish up and all the while I was standing there feeling self-conscious, ONLY the Smashbox girls came around to tell me my makeup was gorgeous and asked if I liked it. OH MI GAWD, cut the crap ladiez. I looked like straight up crap and I couldn't wait to wash the stuff off. My eyeshadow wasn't blended well, my lipgloss was NOT poppin', and it was awful throughout, I'm sorry I had to be so fake the whole time she grabbed the mirror and told me to take a look. The girl that did my makeup was so vain, she'd rather look at herself in the mirror than do my makeup. I took a look at Amy's makeup, srzly, we do better makeup than that. I don't think I'll be doing my makeup with them again, imagine the tons of germs, ugh. Amy ran to the bathroom to wash the awful stuff off and would rather have been barefaced than go out like that. Amy should have waited for the Dior counter. We headed off back to our hood and grabbed some lunch. I haven't had pizza in a while so we opted for pizza instead of the super busy brunch shop across the street. I rushed back home to change and re-do my makeup so I would look decent to go out in the street. Tonight was haunt fest night at Great America with Teammate! WDUP~~~ I thought we would have real admission before haunt fest started but I was mistaken, we were there about an hour or 2 early so we headed off to Quicklys and Target to kill some time. After we were done we had to get back to Great America to get skurrrred. We entered the park and the first maze/haunted house we went to was Slaughterhouse. The sign outside said that the characters won't touch you, so don't touch them or you'll be kicked out of the park. I must say the characters are damn scary and they get WAY too close for comfort. Especially the ones with fat bellies that rub against you. -____- SMH. It got to the point where they weren't even scary, just annoying. All through the park, they went around spooking people and hiding out in dark corners. Some of them had knee and ankle pads to slid on the concrete.... UH WTF. We went on like 3 rides that night. Drop zone, free fall, and the swings, HAHAHA. After that we went to go get our caricatures done. I love our caricature! I was a mermaid :') Must say it doesn't look like me tho, but teammate's caricature certainly looks like him. After our caricature, teammate wanted to win something so we had to play games. LAWLZ, those bottle games are so hard. -_- He finally won me a minion at the water squirting game.
Friday, October 28th, 2011
Teammate was in the mood for Shabu Shabu, so we went to Shabu House in another city. I must say that that location is absolutely GORGEOUS. Very appropriate for sake bomb contests and go HAM. LOL. I got to see my gorgeous friend Jennifer. Long time no see, and were even given a couple delicious treats. Like fried gyoza, tofu and a melon drink. Teammate and I both ordered the combo meat plate. Yummy in my tummy. Teammate always needs an egg with his meat now, I don't get it, it doesn't taste like anything......... anyways, had a good time and got to see my friend Jennifer! Thank you for everything babe!
Saturday, October 29th, 2011
Had brunch with Teammate before he left to go see his mommy for the day. Back to Beach Chalet, ugh y'all are nasty, Idk why I came back! I had the Dungeoness crab benedict while teammate had the wild mushroom omelet?????? Okay, I won't be back again, you were just the last resort. Went to purple kow after and I went home to bloggity!
Sunday, October 30th, 2011
Had a relaxing day and ate dinner with Teammate. We had Italian food! The place was pretty good, good choice Mabel. I had the pesto spaghetti, and teammate got the chicken penne. Both were delicious and filling!
Monday, October 31st, 2011
Hope you all had a fun and safe Halloween! I got to watch Quaratine with honey but we didn't finish. I'M FRIKIN SCURD YO!!!!! Have fun gaiz!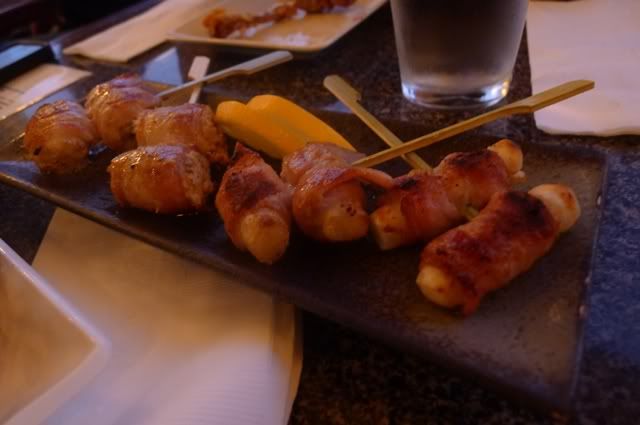 Bacon wrapped goodiez!
Chicken and duck skewers
Tofu steak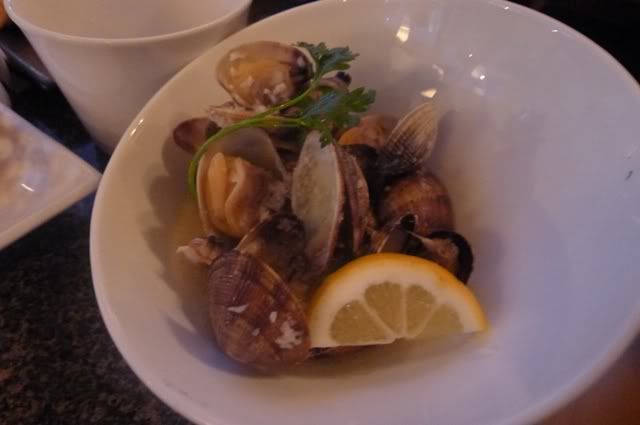 Clams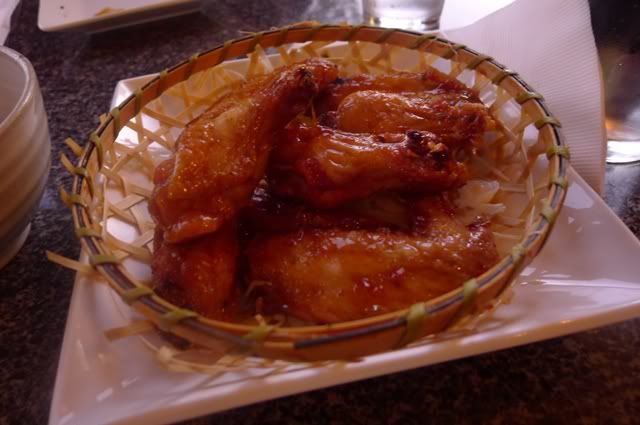 Ain't a thang but a chicken wang.
Ramen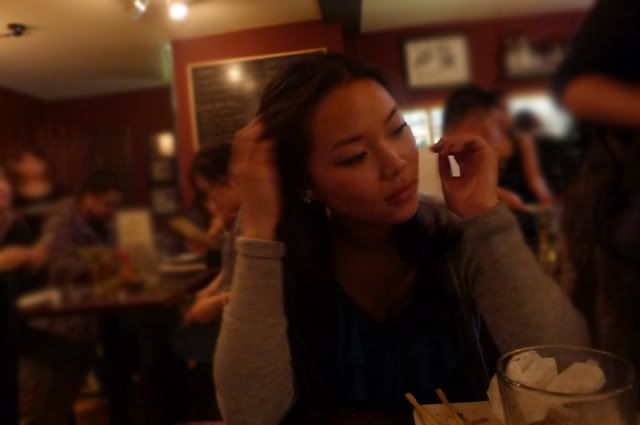 Youre favorite blogger.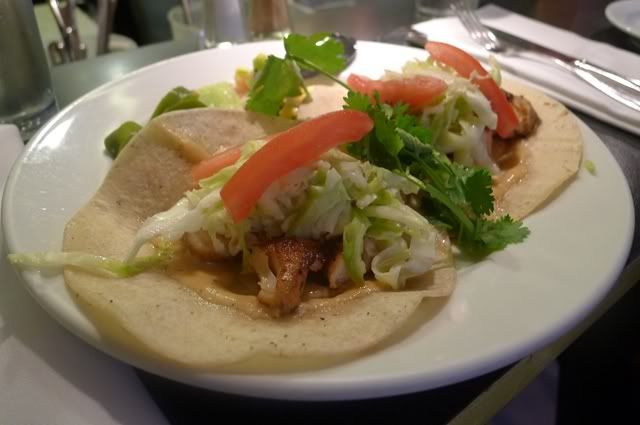 Teh Cabo San Lucas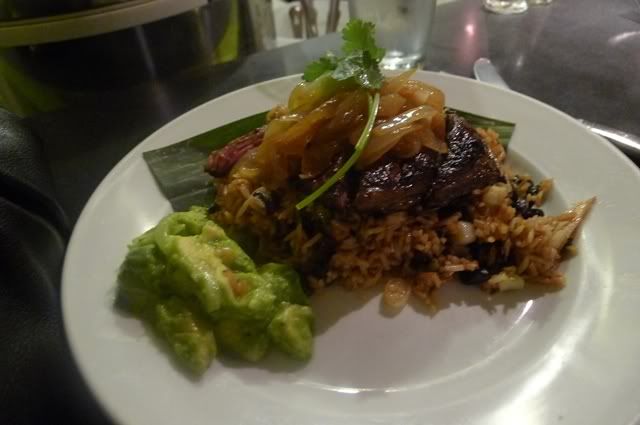 Azn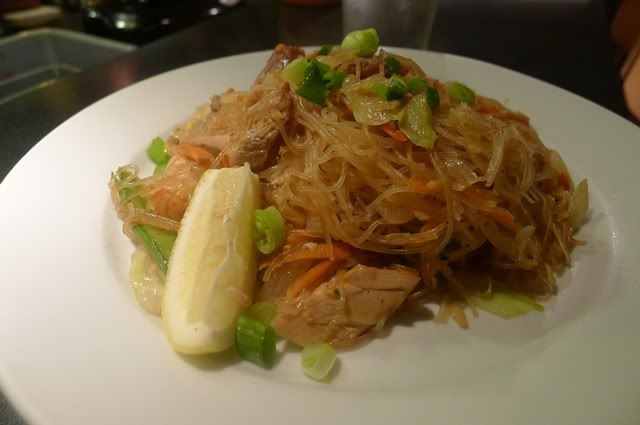 Fuzn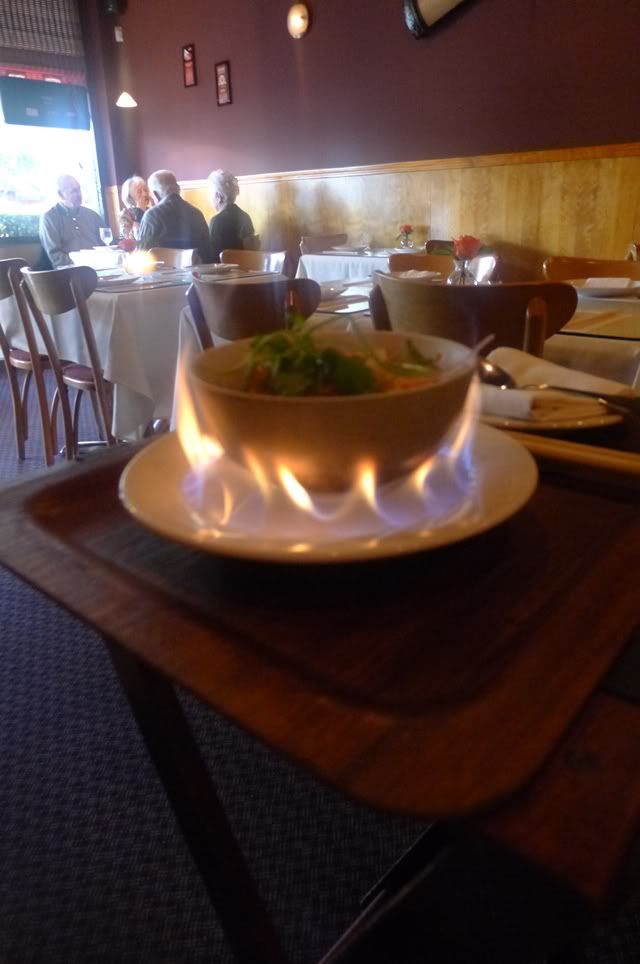 Flaming!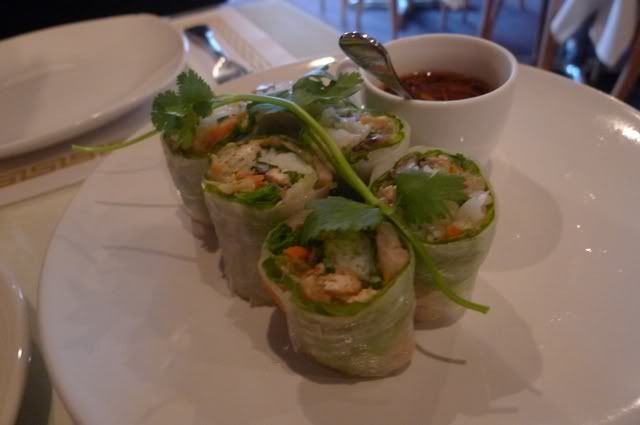 Spring roll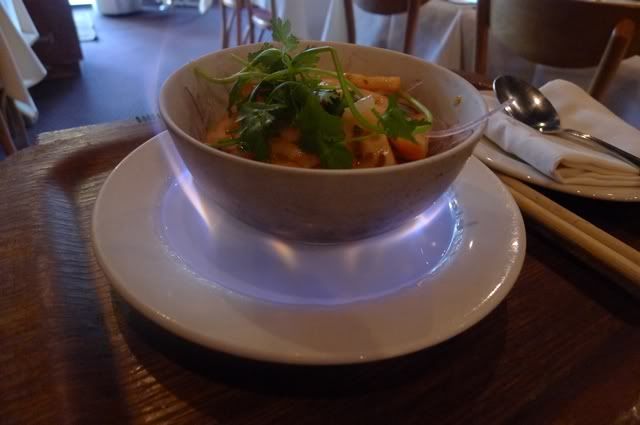 Unce unce unce. Stay fierce ladiez!
On teh way to Great America!
Free Fall!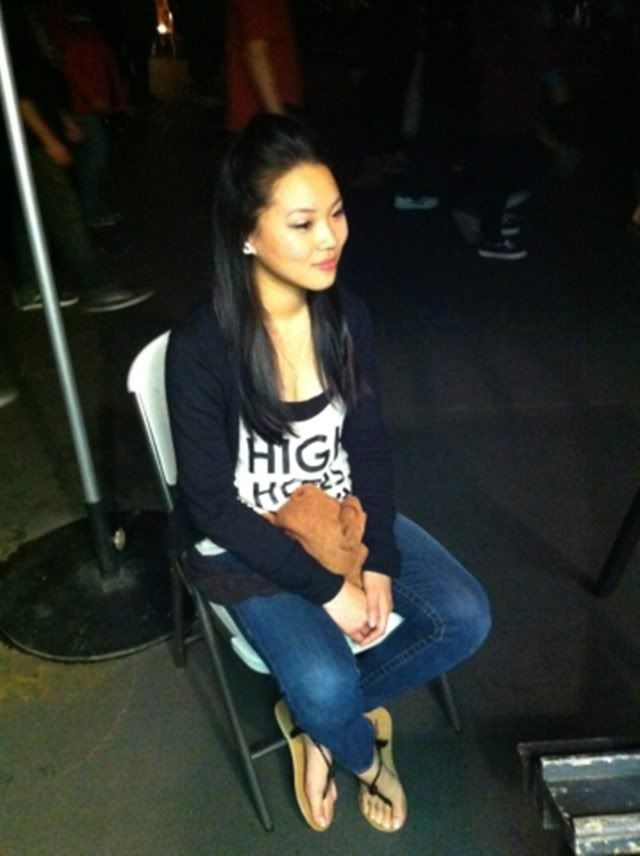 Teammate took this. :)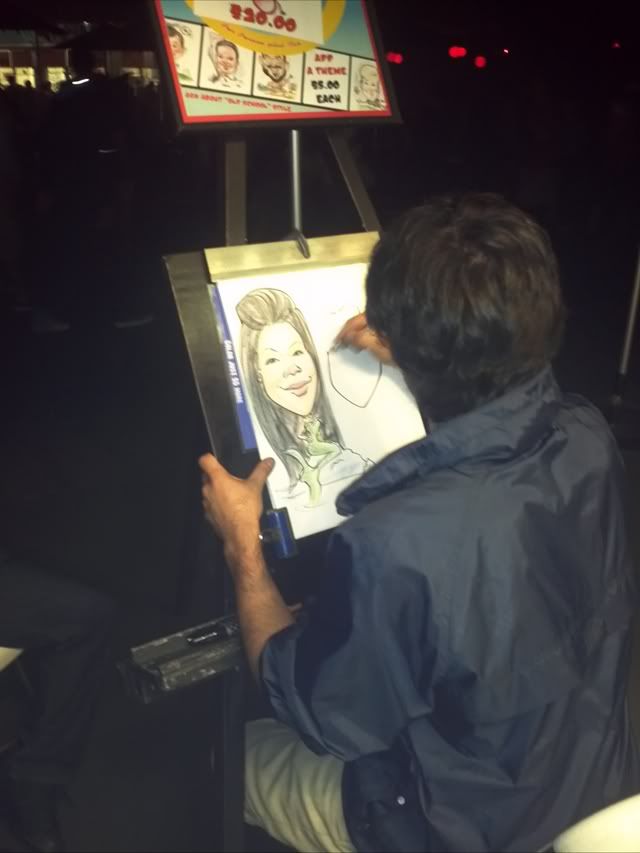 Doesn't look like me. -_-
Completed.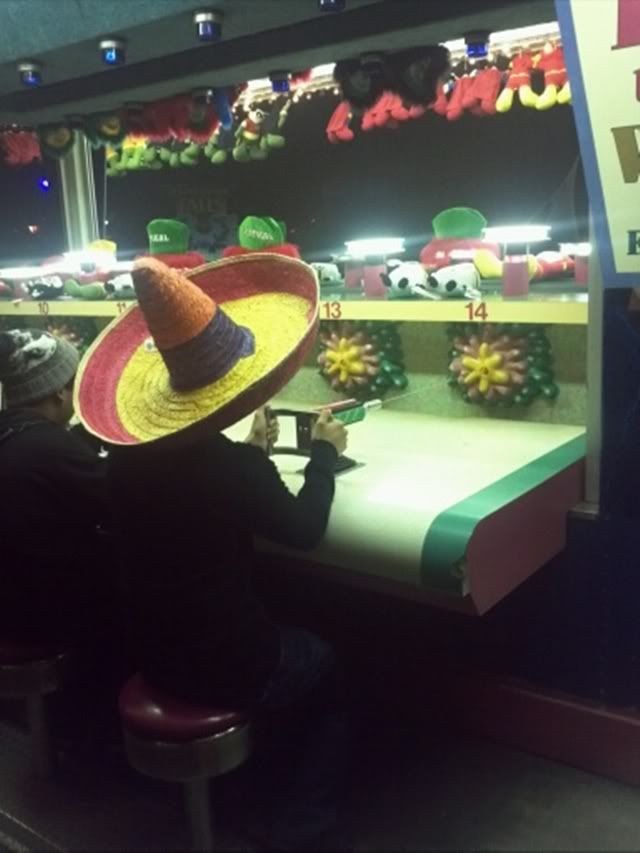 #WINNING!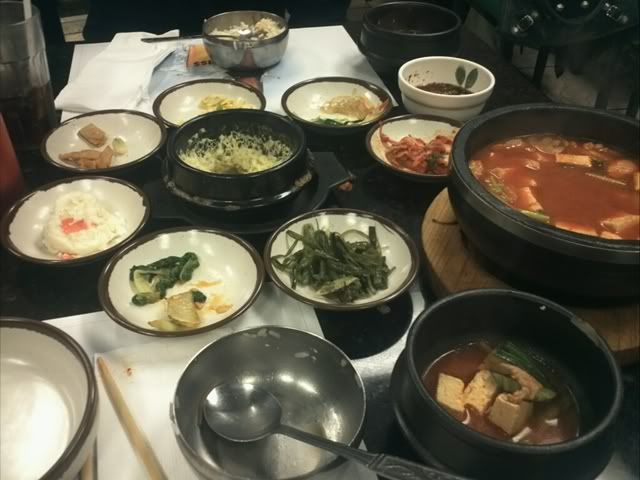 Very late dinner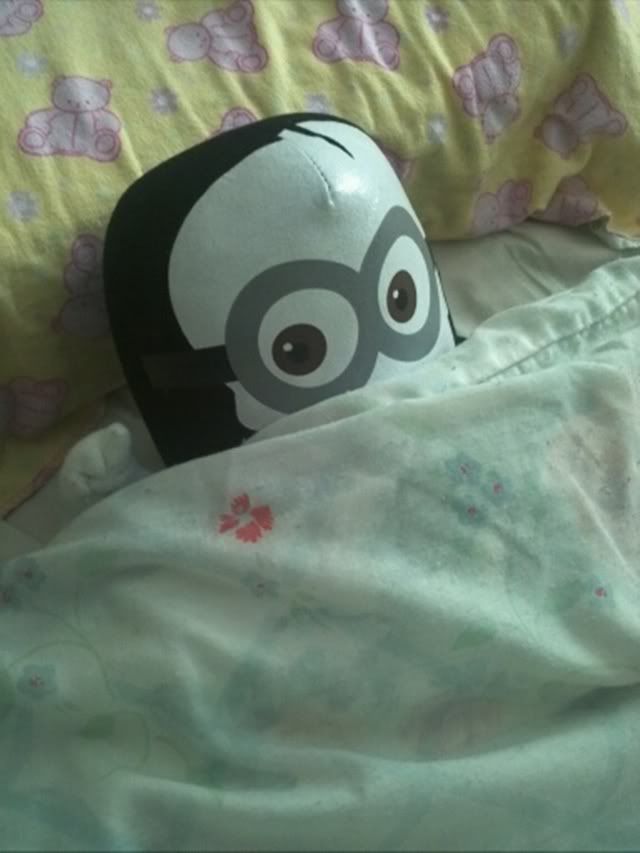 My Minion! :D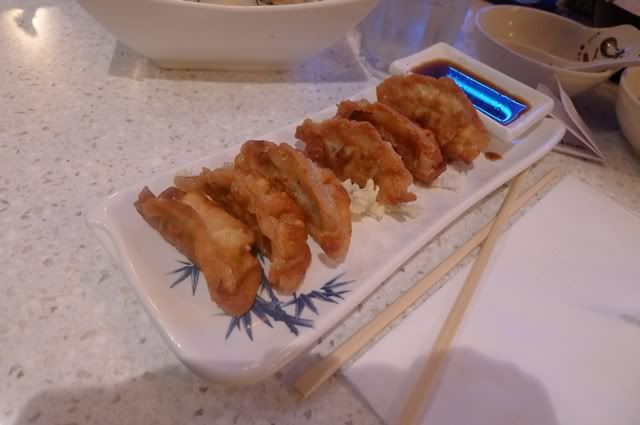 Fried gyoza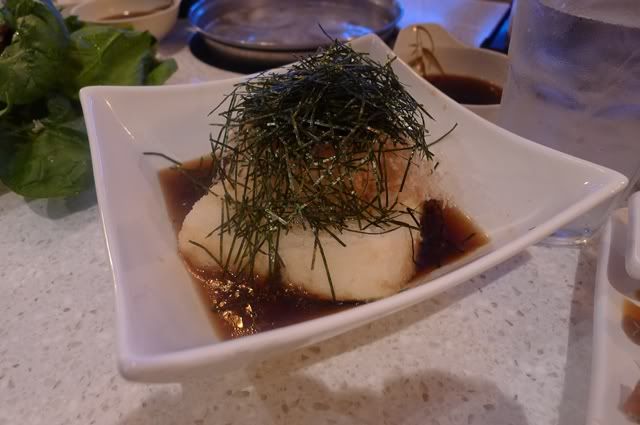 Very delicious tofu!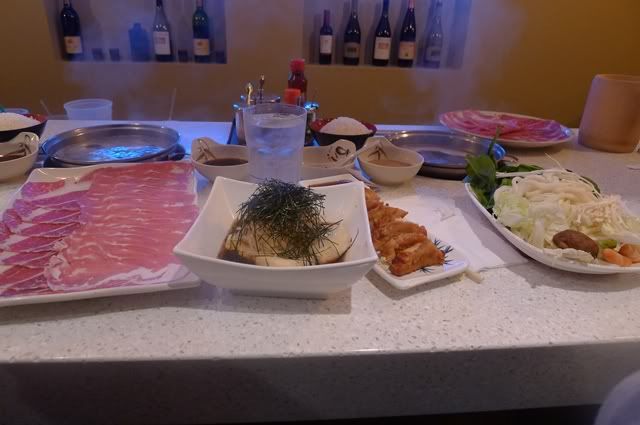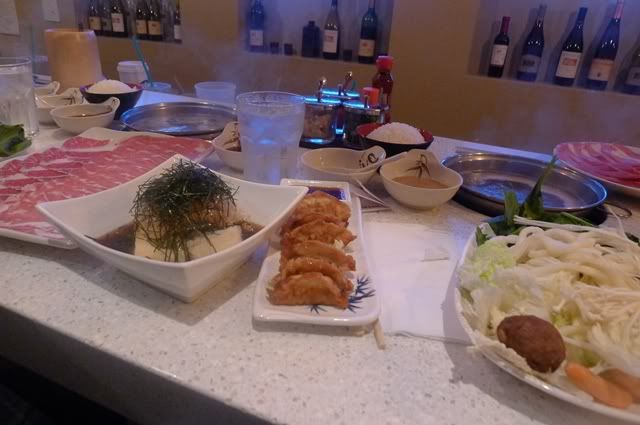 Nomz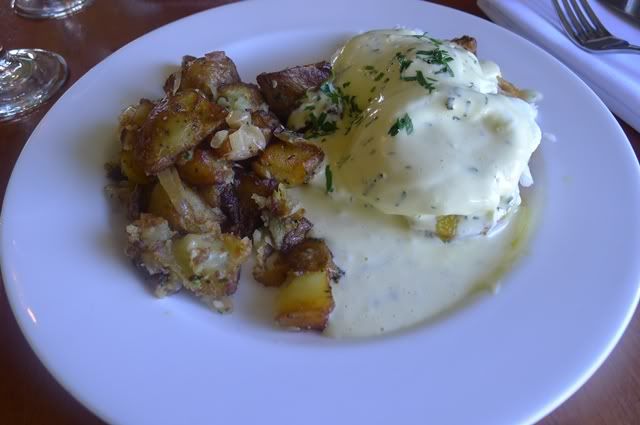 Brunch!