Salutations readers of this blog. You are probably pondering my existence and where I have gone, maybe you think, just maybe I am lying in a ditch or something dramatic of that sort. Quite the contrary! I have been having fun so I can share my experiences and fun so that you can feel the fun I felt.
Moving along... I went to South Lake Tahoe the weekend right before the Spring semester of school began. January 13-16, oh what a fun time I had, why oh why did it have to end?! Initially, teammate invited me so that he could pop my snowboarding cherry. I was so excited! Mini vacay and snowboarding?! YESSS.
The day before, we headed to Sports Authority so I could get some snow pants. I fit Young Boys North Face snow pants. -___- Good thing teammate told me not to rip the tag off because I returned the pants right after we got back from Tahoe. The snowboarding cherry remains intact and unpopped.
Friday, January 13
Teammate drove his brother and his friend to the airport to pick up the rentals cars and headed to his brother's girlfriend's house. I played with her dogs for about 20 minutes and we left. We packed up mostly everyone's luggage, food and games. After getting in the rentals, we went to get some Vietnamese sammitches for breakfast and some for the road. Not before long, we were done and we were off! 3 hour drive was a pain in the ass and the AUX cable in the rental was janky. #firstworldproblems Teammate, I and two others won the race and got there first. We explored around for a bit and claimed the king bed to ourselves. :) Finally the second rental came around 5pm and we relaxed. Not before long, someone decided they were hungry so Joe the cook whipped everyone up a burger. /NOM NOM NOM /Belch... not too soon after that the drinking games began. And not too soon after that Joe the cook whipped up some nachos. So pretty and so delicious. I think we all went to bed around 12 am or 1 am.
Saturday, January 14
Saturday morning cartoons! Football! Oh how can I contain the excitement! I lie, I wasn't excited for either really. I got up and made teammate and I an omelette. YUM. Teammate spent the whole day sitting on the couch and watching football. LAME. I spent a couple of hours just working on my prelicensing materials, I got bored after that so I decided to get dolled up for nothing. :) Time ticked closer to dinner time and Mimi was making tacos and burritos for the night's dinner. It was such a nice dinner, it felt like... la familia. Yet again, not before long, the drinking games started. Intense night that lasted until about 4 am. Taboo and Twister is my shiet. :)
Sunday, January 15
The realization that it was our last night here in South Lake Tahoe dawned on me, better go out with a bang... I made teammate and I an omelette. It is now my specialty. Quickly, it became another day of football but we also planned to go snowboarding. After thinking it over, there was a total count of 8 people but the only ones that would go would be teammate and I. The snow in Tahoe at that moment was artificial. Lame. And $80 to snowboard. Let's plug in the equation shall we? 2 people + artificial snow + $80 = NO SNOWBOARDING and NOT WORTH IT. Sightseeing would suffice but too bad we didn't go. Instead of wasting $80 on artificial snow, we decided to get wasted at 11 am instead of the usual 12 am. After a drunken game of Taboo, everyone else went to the casino, while teammate and I were left home to rot. Just kidding, no we didn't rot. I knocked out on the couch and after I noticed I was drooling I hauled my ass to our room and fell asleep. A couple hours later teammate woke me up before everyone came home. Joe the cook made spaghetti for us that night, yum. Since it was the last night, I kind of wanted to make a toast, haha, but I didn't. owell. Stayed up for a few more hours before teammate and I showered and hit the hay. About 1:30 am, there was a large ruckus outside out our door. "CREEP CREEP!" the loud voice yelled. Oh gosh... I quickly woke up next to teammate with insomnia. After an hour or so, they calmed down and teammate went outside to use the restroom. Outside our door was stacked red drinking cups that made a wall. LOL, finally done with the pranks, I fell back asleep.
Monday, January 16
YAWN, last couple of hours here. Time to pack. I made some breakfast for teammate and I and started packing all our things. I brought way too much stuff on this trip that wasn't used or necessary. The clocked ticked away, coming closer to our check out time. Packed the garbage and the rest of our things into the car. That was it. Goodbye Tahoe, you hold many memories. We left and within an hour we found ourselves at Boiling Crab in Sacramento. People were already waiting in line for the shop to open! Oh goodness. Mimi and Anita invited me to the nail store with warehouse prices. OPI, Essie and China Glaze for $3! WHAT. Man, they had really cheap stuff. Anita told me about the Seche Vite top coat nail polish and how wonderful it was. I bought a bottle for around 4 bucks? Give or take a couple of cents. I still haven't tried it yet, but when I do I'll tell you how it is. Boiling Crab service in Sacramento was kind of eh... Not as friendly or upbeat as the people at the one in San Jose. Lots of crawfish, king crab legs, hot wings, fries and shrimp were ordered. YUMMMY. I love Boiling Crab. :') After Boiling Crab, it was back into the car we go.
What a nice mini vacation. :) I can't wait for the next one! I should have taken pictures of our cabin. :( I wish I took pictures of the food we had as well. Joe made such beautiful looking tacos, haha.
Oh yeah, you probably all read my tweet on how stupid I was. Teammate and I went to Target to buy some necessities for travel i.e. toothpaste, shampoo and the like. Why did I bother to buy travel toothpaste for $1 when I could have gotten it for free at the dental office I work at. STUPIDO.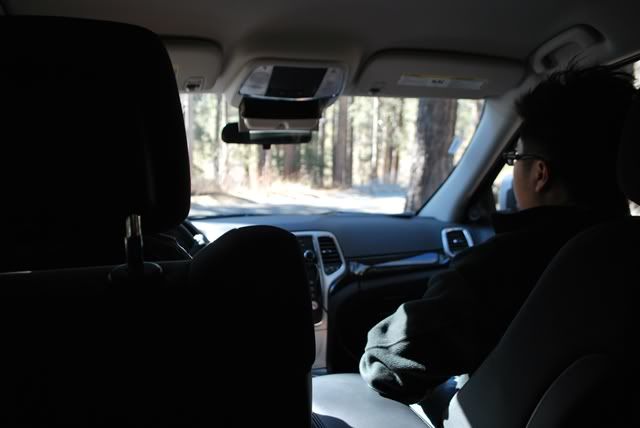 "ARE YOU GAIZ READY FOR BOILING CRAB?!" This is how they respond... not amused.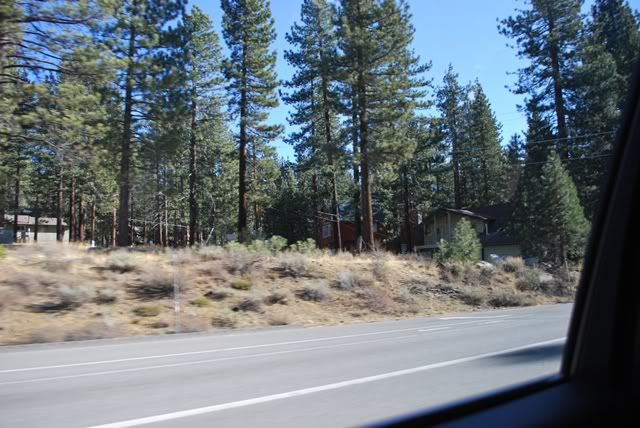 Didn't get to see snow. :(