Harrow boiz and gurlz! So much went on I'm not sure where to begin! I'll just begin in the month of February.
The most important day in February for a couple is... *drum roll* VALENTINES DAY! Lovely Valentines day fell on a Tuesday, so babe and I decided to celebrate early and go what else but fine dining. Gents, if you don't know that date, you're not gonna get a date.
This time around, we headed over to a restaurant named Masa's for French cuisine. Seriously, this place was beautiful but overall
QUIET
. Dead quiet. Penis game quiet. Echo quiet. Whisper quiet. Twas the night before Christmas, not a creature was stirring, not even a mouse quiet. YUP, mad quiet. Got here a couple minutes late because of the crazy traffic and also because of the Chinese New Years parade that was unfolding. Had to walk down a treacherous hill in 4 inch heels but luckily made it unscathed. We were seated immediately and the hostess even offered to take our coats.
Our garcon was extremely nice and friendly and spoke with a calm voice, answering our questions articulately. He also informed us that foie gras was going to be outlawed this year in the summer so I had to try it at least once, and especially so when my boyfriend was raving about how good it is. Babe and I made our decisions and we ordered. Before our food came out, we had complementary bread and even a sample of the crab salad. YUM
First course: Appetizer
I ordered the
Winter Citrus Salad
with fennel, pistachio, mole and citrus gelee. The fruits and nuts were good but the gelatin sauce that was smeared on the plate smelled like B.O. kind of weird when the server put it on our table cus I totally thought it was her!
Babe ordered the
Fruits de Mer
with lobster, uni, calamari, daikon, tosaka, aji, amarillo, and black sesame also complete with a pair of chopsticks! Delicious and didn't have that weird seafood taste to it.
Second course:
I ordered the nothing. I ordered 4 courses while babe ordered 5.
Babe ordered the
Dayboat Scallops
with endive, blood orange and bacon, this is seriously something to rave about. The scallops was seared to flawless perfection and tasted exquisite. WHY DIDN'T I ORDER THIS AS WELL?!?!11 Truly the best damn seared scallops I've ever had. But if you guys know a better seared scallops dish, do tell!
Third course:
Babe and I ordered the
Hot Foie Gras
with duck leg rillette, baby turnips and tart cherries. For those that don't know what foie gras is, it's French for "fat liver". Yeah, sounds kind of gross but it's actually very good! I always used to think it was a fancy name for a type of fish *shrug* Very delighted I ordered it because it was actually very delicious. Usually I don't like slimy textures or oily textures, e.g. fish skin, sashimi, etc. But foie gras is really good and cooked with lots of flavor.
Fourth course:
Both babe and I ordered the
Filet Mignon
with pommes salardaise, baby vegetables and bordelaise. I ordered mine medium well while babe ordered his medium rare. Yes, his was better. I still have qualms about ordering my meat not well done. -__-' My filet was a bit on the dry side but that is my fault I suppose.
Fifth course: Dessert
I ordered the
Buckwheat Crepe
with marmalade de cinqe agrumes, organce glace, chocolate sorbet, and cocoa nib. Both were so delicious! I really enjoyed the ice cream *drool*
Babe ordered the
Peanut Butter Mousse
with peanut shortbread, raspberry, pecan praline, and roasted banana ice cream. I don't usually like to eat peanut butter but this dessert was quite lovely and not overly peanut buttery.
We were basically done for the night until our garcon rolled over a candy shop on wheels. Full of sweets, the cart had homemade macaroons, lollipops, chocolates, brittle, brownies, and more exotic goodies I've never tried before. Babe asked to box an assortment of the goodies into a box to take home since we were much too full to eat another bite.
When Valentine's day really came, Babe took me to the Academy of Science museum to spend the day looking at sea creatures and animals. I enjoyed going up the spiraling dome and seeing the butterflies, birds and stuff. It's really humid up there to cater to the animal's habitat so it's best if you don't go there if you don't like humidity. There's also spiders but they're encased but still freaky, not recommended for arachnophobics. The birds and butterflies are not encased so not recommended if you don't love beautiful butterflies and loud birds. They won't attack you or anything tho. Best part was the living roof... NOT! Idk why the yelpers raved about the roof, there's practically nothing there. Or maybe I just don't know the beauty of it? Bad part about the museum was the kids running around. I think we'll make a trip to CAS nightlife.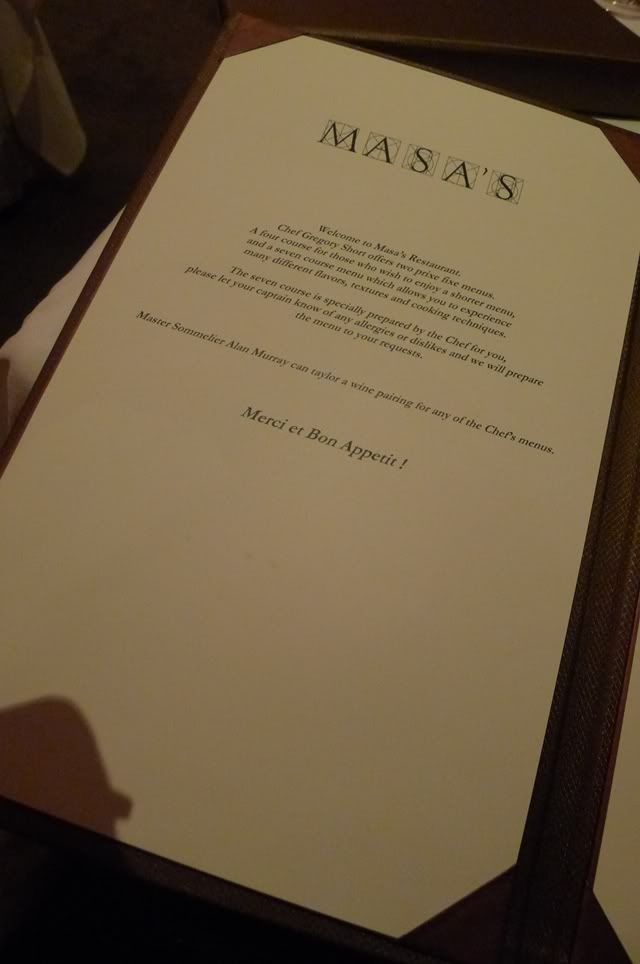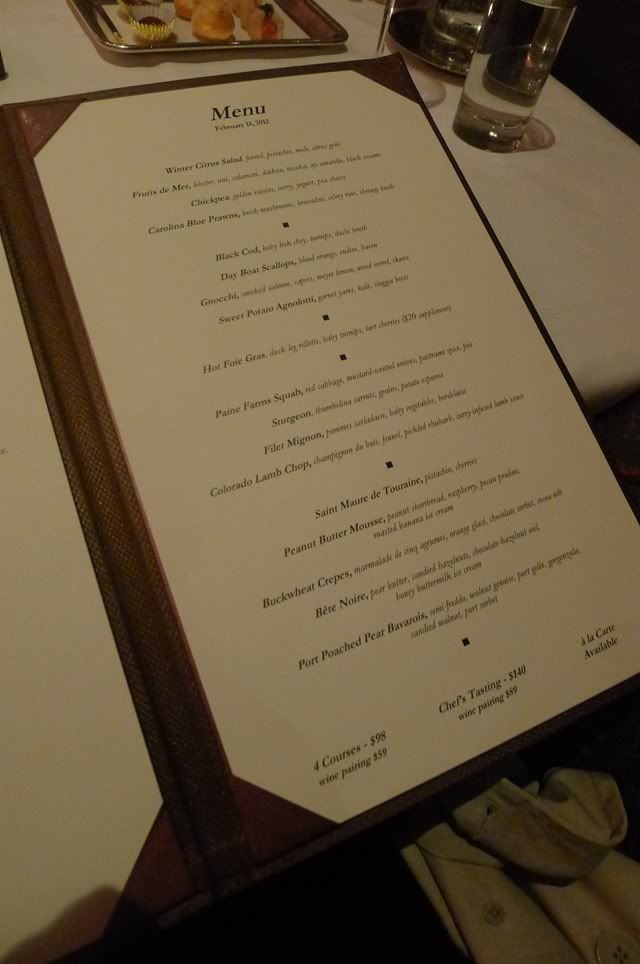 Complementary pre-nomz
More complementary pre-nom: crab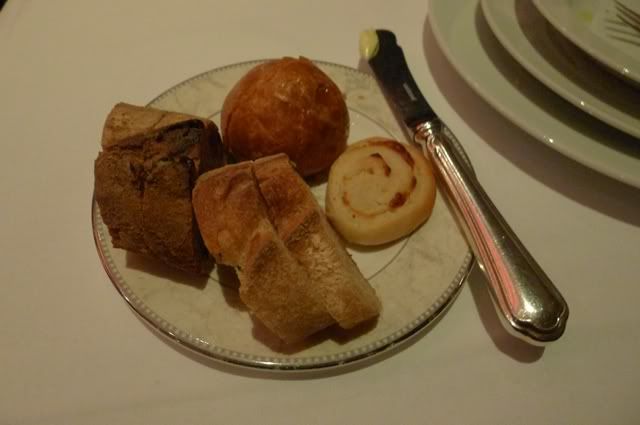 Bread! The one that looks like a cracker is my favorite. :)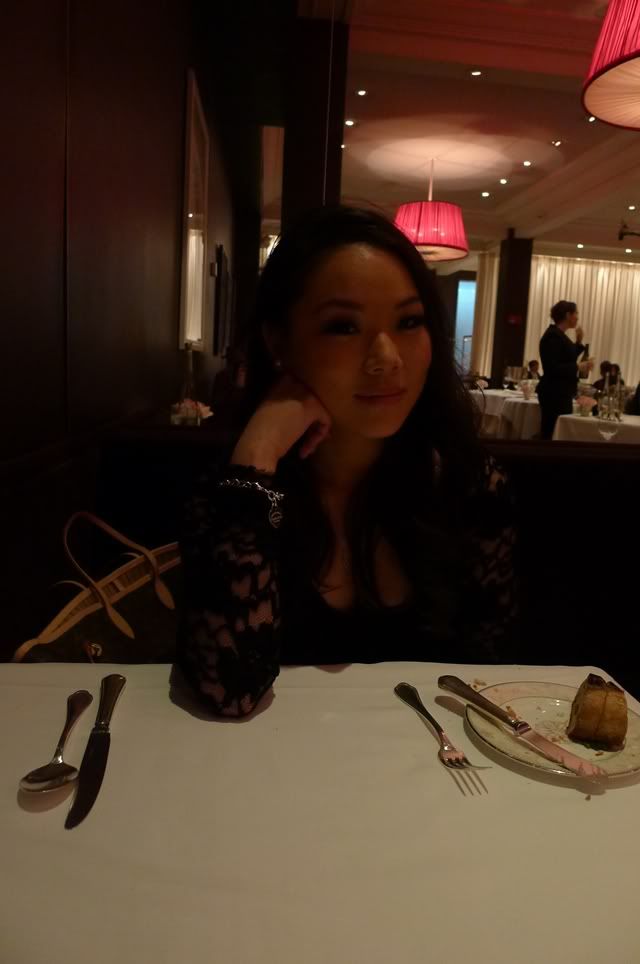 Pre-nomz photo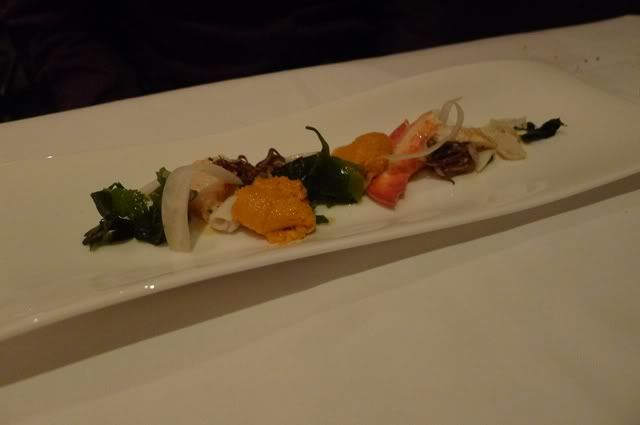 Babe's appetizer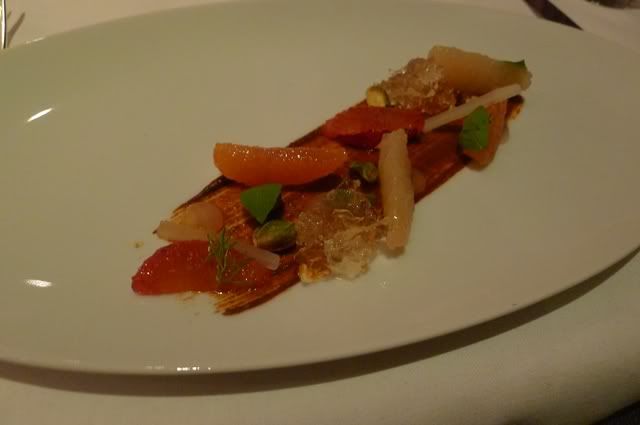 My appetizer
Babe's seared scallops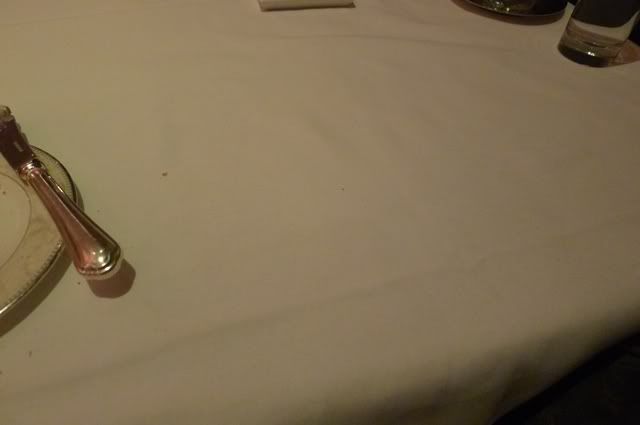 My delicious invisible plate
Me luvz to wait fer food. :(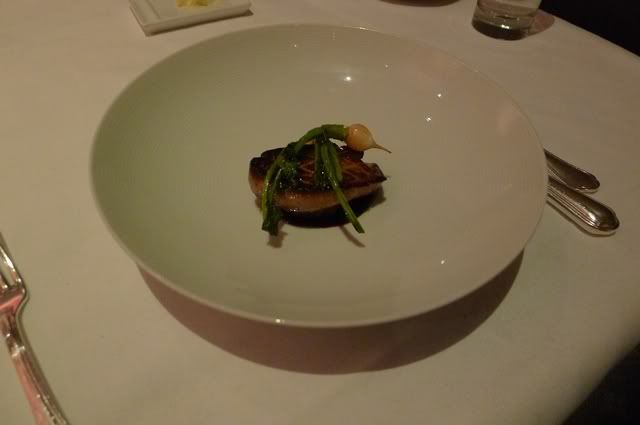 Babe and I's foie gras
Babe and I's filet mignon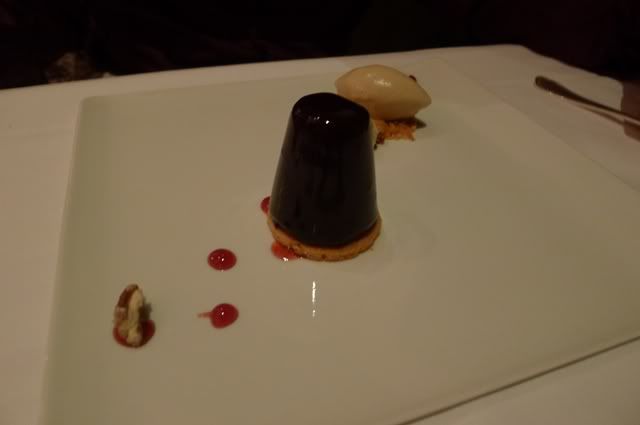 Babe's peanut mousse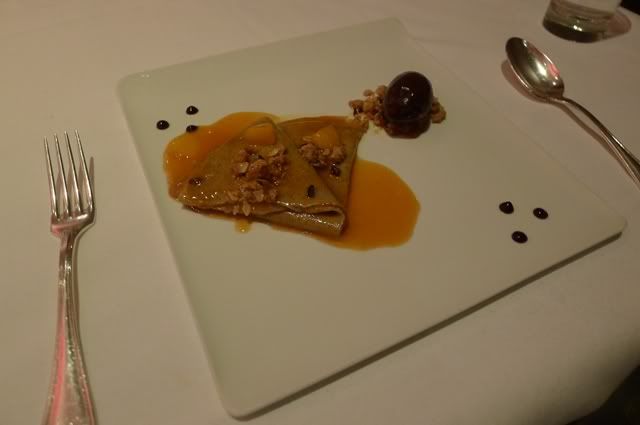 Mai buckwheat crepe!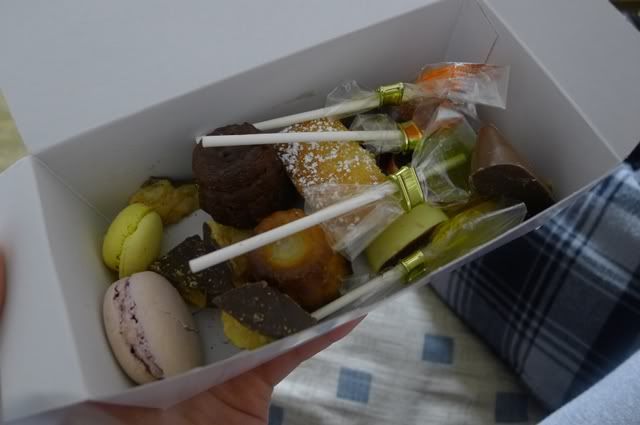 Goodies from the candy shop on wheels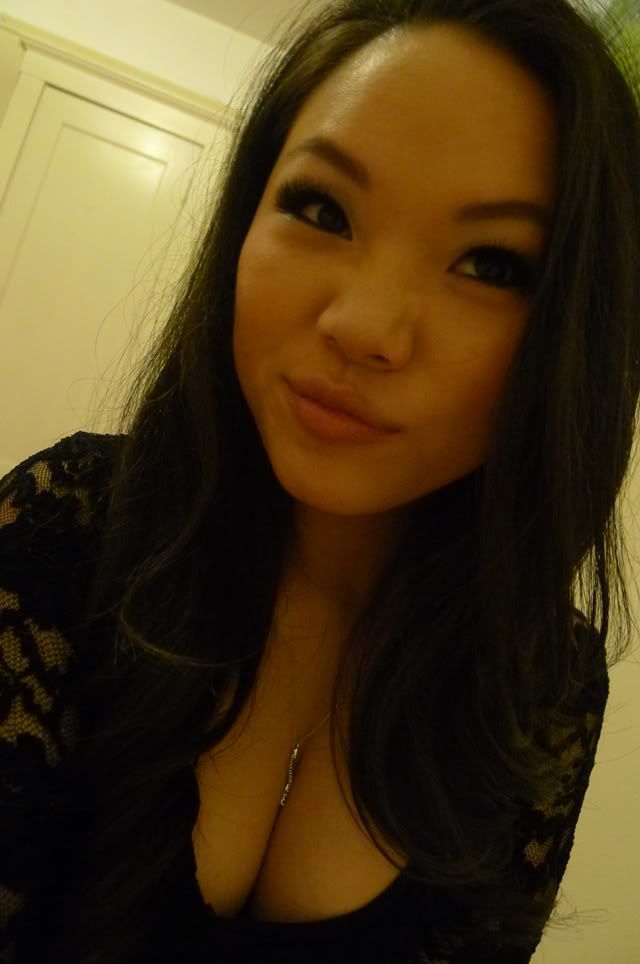 Just because I am teh vainz.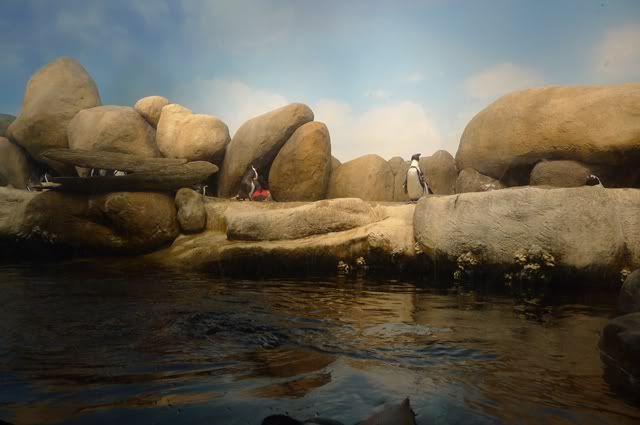 Penguinz! ♥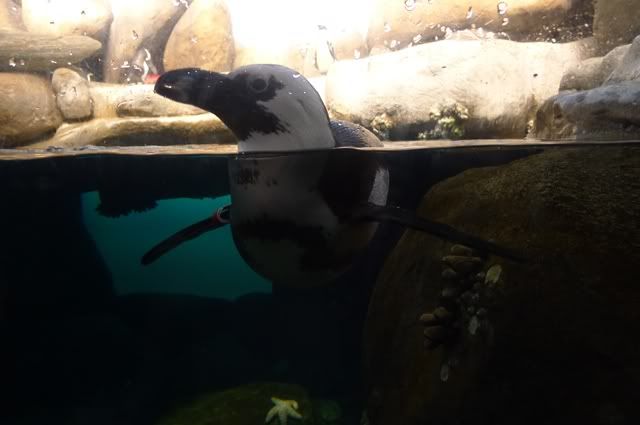 This was was following us around :)
He was cleaning algae off the windows.
The tunnel
Jellyfish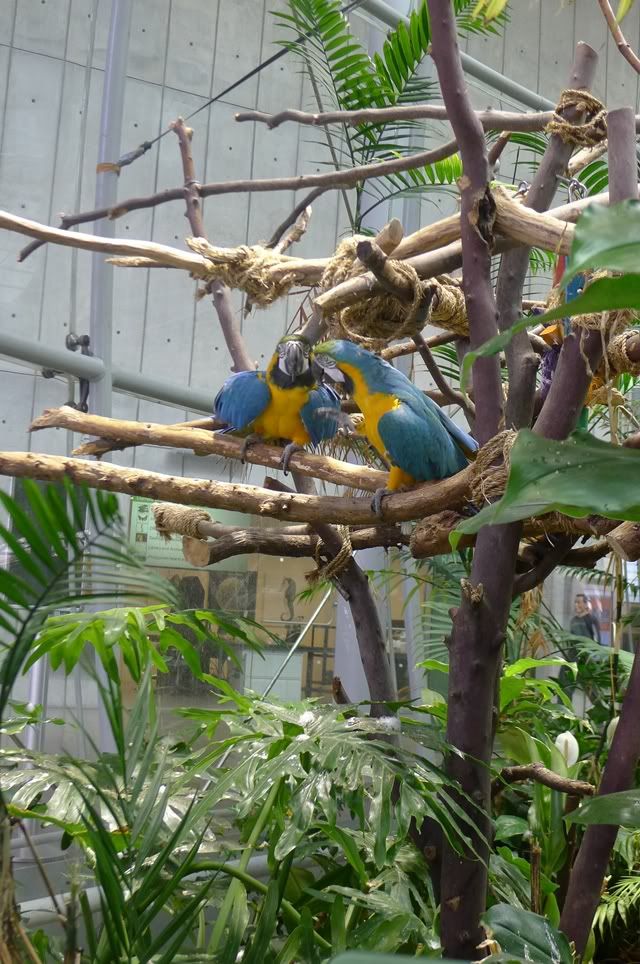 Inside the dome