Does anyone else hate this new blogger layout? Or is it just me? Well, in any manner, let's get on with this blog post. Two in one day, call me butter cus I'm on a roll! Just keeding. :)
Well guess what gaiz? I'm finally 21! Yes, I am eagerly exulting the fact that I am now of legal drinking age. So what bitches? SUCK A DICK! I wish I went to Vegas (yes, very original for one's 21st birthday) or even to Napa for the weekend just to be away from my obligations and responsibilities. Don't fret, I shall and I'll keep on dancing until the world ends. I got a beautiful 21st birthday gift from my mom and a lovely one from my boyfriend. :)
For my birthday, Babe took me out to dinner to Boboquivari's steakhouse. The decor and dim lighting reminded me of harlequins or a circus. Don't come here and take pictures if you don't like flash photography.
Our server was very kind and sweet. She asked if either of us have been here before. Babe has but I haven't. She informed me that Babe took me to the best steakhouse in the city *giggle* and informed us about the menu. After she left us a couple minutes to decide and Babe asked me, "Is this really the best steakhouse in the city?" LOL, what a gullible one. I replied, "Everyone says that baby." He counters, "No, I don't think they would say that if it's not true." *Eye rolls*
For our appetizer Babe ordered the Dungeness Crab Crostini with smoked salmon & avocado served with burrata. It was so pleasant! It also came with a heaping of tasty fresh mozzarella, so tasty that I kept it for my bread.
For our steak, we both ordered the Bone in Filet Mignon both cooked in medium rare. The first slice was amazing and so delicious. It had a crunch or crisp on the outside, while the inside was juicy, tender and succulent. As I got closer to the bone, it got more and more rare, which I don't like. It was like chewing gum, ew. I got too full to even finish off the large piece near the bone. Babe also ordered the Twice Baked Potato, it wasn't bad but not worth raving about. Not so sure why he was so eager to order it, plus it was only half a potato! WTF.
The steak was so filling we could barely order dessert, but we said what the hell, it's my birthday. We went ahead and got the little chocolate cones and comes on a plate of four. It was yums and even came with a candle. :')
I got to spend my birthday eating a palatable dinner and staring at my hunk of a boyfriend, that's what I call enjoyable.
Thank you baby! ♥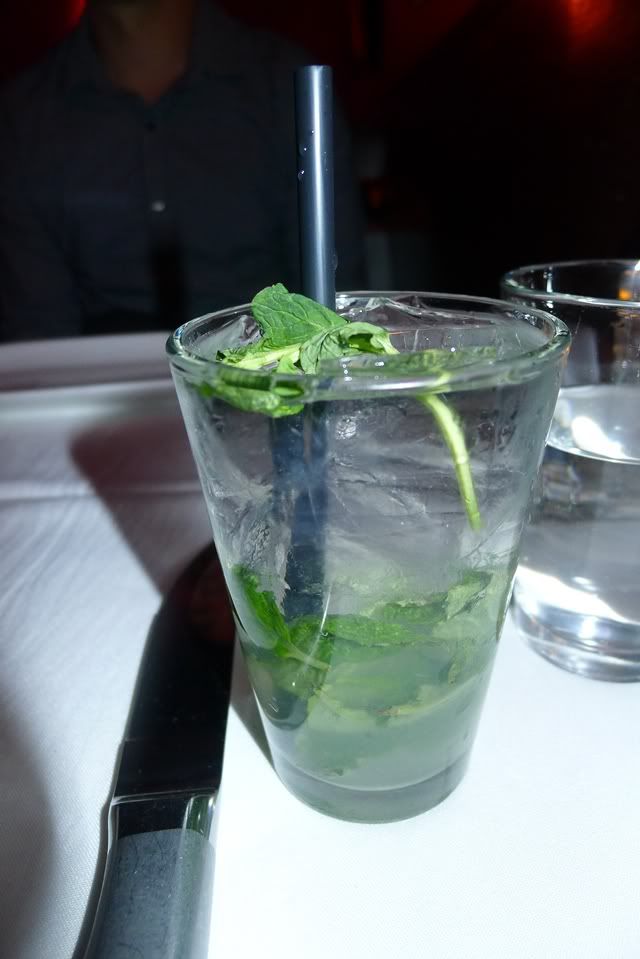 Mojito time!
Lobsta crostini!
Bone in Filet Mignon
Twice baked potater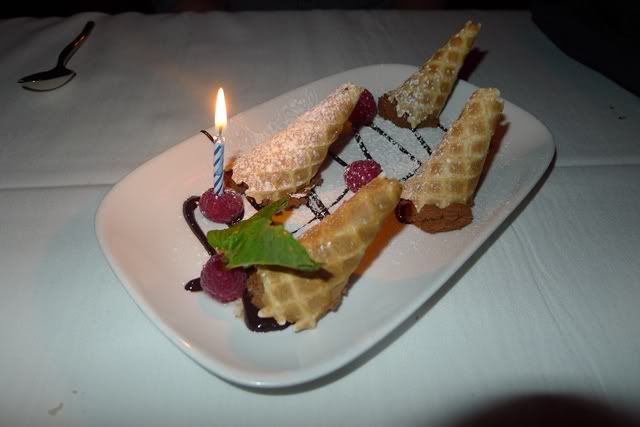 Dessert!