I forgot to mention that I got my nails done on Friday, the day before Halloween, but it doesn't really matter, they're not all that special. BUT I LIKE THEM! Just the basic full set white tip/french mani acrylics. Simple but elegant, it's what I always like. Since I like my fake nails so much, I think I'm going to try the silk wraps in like 2-4 weeks and maybe gel after the silk. I have no idea what the silk wraps are but I'm definitely willing to try them. Hrm, and for gel, shall I get crazy Japanese 3D nail art? HEHE. They're so cute, yet so unpractical and unconventional, maybe even a little ostentatious. Well, maybe I'll get them when I feel my money is burning a hole in my pocket.
In other news,
GO
GIANTS
!
!
!
I'm not a super fan girl of baseball, or a fan of sports in general, but they made it to the world series and are 3-1. Hopefully they'll win the whole world series! I just hope no one goes apeshit upon losing or winning.
In other other news, I went shopping today! I was going to Sephora to buy the Shu Uemura eyelash curler because I realized I needed to retire mine. When I got to Sephora, they were all sold out, so I ended up at Macy's and bought the Shiseido one. I works pretty damn well! Me likey!!! Going to turn into a label whore soon and I don't care! As long as I'm not as ostentatious about it. I still need to buy some eyeliner, which sucks because I have the least luck with buying eyeliners. They always smudge on my waterline and/or smear on my eyelids. And no, I'm not willing to put primer on my eyelids to keep it from creasing. Okay, now I'm super envious of those with noticeable double eyelids that don't crease their eyeliner. :( Oh wells, whatever, I went to look around and then Amy and I left.
We went to go eat lunch in our neighborhood and ended up in a Taiwanese restaurant after our "favorite" dessert cafe wasn't open until 4PM.
Table
Amy's rice.
Our chicken wing appetizer.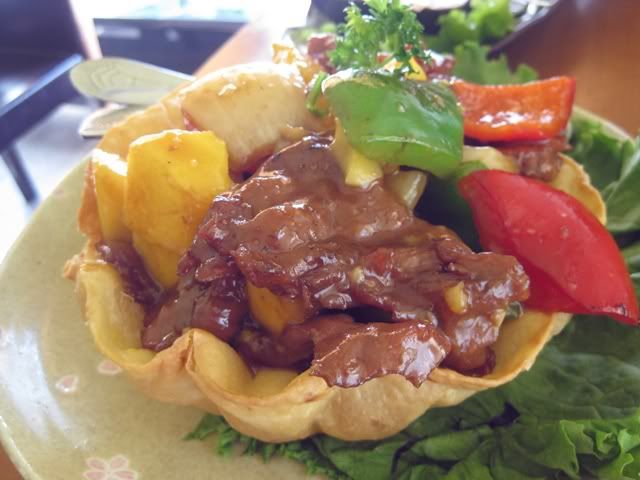 My excessively tender mango beef with a wonton crisp bowl.
Simple! I love the nail shop that I go to. I always get my nails done here (mostly the french pedis). For one, it's close to school so I can go after school. Two, they're fairly inexpensive. Three, they're really nice. And four, they're very meticulous, they pay attention to the littlest detail. I've tried out 3 nail shops including this one. And this one has to be my favorite by far. The other two just don't fly. They're rude, and do a half ass job.