I'm bac
k with another blog entry. How is this possible?! I think I've taken a long enough break from my blog.
I hope you gaiz have read my last entry because it continues here! Teehee.
Don't hesitate to feel hungry, or have the urge to eat large amounts of food after you read this.


Friday, September 2nd, 2011
I believe this was the night Teammate and I had Shabuway. Too bad I didn't take any pictures. :( This douchebaggy couple sat next to us at the bar, I was completely livid. I hate loud, douchebaggy people. ESPECIALLY GIRLS. She was talking super loud, and acted like a total douchebag talking about how shitfaced she got on her 21st birthday. You will never get laid... Anyways, Shabu was pretty good, I liked the fact that we got separate pots for our meats and veggies at the bar. Uh, server made a mistake with my soup base so I was panting from the spiciness of the soup for the rest of the night. I had a pretty enjoyable time there, but it definitely gets busy.
Saturday, September 3rd, 2011
Teammate and I went to eat at Millbrae Pancake House to see what all the hype was about. It was like a classier Denny's... The Swedish pancakes were really good but I'm not too sure about the cream that it came with. I ordered the blueberry pancakes that weren't much to rave about, and teammate's omelet was alright. I'll think twice about coming here. Service wasn't too great either.
Sunday, September 4th, 2011
Teammate and I were on a mission for food so we scouted out the city and went to a place called... PARK CHOW. Sounds so Asian right? WRONG, IT'S THE SAME AS CHOW ONLY IN A DIFFERENT NEIGHBORHOOD. LOL, smh. I ordered the steak which was DELICIOUS. Too bad I was out of A1 steak sauce, lol. Teammate ordered the linguini with clams. YUMMM. Park Chow played us.....
Monday, September 5th, 2011
LABOR DAY! Whoot! No school and no work! Finally a day to relax. :) Since it was a holiday, teammate and I wanted to get dim sum from Koi Palace, unfortunately we couldn't get a seat. We got there at about 12pm and stood there for 12:40pm before we decided to leave. We headed somewhere else for not so good dim sum instead. :( For dinner we had Anchor Oyster Bar. FINALLY!!!! So glad we went to this restaurant, it was worth the wait. The name list was definitely long and the dining room is small. We waited at least 45 minutes to an hour for a bar seat, but that's okay. Funny thing when we were waiting for our names to be called. The host came out to check the names on the board, "Lisa" was up next. The host said, "Lisa? Okay, I called your name. /wipe" Those words were said within one breath under his breath. HAHA, I wish he did that to all the names. Teammate and I ordered the scallops, oysters and clams. The clams and the broth that it came in was delicious. Scallops and oysters were damn delicious as well. Definitely gotta come back.
Friday, September 9th, 2011
Teammate and I had Crawfish Station. Wish I didn't know about this place. Definitely not worth it! Once you've have The Boiling Crab, you can't go generic. We ordered oysters, chicken wings, clams (because they didn't have crab...wtf..?), shrimp and corn. Oysters were dirty and broken shell was all over the meat, chicken wings were re-battered and deep fried, nasty... clams all I got was clam shell... shrimp was alright but I liked Boiling Crab better.
Saturday, September 10th, 2011
Didn't know what to eat for dinner, so Teammate and I had Greek food! I love Greek food! We went to La Mediterranee. I got the pomegrante chicken and teammate had the chicken skewers. Teammate always gets the good stuff. -_- I liked Layaly much more, the rice was so delicious! My pomegrante chicken was alright, I could barely taste the much commercialized anti-oxidant. I should have picked something else, I really don't enjoy eating chicken with the skin on it.
Sunday, Septemeber 11th, 2011
Jonathan made an event for us to go paint pottery! So cool. I painted a vase, which turned out horribly and I painted a piggy bank for Teammate. So cute! But unfortunately it turned out ugly as well. I should go try to paint another one, there are so many pretty pottery to paint! Had dinner with my family for a little bit then got to hang out with Teammate and eat chips and salsa. I love to relax with him. :) Daddy even bought a special moon cake for us to try this year! It's ice cream moon cake! So coooooool. :)
Monday, September 12th, 2011
Happy birthday to my annoying little brat cousin and 中秋节快乐! :) Hope you guys ate lots and lots of moon cake! Dad bought some really delicious moon cake this year. Totally different from the average moon cakes I've had for 20 years. These were almost like Japanese mochi. Delicious ice cream filled beautifully patterned rice wrap. It was good I tell you! Definitely going to buy it again next year.
Friday, Septmeber 16th, 2011
Got Teammate to try some Little Fat Sheep! :) Guess who I ran into there! Amylatte! Hehe, I was wondering why this girl looked so damn familiar... I got to take the watercress veggies home too! I took the watercress veggies home so mommy could make me some watercress veggie soup. She said asked me where the watercress came from and I said hot pot. She laughed at me and said that that small heap of watercress wasn't enough for soup. Who said I said it was for everyone, I just wanted soup for myself, lol.
Saturday, September 17th, 2011
Finally got to try Outerlands! What was amazing was that this place didn't even open for 20 minutes and Teammate and I were already on the second page of the wait list... We waited about 45 minutes before we got a seat and I got the ginger lemon apple cider, it was really gingery @__@ but good for my tummy. :) I got the tomato and basil open face sammitch and I think Teammate got the one with the egg, maybe it was turkey? I thought my tomato and basil was really good, the cheese was all melted and delicious. Hope I can come back and the wait isn't too long. Go for a crisp cold morning! Restaurant is really hipster. For dinner we ate at Spork. I ordered the chicken entree and teammate ordered the inside out burger, I believe. The smashed fries were really good and FINALLY! a delicious chicken entree with me. :)
Friday, September 23rd, 2011
Jonathan's birthday! Happy birthday Jonathan! Jonathan's birthday was planned roughly about a month or two prior to his actual birthday date. We planned the restaurant, and decoys to lure him into the restaurant where we would all celebrate his birthday. Unfortunately our plans were slightly foiled, but it turned out to be successful regardless of the adversities. Justin, Amy and I went to go save him at which ever restaurant he was at and we quickly rushed to the restaurant where the festivities would commence. Jon asked me what we were having for dinner and I had to slyly tell him I left my camera at the restaurant and we had to go back to get it. I asked him as we got close to the restaurant if he would come in with me to get my camera. He complied, so we went in together and SURPRISE. TEEHEE, I think he was surprised. The restaurant was loud with a live band in the back of us that we requested to have happy birthday sung. The food was good too. Plates filled with fresh fruits and delicious spam musubi. Damn, that spam musubi was good.
Saturday, September 24th, 2011
Went shopping with teammate and had a pretty successful day of shopping. I got lots of clothes to restock my closet after throwing a bunch of clothes out. I need more color in my closet. -_- After a long and tiring day of shopping, we headed off to our beloved seafood restaurant..... BOILING CRAB! Wdup. Oh Boiling Crab, this time was the longest wait of our lives for a table. We waited at least two hours for a table and I was dying of hunger from shopping. But the wait is always worth it here. I know this is my fourth or fifth time at Boiling Crab, but they never cease to disappoint. Teammate and I got King Crab legs this time. I needed a change from the oh so original dungeoness crab. (How come I can never spell dungeoness correct??)
Friday, September 30th, 2011
After my trip to Live Sushi Bar with my best friend, I HAD to introduce teammate to this place. He likes sushi, and delicious sushi is what this place has. I ordered the 49er roll again, definitely my favorite sushi roll. If I had to pick two sushi rolls to eat for the rest of my life, I'd pick the 49er roll from Live Sushi Bar, and the Kalbi roll from Joy's Sushi. Again, the quality and the taste of the sushi was not compromised and tasted as good as I had it the first time. Uh, service here sucks to put it kindly (LOL) which is probably why they have an average of 3 stars on yelp.com. The girls aren't very friendly, don't smile, don't talk much and act like you (the customer) is retarded beyond recognition. OH WELL, your sushi is good, so I'll come back until you guys are assholes to me. Again, I didn't take pictures. WTH IS WRONG WITH ME MAN! I have like 3 cameras and I can't bring one?!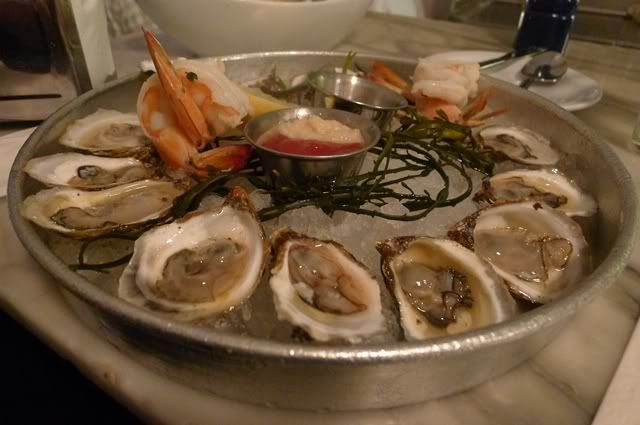 Oysters from oyster bar. Freaking delicious, no joke.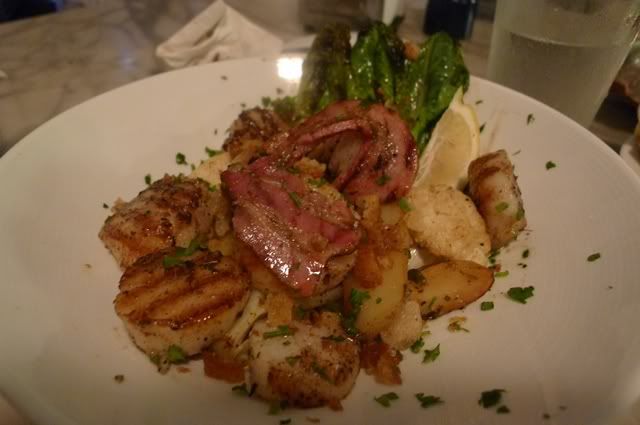 SCALLOPS! U noe i gotta haz my scallupz too.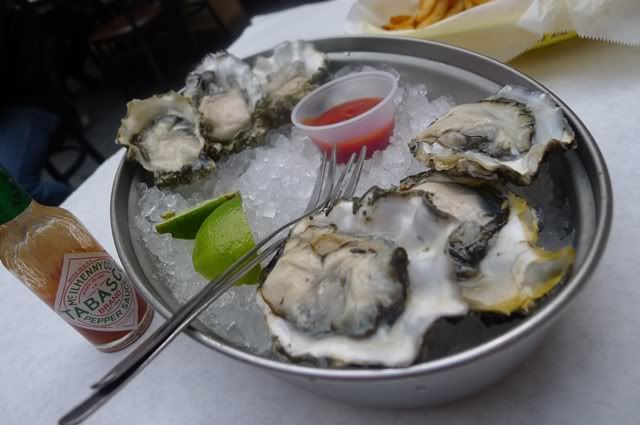 Dirty oysters from Craw station UGH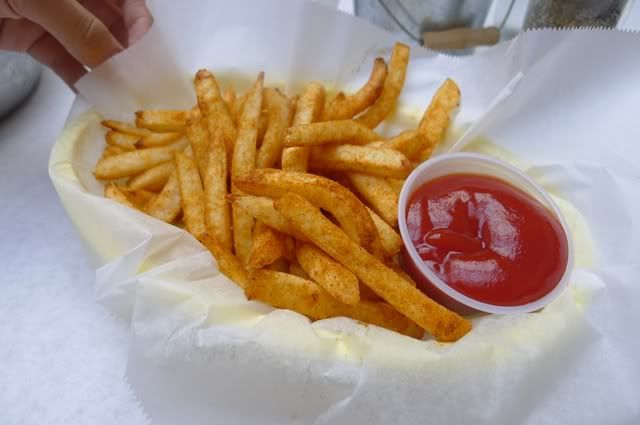 UGH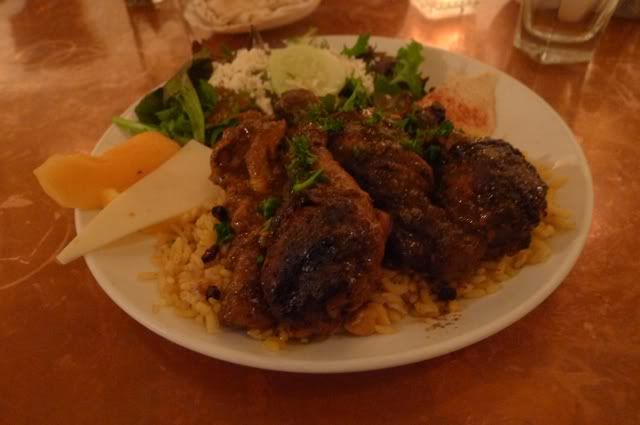 My pomegranate chicken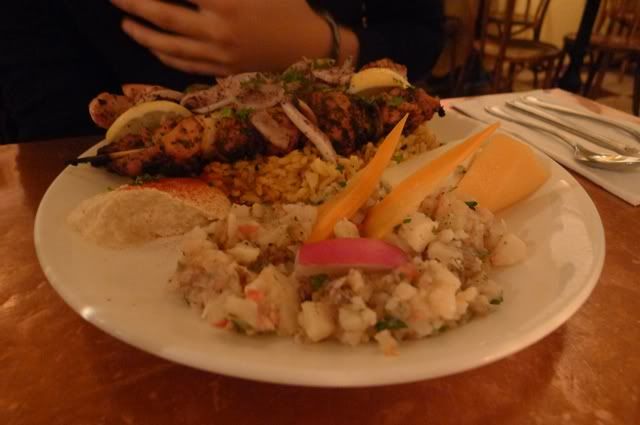 Teammate's chicken skewers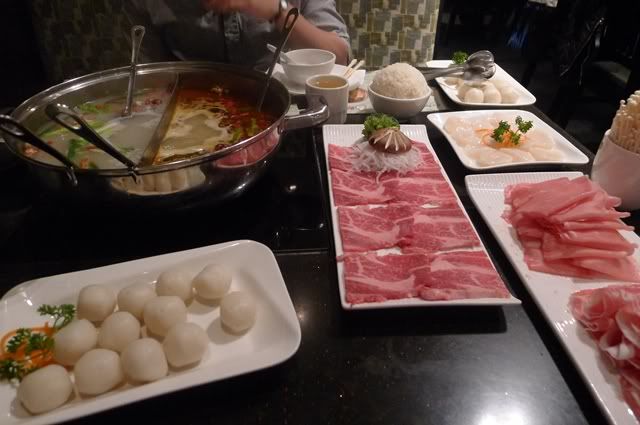 HOT POT!!!! :)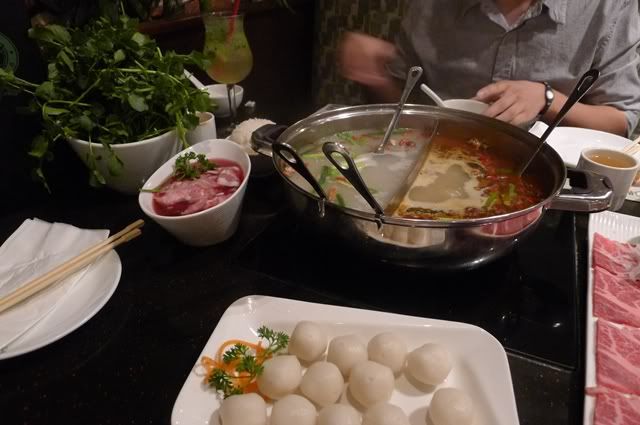 Mongolian hot pot :)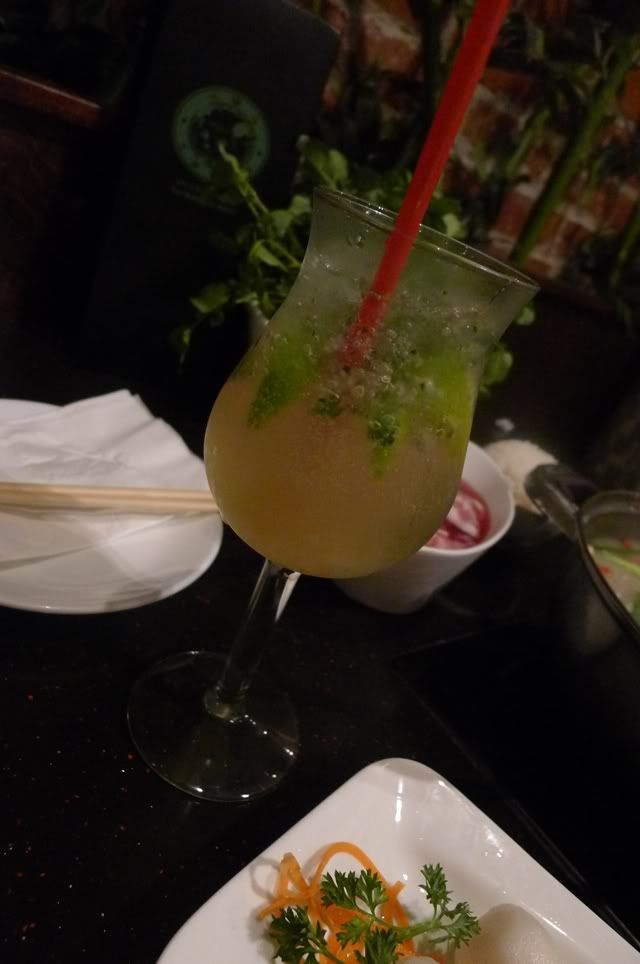 YEUH, U NOE WAT IT IZ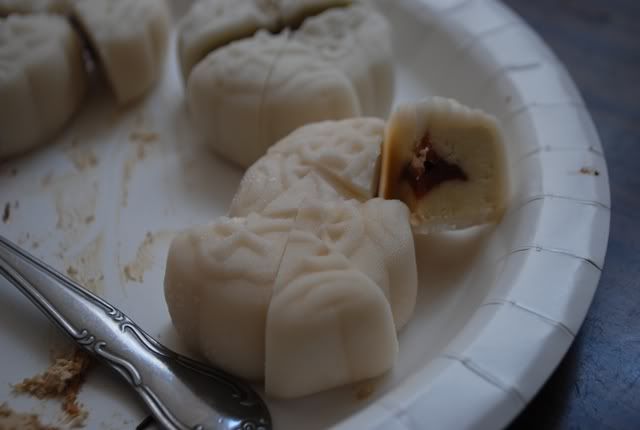 Daddy bought delicious moon cakes that look like this :)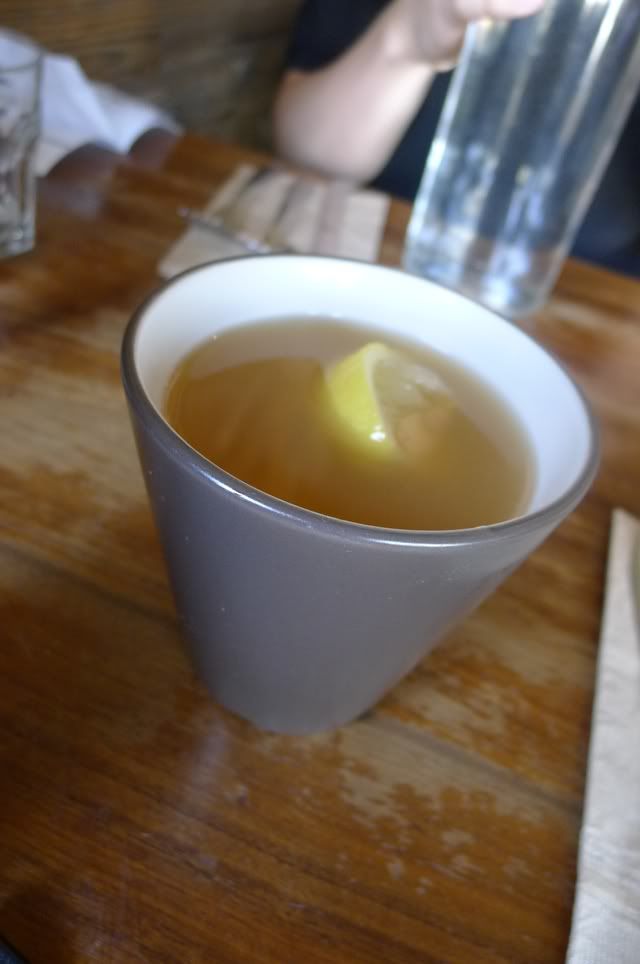 Ginger apple cider from Outerlands
My delicious tomato basil open face sammitch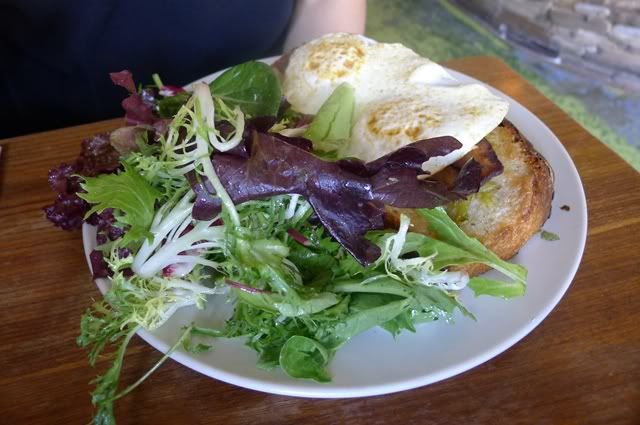 Teammate's egg open face sammitch... EW EGG, lawlz. :D
Finally a delicious chicken entree from Spork!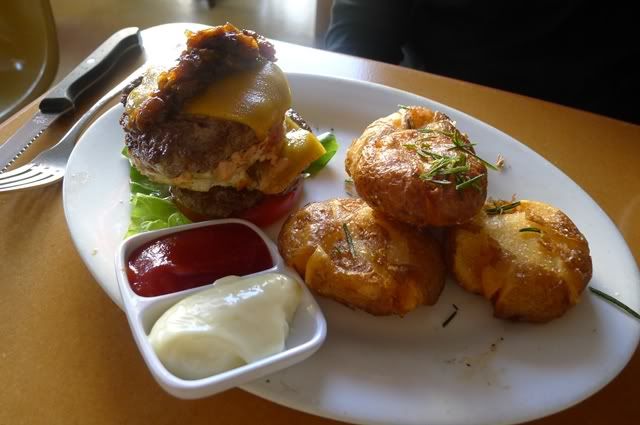 Teammate's entree from Spork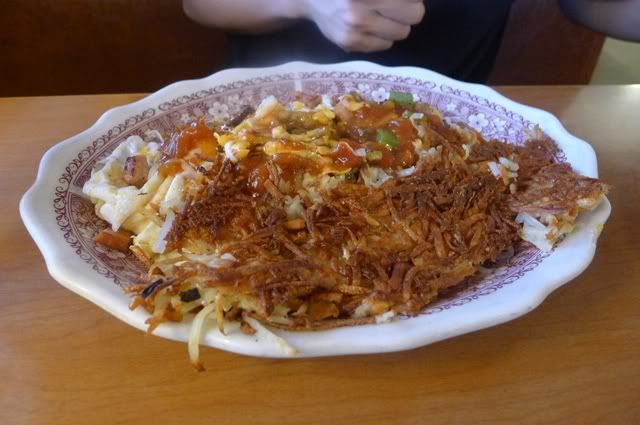 Teammate's omelet from Millbrae Pancake House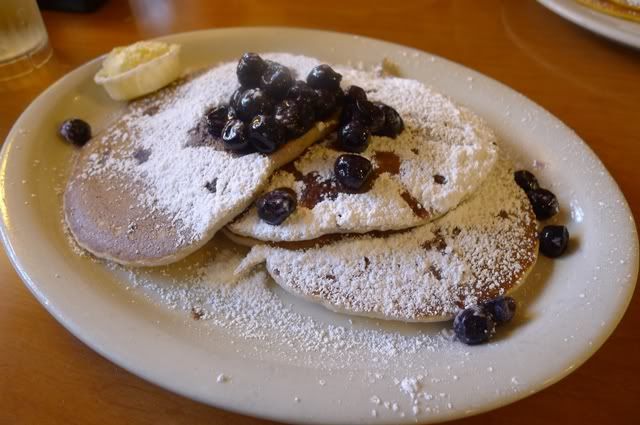 My blueburry pancakez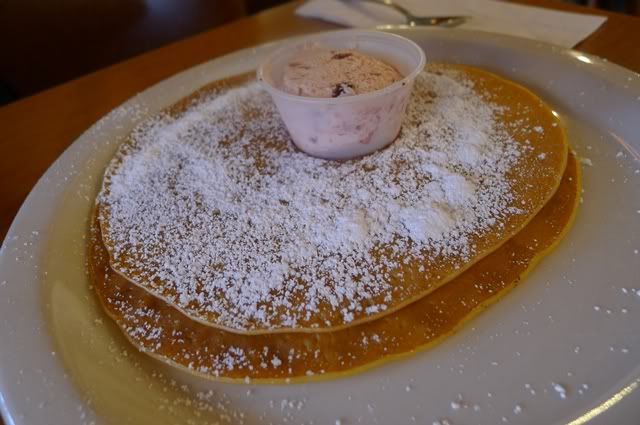 Thin Swedish pancakes are super good! Even better without the spread.
Teammate's linguini (?) from Park Chow
My "steak" lol. PRETTY GUD!
My ape shit drink. LOL