Just celebrated my birthday yesterday. Went to school looking cute if I do say so myself! :) I gotta buy stuff from the fabric store, wonder if I should go right now.
Well, I went to school and honeybee wanted to put make up on me. -_- School was over since I only had one class then it was over, went to KFC and bought some food to eat with honeybee. Went to honeybee's house and relaxed for a bit. Left a voicemail for Jennifer to call me. Honeybee and I played mahjong for a bit and I won 4 times! >:) Okay, maybe 3 because "guy wu" doesn't count.
Jennifer called me and we went to pick her up! Picked her up at Safeway instead because she was buying food. Then honeybee dropped us off in Haight so I could get my cartilage pierced again. I got my cartilage pierced a long time ago, like freshmen year of high school. Sad to say it was with a gun, I didn't clean it, I touched it with dirty hands and obviously it got infected. I took it out and let it heal over. I swore off ear piercings for a while because I deemed it slightly unclassy. I'm now debating over getting another piercing. Tragus, maybe? Haha.
We were across the street from the body piercing shop and Jennifer kept saying happy birthday to me. :) This extremely bizarre bald, fat, white dude said happy birthday to me too... I said thanks and thought that was the end of it. We walked up to the door of the body piercing/tattoo shop and he said, "Oh, you're getting a tattoo for your birthday?" Jennifer said, "EWUH HELLA IN OUR BUSINESS." Haha, omg.. That was not the end of bizarre white guys saying happy birthday.
Well, I went in to get my piercing and the total was about $28, I told them it was my birthday and they said they'd give me 10% off. YAY! I tipped the piercer $2 just to be nice. He made a really rude comment to Jennifer tho, bc she got her tongue pierced with them.
Then continuing my productive day to the tattoo shop. Waited for the artist to finish with her current customer. And she was finally ready! I asked if I could get outlining in brown, but she said no because black is the basic outlining color. Ended up with just the outlining and shading. She asked me how I found out about this place and I said I live around here, she kind of rolled her eyes at the lack of my explanation. I told her I got tattooed here before and she said, "Really?" I said, "Yeah, the wing tattoo!" She said, "OMG, let me see!" She said she didn't recognize me because last time I was so unglam, lol. I said it's my birthday today that's why I'm all dressed up. The guy that prepares stuff said, "It's your birthday?!" I said, "yeah." Hahaha.
There was a guy named "GEE MONEY" there too, lol. He kept complementing on Jennifer and I's style. Saying we're trendsetters and whatnot. I wasn't even paying attention. Got done with it and she gave me a birthday deal too. $70 and I tipped her $12, lol. I'M A WORKING STUDENT!
Jennifer and I went to Ross to look at some clothes, she decided not to get the tops but they were hella cute. Then we went to Genki Ramen and ate some ramen! She got up after dinner and said she had to use the ladies room. She took about 10 minutes and when she finally came out there was a cake and a lit candle. The restaurant was so quiet, it was almost a scene. The servers saw there was a cake and they brought out some plates for us. After cake she payed for our dinner. GRR! Girl you're so crazy. A gift, a cake and paying for dinner. YOU JUST WAIT UNTIL YOUR BIRTHDAY MISSY! This white guy sitting behind us and he kept looking over and he said happy birthday after he left too. -________-'
We left for home soon after that. I went home and opened the present she gave me. :) Loved all of it! ♥ Celebrated with another cake with my family.
Can't wait until my party on Saturday, will be a small gathering. :) Thanks everyone that said happy birthday! I totally appreciated it.
My makeup artist ♥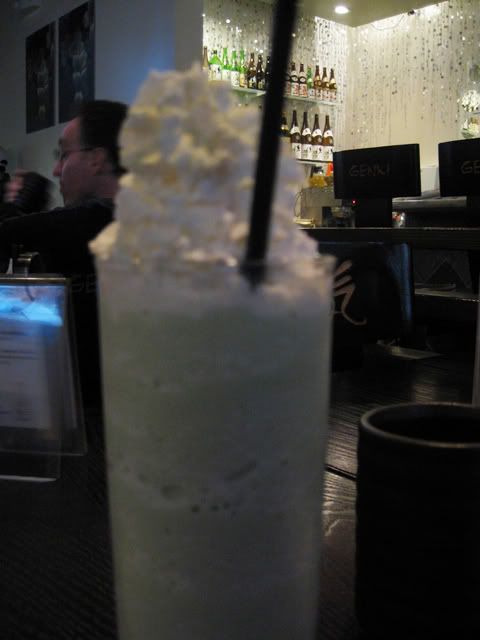 Maccha swirl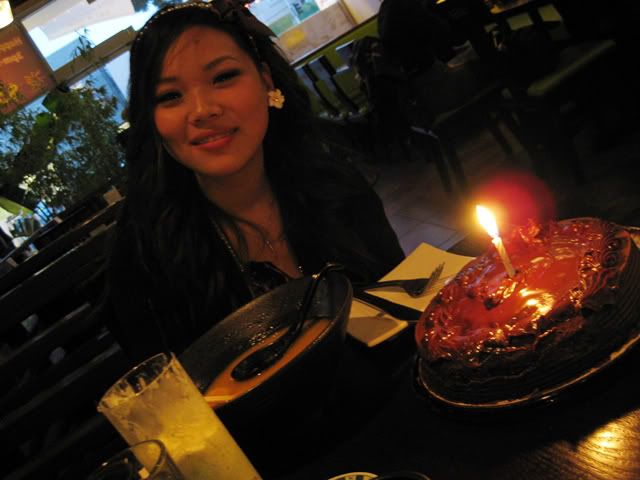 Gifts!
Wish I took more pictures, but there is always next year! :)