I lied this post won't be about the delicious food I ate last night! It's going to be one of those What's in your bag things! Mostly for the nosy ones. :) Enjoy.
My purse! (Who says purses anymore? =__=') You guys might recognize this from another post. It's from Aldo's. :) Chanel-esque.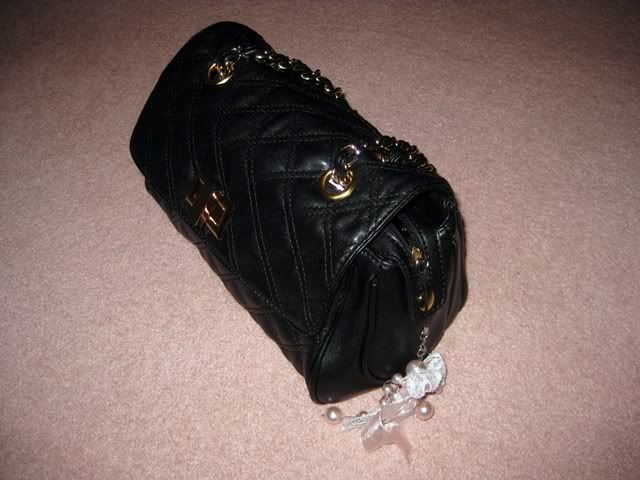 The little black strap fell off so I replaced it with a cellphone strap(?) Amy got me for my birthday.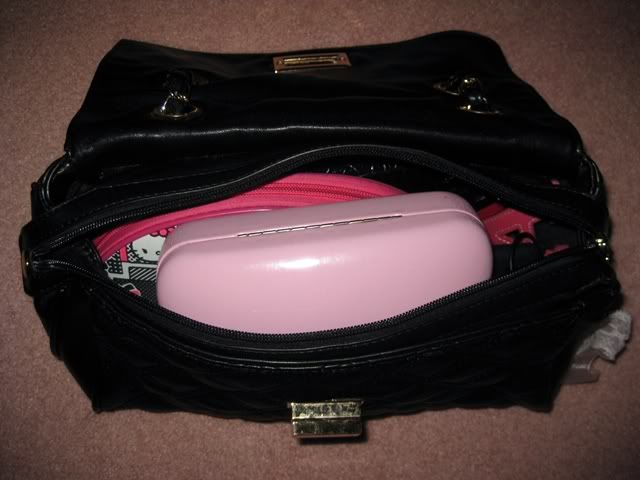 All my goodies.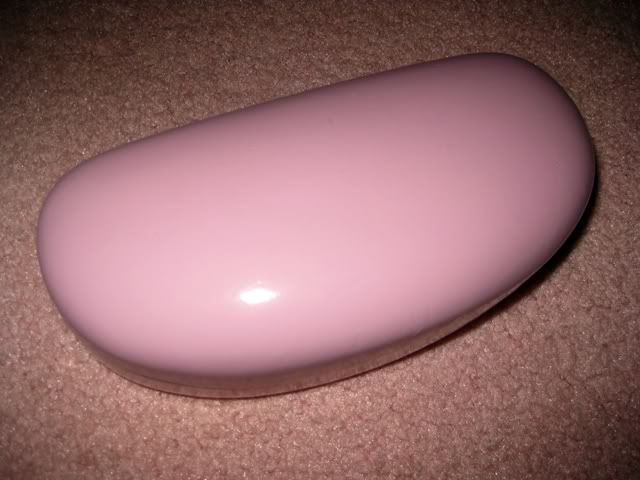 Sunglasses case holding....
My stylish sunglasses! Everyone should have a pair of sunglasses in their bag or car or wherever. Protect your eyes from harmful UV rays and I believe I heard somewhere you should recommend your children to wear them too.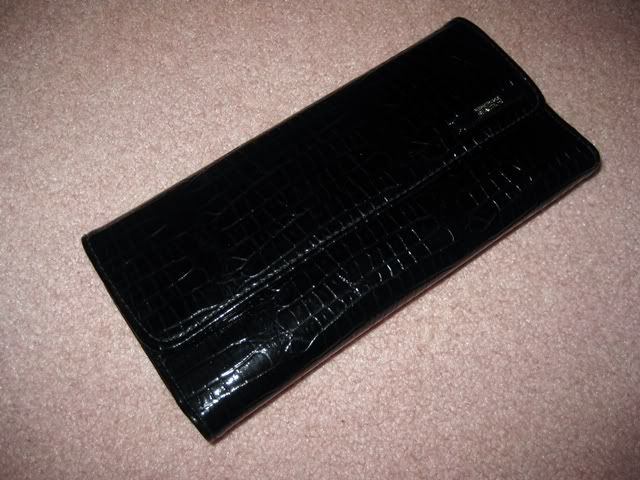 Kenneth Cole wallet.
Various cards.
Must look familiar again. The mirror! :)
Keys, with my pepper spray! Watch out mofos.
iPod for those boring times that need to be immersed in music.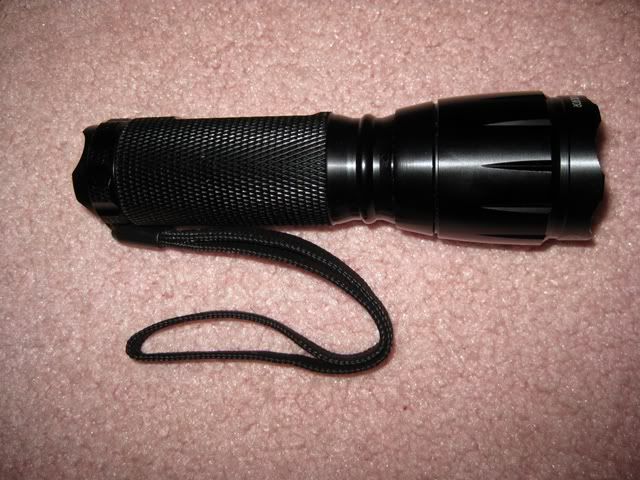 Flashlight, you never know when you need to go home late and need a bright light to help you along.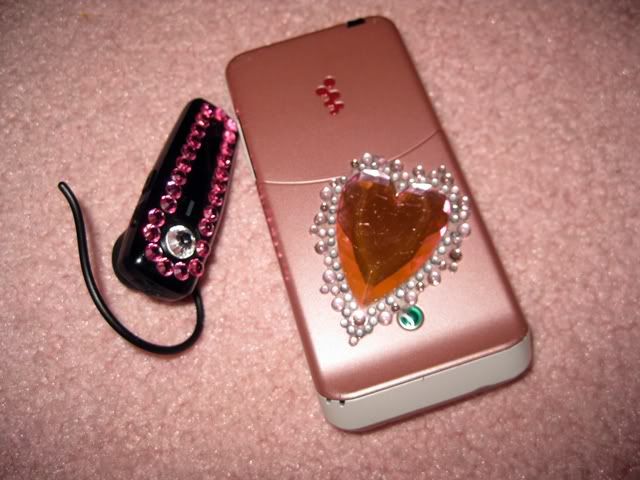 Phone that I direly need to upgrade and my blinged out bluetooth. lol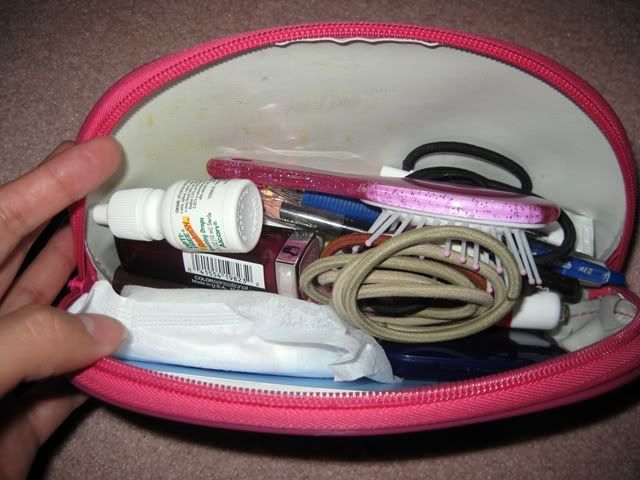 All my makeup bag goodies.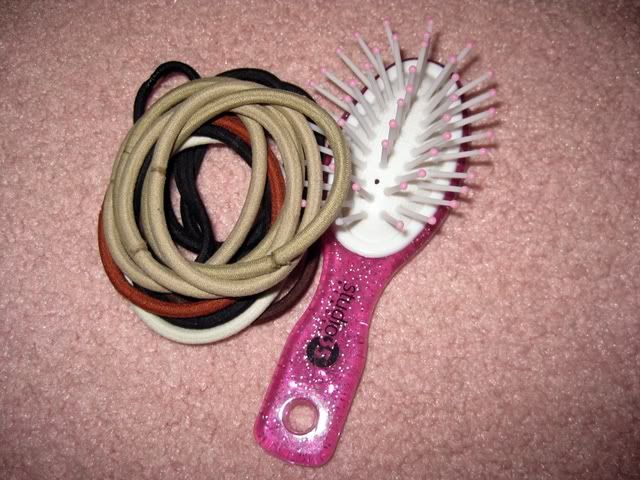 Comb and hair ties. Never know when the weather is going to be damn hot and you need to tie up your hair!
Maybelline mirrored pressed powder compact.
I don't usually wear foundations or powders but this is for when I might need a touch up when I am wearing both foundations and powders. I believe that foundations and powders destroy your skin, so I tend to stay away from them unless it's a special outing of some sort.
Pen and paper, never know when you need to jot down some notes when something sparks in your brain.
Various lippies. My favorite is the Rimmel one they discontinued the production of it. :/ I don't like the Burts Bees lippy, it feels like wax and doesn't really moisturize. Chapstick FTW!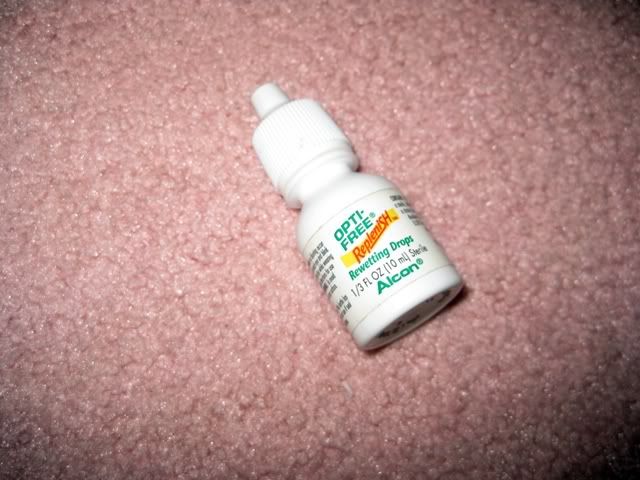 Rewetting drops for my contacts.
Hand sanitizer! You never know when you need it. Especially after public transportation, yuck.. Think of all the germs.
Miscellaneous things. Mini fragrances, eyelash glue and floss. Never know when you perfume just mysteriously disappears and you need to freshen up. Eyelash glue for when you're wearing the eyelashes and they just seem to fall off. FLOSS! Who doesn't need floss?! When you or your friends are out for dinner and the old spinach in the teeth and making a fool out of yourself etc, you'll need the floss!
But yeah, that's pretty much the things I have in my bag. You can say I'm very prepared for anything. I took a picture of pads and tampons, but I figured no one wants to see that. But I have those also! HAHA. Yes, very prepared.

P.S. I think the quality of my photos have gotten better. ^___^ What do you all think? Better as in compared to before. :)