Hello all! I am getting sidetracked from my homework once again! Good thing for all you bored mofos so you can read and catch up on my life!
I need to take a vacation... like NOW. And starting Monday I don't think I'll be having a social life. There aren't enough hours in the day to do the things I like versus the things I must. *yawn.
I hate waking up for school, I hate doing school work and yes my brain is still in hibernation! I swear when I read my prompts or whatever I have to do... it doesn't register in my brain.
But whatevs enough about my depressing life of school, work and no social life! I'm still alive and some what better than ever. I'm still blessed like spoiled milk. Got money, got school, not handicapped, etc. so I'm going to make the best out of everything.
Anyways! Back to my point... whatever my point was, lol.
So! I wasn't lying to you all when I said I was an avid shopper at Ross. Dress for less baby! I haven't been there too often like I did during summer but it wasn't like I bought much from there anyway. I went back recently and looked around for a bit, not looking for anything in particular. But that's the thing about shopping! That's how they get you! The ones with affluenza should stay away from shopping if you have nothing in particular to purchase.
Anyways, I looked at the electronics section, which isn't much. Just the usual: headphones, PSP covers, etc. And a pair of over the ear headphones caught my eye. Bubble gum pink... *ZUMREEDS! Whaaa? No they aren't zumreeds and I'd highly doubt that Ross would sell them. However, they were the same look for a much lower cost. They had the zumreed style and color. I picked it up off the shelf and took a look at it. "Merkury Innovations" was the company. Now... let me tell you the quirky little story..
A couple of months ago during summer honey gave me an issue of Seventeen magazine. It was before school started and had a list of things you need if you're going away to live in the dorms, flip flops, a cute shower caddy, a fan, over the door shoe holder,
headphones
. The description under the headphones said that it was manufactured by Merkury Innovations for $20. Also said something about how the quality is so good for a cheaper price. I researched it online, and it seems okay. I put off buying them just because I'll look for zumreeds in China or something. Lo and behold! Right in front of my eyes are the ones that I might have bought. *Looks at price. $7.99! HOLY! Getting it forsure. And now I have them! :) I tried them and they work okay. I'm not so anal about how the quality is as long as it isn't scratchy and skitchy and both the sides work. I still can't believe my skullcandy broke. How frustrating, well I did get them for about $20 but it wasn't really worth my $20. Aren't they usually like $40 or something? Hopefully the merkury ones last me for a while. Jennifer told me about v-mods too! They're like $90 for a pair. Dunno if I'd want to spend that much on ear buds. But damn! Beats by Dr. Dre are mad nice, they look so sleek and new age-ish, I want a pair but they're $300+. -_______-'
NEXTTT! So if you guys have been reading my tweets I gave my sister my first ever pair of Rainbow sandals. QQ, so sad I already had my sweat marks all over them. Too small for me. :/ I got size s when I should have gotten size m. So I went back to buy another pair. I acutally got two pairs this time. -__-' lol. But they're worth the price. Long lasting sandals, who doesn't want that!? I got one pair in sierra brown and one in espresso. Not sure if their warranty if lifetime or limited. It doesn't say, but it's clear if the straps break before you wear them into the second layer they'll repair it.
They have the swarovski rhinestone rainbows too! I wouldn't rock them personally, but I haven't seen anyone wear them either. They cost like $80+.
I bought another pearl necklace as well. A longer one this time. I wish my Forever 21 one didn't break... I'm trying to keep away from wearing that one.
Also, been using the got2b cashmere lustre lotion. Makes my hair all soft and smoooooothe. I like it! It only appealed to me because it was cute looking and had some cute charms on it. I wish I wasn't so swayed with such things. lol, erm the only thing it doesn't do for my hair that it claims to do is the frizz control thing. I'm not so sure about the UV protection thing or preventing it from heat damage. I just use the Tresseme Heat Tamer to prevent heat damage. It smells great, not so sure it works that well either, lol. Just rubbing more chemicals into my hair. I'm also debating if I should dye my hair black again. :)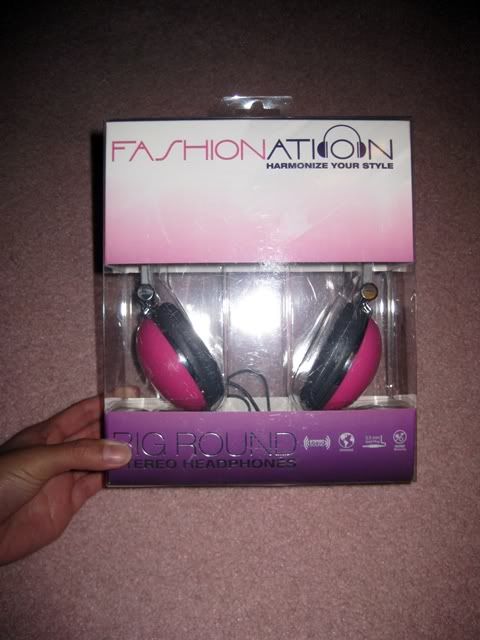 They're alright...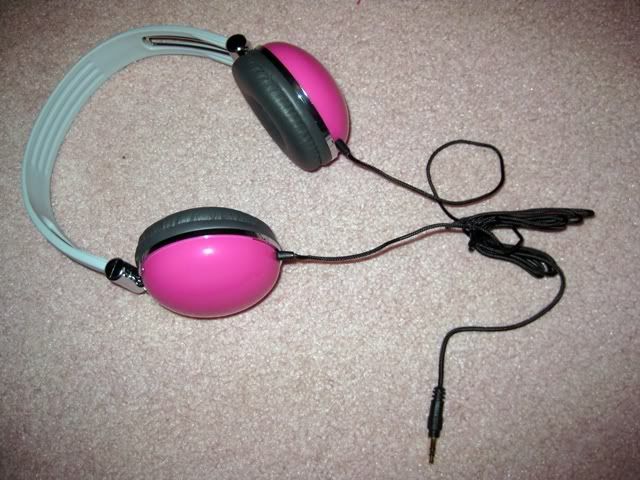 Pink of course.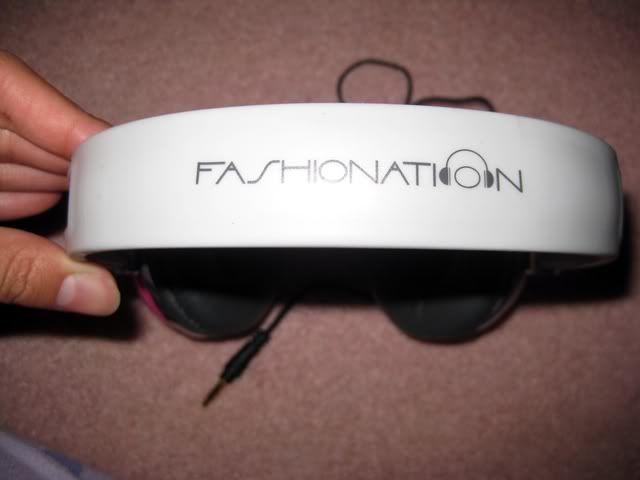 Fashionation, I have no idea what the name would be for these headphones.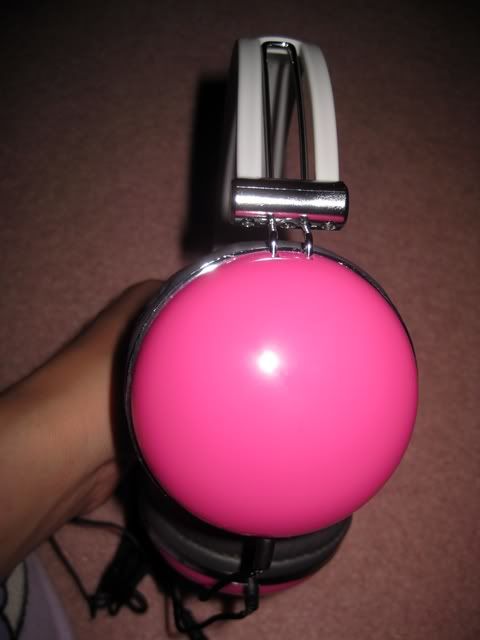 Mad bulbous.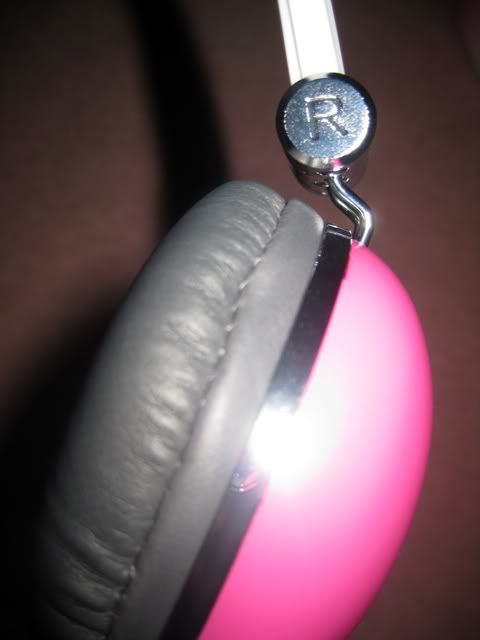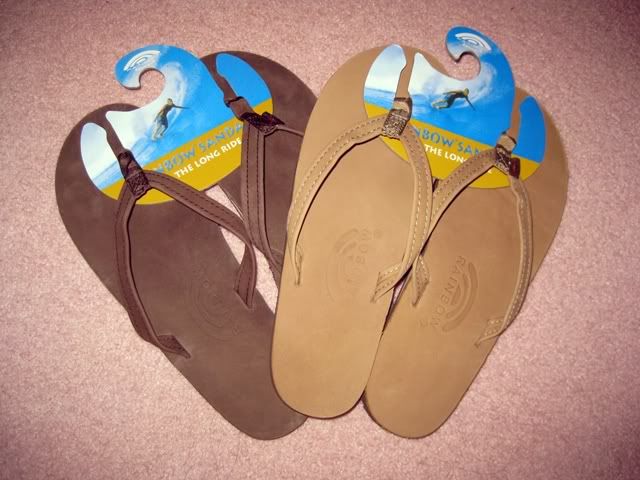 You ain't from the Golden Coast if you don't own a pair of these..
Warranty and story about Rainbows.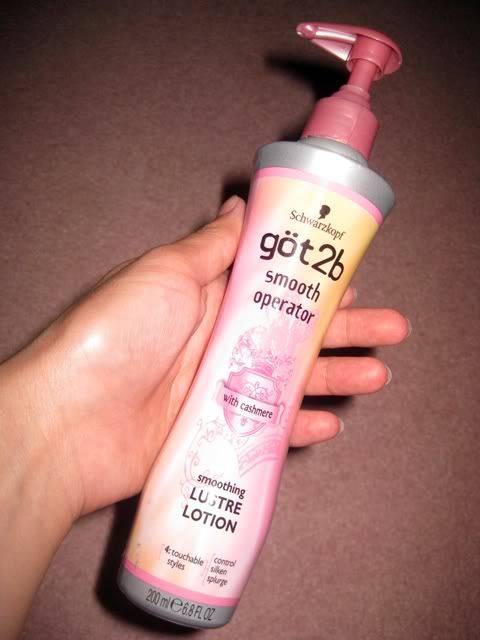 Lustre Lotion.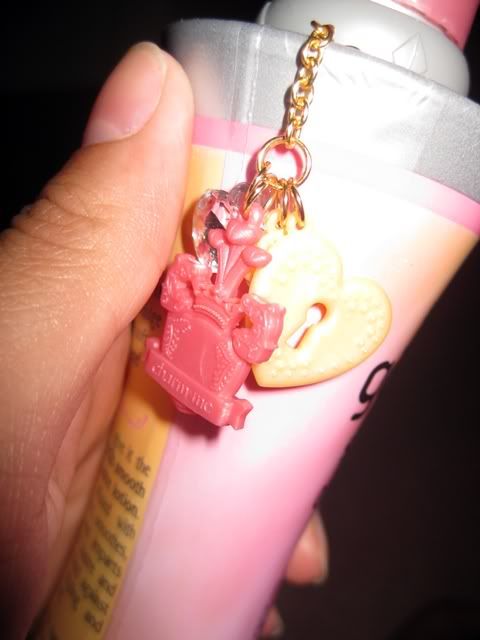 Cute right? :)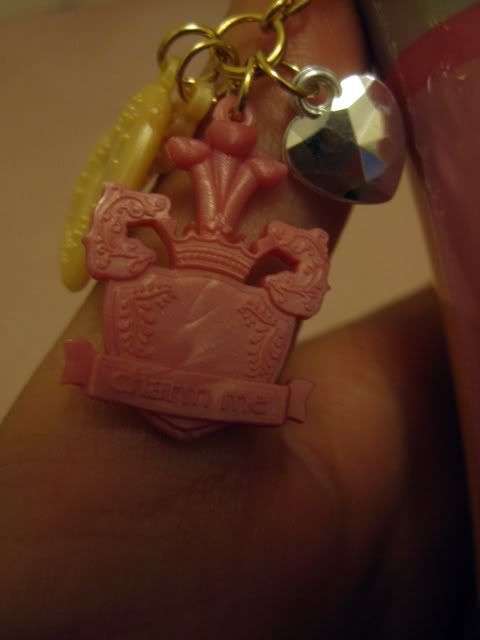 "charm me"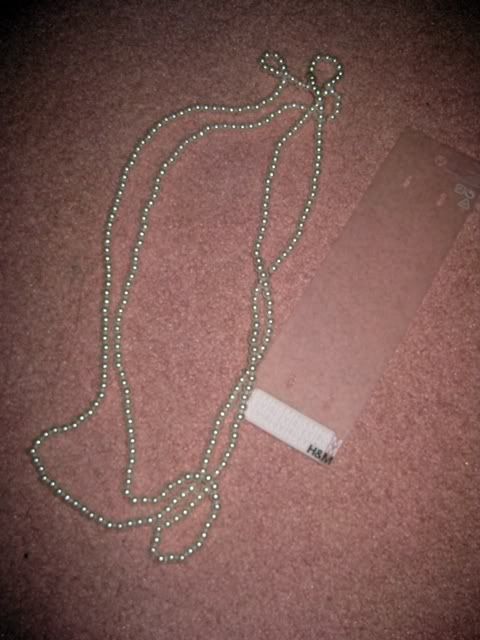 Somewhat fab necklace from H&M.
I also went to the beach yesterday it was a nice day for the beach to tan and get my feet wet! But I hate the fact that the beach is so messy with the sand and everything and you have to walk miles if you want to get back to civilization.. *SIGH. And the horridness of the dog feces and kelp that's dried up on the shore as well as the flies and bugs buzzing around and killing my time. Well anyways! I got a tan as well as a sunburn... I think this might be my first sunburn. I applied some aloe vera gel on my back last night and it felt alright I guess. It's less sunburned today I guess but still hot to the touch, bbq chickens! >.>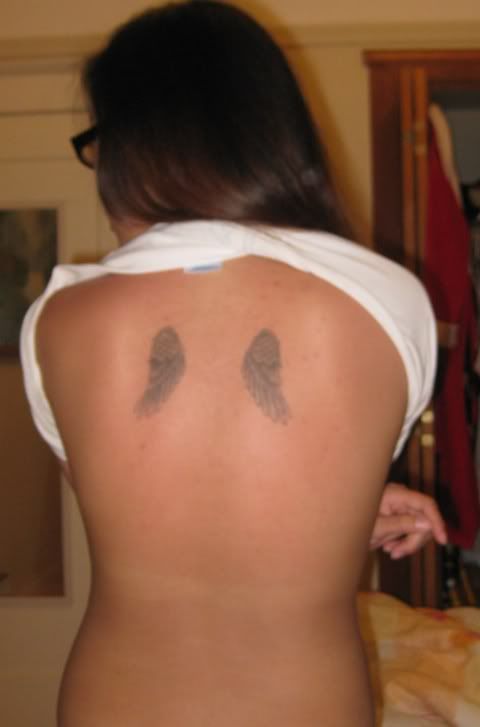 Can kind of tell. This is what I get for no sunscreen, I suppose.
My tragus has been traumatized lately too! After trying on the headphones a little red bump appeared on my tragus. :[ So saddd! Amy told me to go buy some emu oil to clear the bump, I'll wait a little. I went back to the piercing shop today and asked for the woman that pierced me, they told me she doesn't work there anymore. OMG, like... seriously?! I liked her, she was nice and cool! I just asked them about what I can do to make it disappear. They told me to double up on the sea salt soaks and I asked if the emu oil was necessary, they told me no it was kind of a "last resort" thing to get the emu oil. I'm hoping that the sea salt soaks are going to do it some justice and I'll purchase the emu oil a little later on.
PICTURE NOT FOR THE FAINT OF HEART: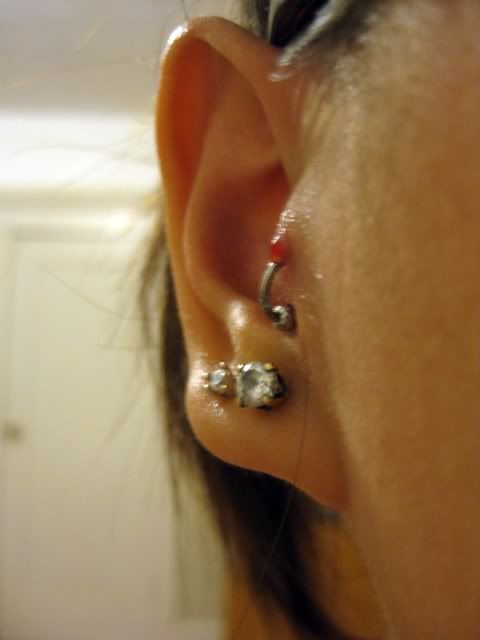 See! Bulbous red bump. :/ I wish I could wish it away!