I went to the local Marshalls store with my friend Jennifer a few days ago. Lo and behold there were a ton of ugly shoes... i.e. SLIPPER HEELS. (REFER TO IMAGES BELOW!)
What is wrong with slipper heels you ask? EVERYTHING! They are ugly, disgusting, etc.
What IS a slipper heel? Open toe or not but is definitely open in the back, LIKE A SLIPPER. Supposedly more comfortable than a regular heel.
WHY NOT JUST OPT FOR A NICE PRETTY HEEL?! Why torture people's eyes with slipper heels. But you know what's even WORSE? Slipper heels on the "see lais" with dry, cracked feet.
QUESTION:
If you were to go on a date with a guy would you wear?
A: Flats
B: Slipper heels
C: A cute REAL pair of heels.
Answer is C, mothafuckas!
Flats are a no! Comfortable is no. If you really like the guy you'd definitely have your feet hurt for him. (Don't pick douchebags or your feet will hurt for nothing, kthx.)
Slipper heels are just fucking disgusting. (Look at explantion above as well.)
Was walking home from buying some false eyelashes and I had absolutely no idea what this girl was doing wearing some fuzzy feather TRANSLUCENT slipper heels. What? Could not find regular walking shoes to buy groceries? Gotta look like a hooker to buy groceries?!
FUZZY FEATHER TRANSLUCENT SLIPPER HEELS SHOULD BE LEFT IN THE BEDROOM! IN THE BACK OF THE CLOSET WITH THE REST OF YOUR LINGERIE!!!
Do you think you can wear these ugly shoes to the office? Or a party? Unless lingerie party and want to look like a hooker, no?
OR! FLIP FLOP WEDGES. Ugh, why not just regular flip flops, why ugly huge chunks of flip flops?
Wish the people that designed these damn ugly shoes would go play in traffic! Good thing they are not so popular, eh. Or maybe the whole female population will start wearing them just to spite me.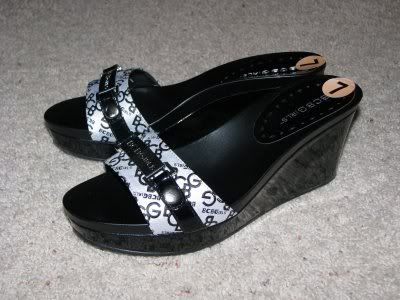 Fucking ugly.
How you like this flapping up and down on your heel?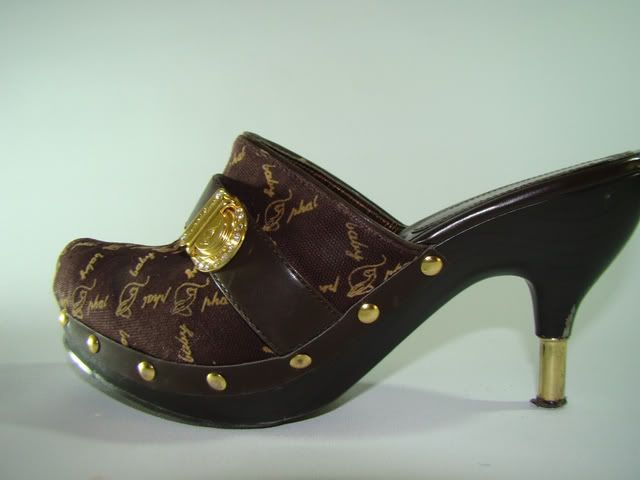 The mother of ugly shoes.
Flip flop wedges.