生日快乐 to me!
So yesterday was officially my 20th birthday. One more year, I don't know if I can wait that long...
Anyways, so instead of having a huge celebration, I visited my local museum and went to work. (I went to the museum because I'm taking a course on humanities about art and music and I need to write and art journal) First the museum... There was a paper dress exhibition that I really wanted to see so amorcito and I went to eat pho and get froyo before we went to the museum. General admission was $10, but if you have your student ID, the admission fee is only $6! I pulled out my ID and showed them, honey said he left his at home but they ending up giving us both $6 admission. It's another $2 off if you can show them you took the bus here with proof of payment for the bus or a fast pass.
We walked into the galleries and I immediately started jotting down notes for my art journal. There were a lot of things to see. I think my favorite marble sculpture was the "Columbus as a Boy" he seems to be sitting on a crest? with his legs crossed, I think I just really like the way the shoes are carved. Anyways, I mostly like looking at the paintings and skipped the sculptures altogether. We ended up going downstairs to where the paper dresses were but we had to pay extra or buy tickets for that exhibition. BOOO. I felt like I got enough material to finally write my art journal so I went home. I was greeted with a 红包 on my desk and uncle bought me a cake. My baby cousin is the one that always blows out the candles for people on their birthday... (spoiled brat, essentially means she gets like 10,000 birthdays a year) She blew out the candles and we feasted. Time for work!!! I left and I started working. Luis came to work and I was making boxes... He then tells me to go outside and get him a newspaper. I went outside and waved him down and asked him which one and he just chose a random one. I laughed at him and asked him what he was going to do with it. Funny, cus there was a satire photo of a Rene Magritte painting on the cover. I handed it to him and as I handed it over, I saw Carlos "parting the Red Sea" with a cake in his hand and a pink candle in the middle of it. I was really moved, though I didn't cry, it was really nice for Luis to put it all together. Another funny thing because I saw a pink candle on the keyboard when I came in and I laughed to myself, "huhuhuh, it's my birthday but no one knows and there's a pink candle here". Stupid ass...
A couple minutes after, Amylatte came in with a bag o' goodies. :) Luis asked me where my card was so I went to get it to let Amylatte sign it. And then I heard, "She's so happy right now, that's she crying." LOL So I went back to work. Still sweet of everyone to do that, even though I didn't want it to be a big deal.
Luis, Justin and Octavio chipped in to buy me a bottle of Remy Martin. I was like wtf? I'm not drinking tonight. LOL But I ended up drinking anyways. Ugh, it was too funny. We all clinked our glasses and 干杯ed. Then Amylatte and I left to get some dessert.
Ugh, we had such good conversation that night, and I kept wanting to talk but I had to get home. I got home around 11pm and opened my gift from her. So sweet. T___T' Literally... lol! I took a shower and by the time I went to bed it was 1am already. OMG time just flies by???
20.. 20? 20! 20.... I feel old already... Should I go buy some anti-wrinkle cream now? Le sigh...
I finally got my present from honey too. He got just what I wanted.. a light tent! TEEHEE. Happy camper.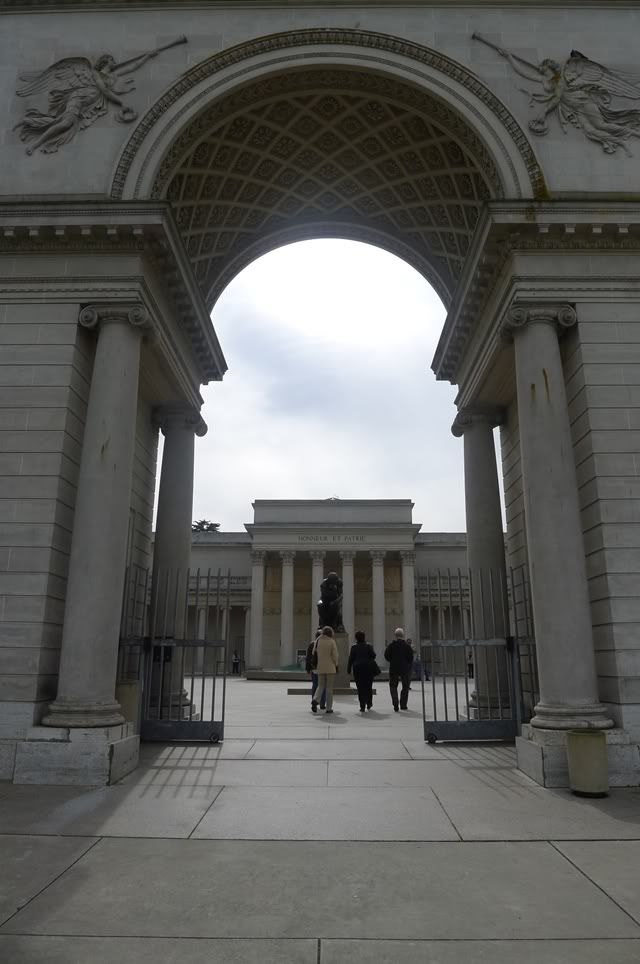 At the entrance of the museum
The Thinker Man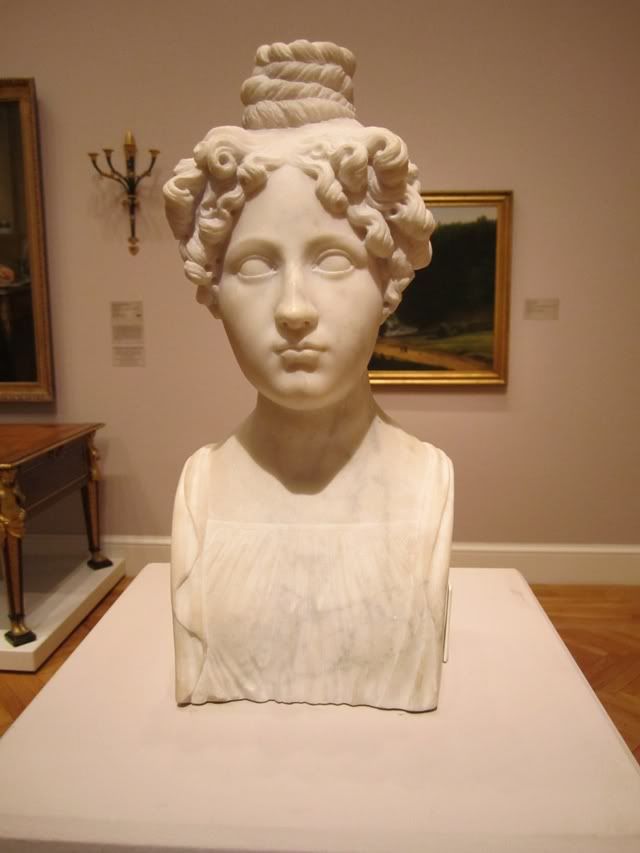 This sculpture is nice too.
Hello thar.
Pretty purple flower as we left the museum.
The surprise I got at work
Spelled my name wrong... >.>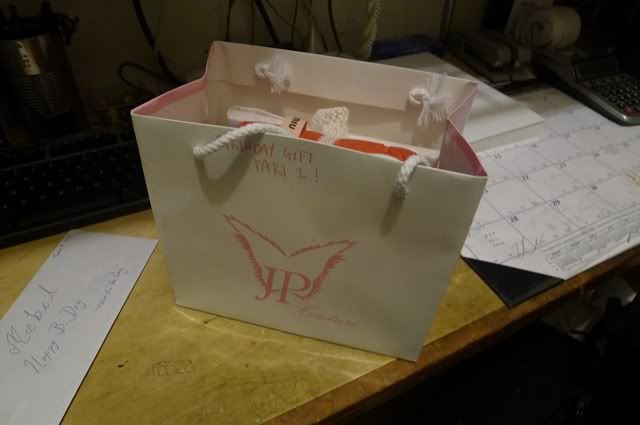 Gift from Amylatte
Card from everyone
Now bottoms up and double my dosage.
Dessert time!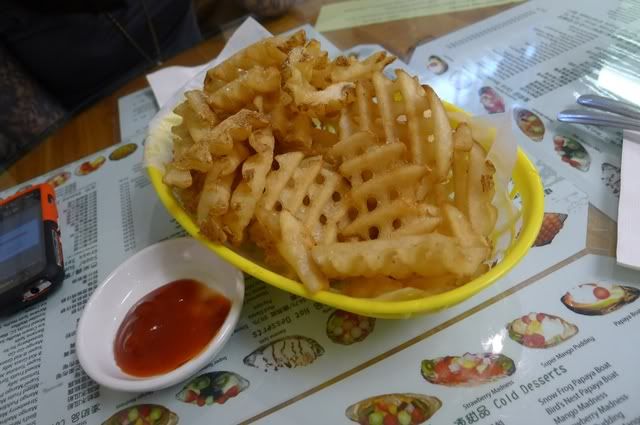 Waffle fries time!
Opening Amylatte's gift.
Part 1?!?!?!?!11111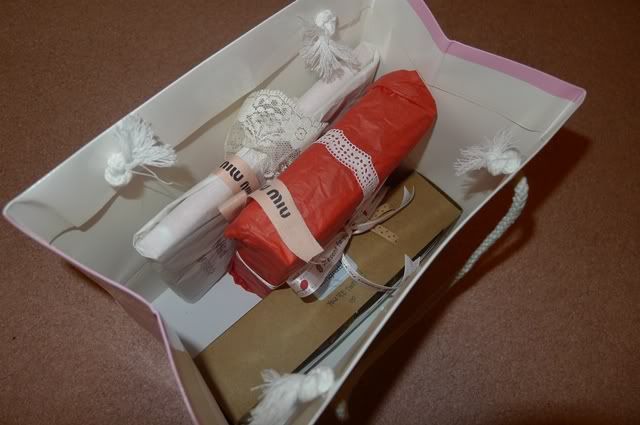 Hrm, what's inside?
LOLLLLL
I know..
Macaroons from La Boulange! I was dying to get a cup of coffee from here with her. LOL
What a cute skirt for my prezzie.
LOLLL! "My Mom is a Fob"! lollll I read the first couple of pages and died and died and died and died x4588576
Cupcake calendar yommmy
There's a single bow in the bag! :
Calendar, looks so good.
But I don't like bananas... at least it says, "maple" on that page. LOLLL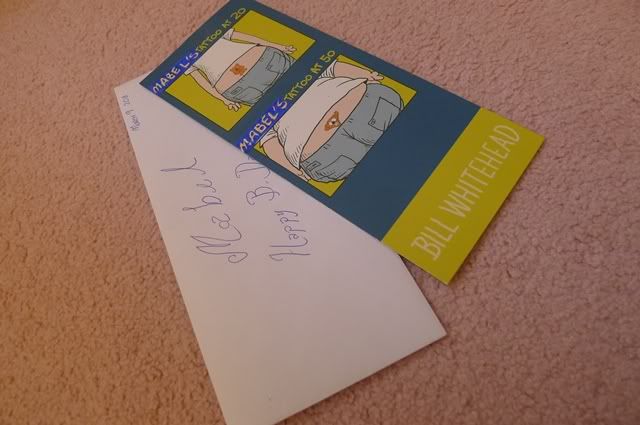 My card
I think the most creative message was from Justin. (This is my other job Mabel. Give me a call. Happy birthday, Justin.)
My light tent from honey
Comes with red and blue fabric for different colored backgrounds. I want pink. lol
大家好. I look like a lizard. LOL