A road trip. Nine friends. Two cars. Two days. One night. One hotel.
WE GOT OURSELVES, A SITUATION.
It was a long Thursday for me. I had school, it was a full on rainstorm and I had yet to pack ANYTHING for LA. Finally got out of school and I went home to get some stuff ready to pack then I headed over to Jonathan's house to order my Magic Mountain ticket. After I ordered the ticket, I went to meet up my Amylatte.
Amylatte sweetly greeted me with a pink daisy. My favorite color... and her favorite flower. She knows just how to cheer me up. The weather was shit and so was my mood. We went over to get some tapioca drinks, yummeh. And we sat there to talk. Talk talk talk. She always lifts my spirits when needed. I'm always glad to have her around.
We went to work and I had a long night. A long and sleepless night. I got home around 11:30pm. I took a shower, I packed some stuff and I tried to sleep. I finally fell asleep around 1am or so and Jonathan finally called me around 2:30am. I got up at 3am and started getting ready. It was time. TIME FOR LA! I packed up my laptop then Jonathan finally arrived and we were on our way. We went to go pick up Linda and Jenny as well. It hit 4am, made a pit stop at Arthur's house (where Linda and Jenny were) and we were off. OFF TO LA!!! I barely slept the whole way to LA, it was pretty crazy. We made one pit stop only and kept going. Linda is a damn crazy driver for hitting triple digits on the speedometer. Jonathan finally got some shut eye in the car when he passed the car to Linda. Poor Jonathan. :(
We finally arrived at the hotel RIGHT NEXT TO Magic Mountain. We checked in and everyone piled up into the room. We all put our stuff down and some people took a shower. We got there around 10am, so we went to Ihop to eat breakfast. After breakfast we went to Walmart to get some stuff. I bought a bikini for the jacuzzi at the hotel, some graph paper, cus I need it for homework back home and some makeup. The stuff is so cheap! Before we went sightseeting, Linda took a shower, and I have concluded that Linda holds world record for taking the longest shower with no remorse. The guys took off on their own and went sightseeing. After we all took a shower, we all went sightseeing as well. I drove us to Little Tokyo and Jenny was directing me with her GPS. Missed my exits like 100 times... annoying... Finally ended up in Little Tokyo. We looked around the shops and went into Yogurtland. Why Yogurtland? Idk, I should have went into Pinkberry that was about a block away!
I looked at some of the clothes to buy. Nothing... I'm picky. Finally we ended up at Fashion district and shopped around. Most of the stores were wholesale so we kept on walking until we hit Santee Alley?, I found a pretty dress from "Kiss Fashion" and a pair of gladiator heels from some shoe store. Yay! Ready to go out tonight! The sales associate at Kiss Fashion was REALLY sweet. I saw the pretty floral print dress on the mannequin and I knew I wanted to buy it. I looked for a small but they didn't have a small on the racks, so I tried on a medium. I asked her if there was a small, she said no the only small is on the mannequin but she'll take it off the mannequin if I'm going to buy it. I said YES. She's so sweet, wish I asked for her name. Sweetest sales associate compared to what I experienced elsewhere in LA.
Everything in Santee Alley closes at around 5pm or 6pm so... I couldn't look at anything before they chased me out and said they're closing. We left Fashion District about 7pm and went to Roscoe's for dinner. Chicken and waffles, yummeh! I got a plate of rice and a leg and a thigh, yummy! Definitely coming back next time I'm in LA. After Roscoe's we walked to Walgreens, and holy shit are the blocks of LA LONGGG. We walked like probably 20 blocks total to and fro Walgreens, that's alright cus we needed the exercise from all that fried chicken. I fell asleep in the car and Jonathan kind of swerved because he was getting sleepy too. Everyone was exhausted.
Finally got back to the hotel, groggily that is. I really wanted to sleep and stay in instead of going out with Linda, Jenny and Arthur. So I stayed inside instead. I felt so out of it. I need someone to talk to. ........................... AMY! I grabbed my laptop and I got online to talk to her. I got on Skype and skyped with her so I wouldn't feel so lonely. TOK TOK TOK. Amylatte went to go shower and it was getting late. I drank a lemon tea juice box, lol and talked to Jonathan and brushed my teeth then went to bed. ZzZzZzZzZzZzZzZzZz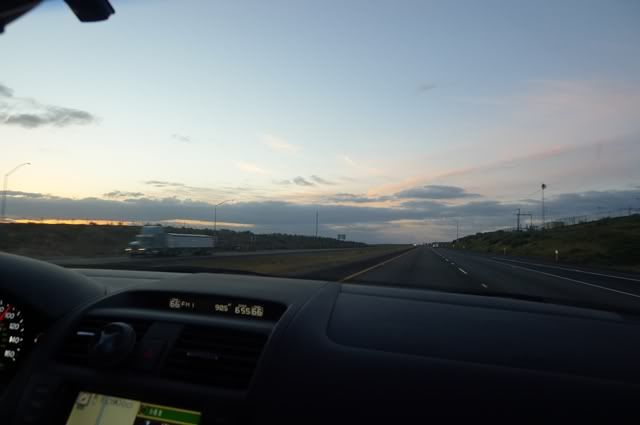 Watching the sunrise.
Still so long to go.
Crazy Linda.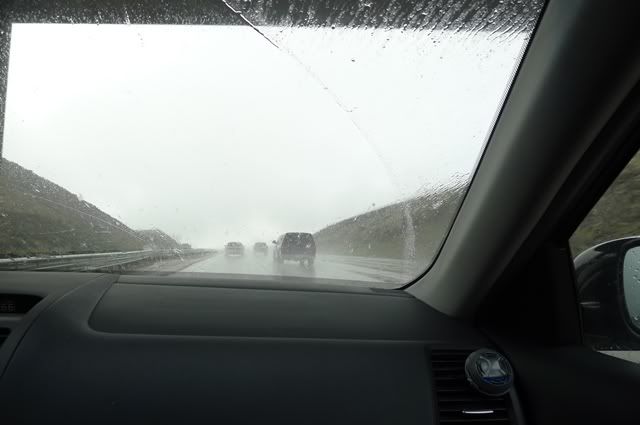 It was slightly snowing on the way.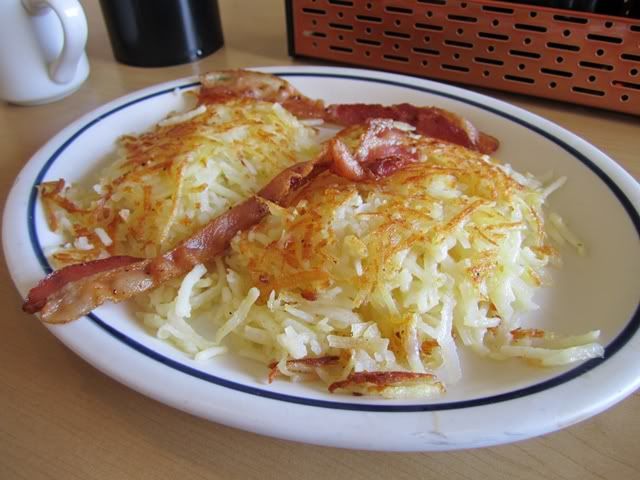 Hash browns complete me... except for these. YUCK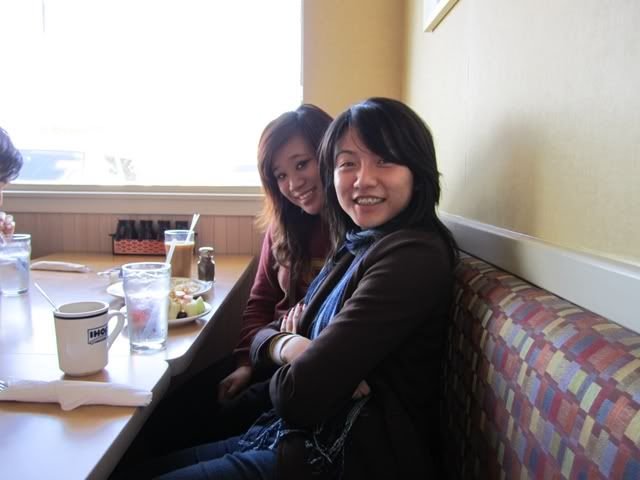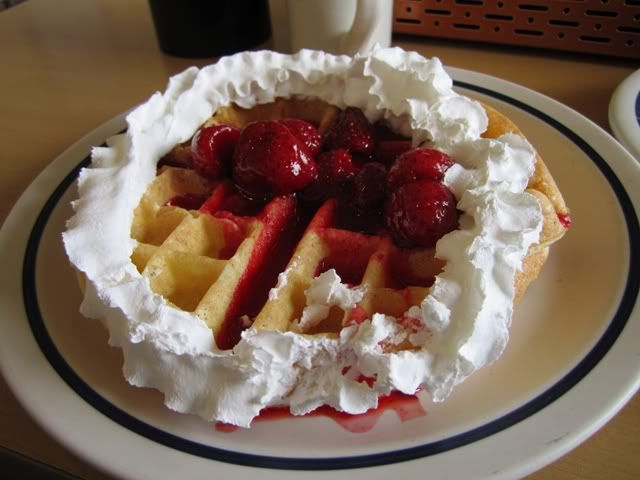 My belgian waffle.. that pales in comparison to what I had in Vegas.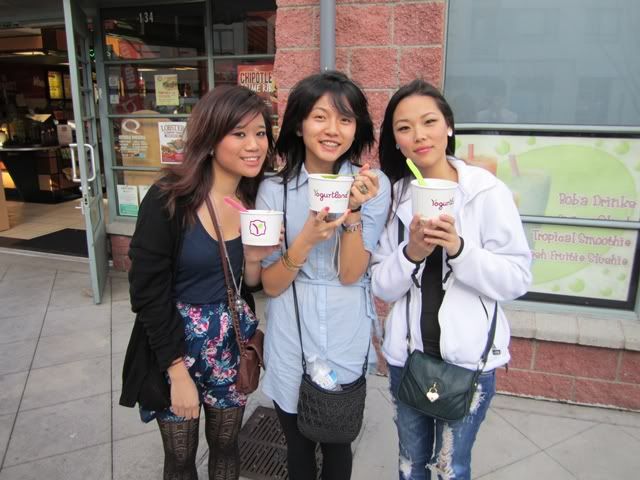 Yogurtland, hello.
He's so sweet.
Seksi a$$ Jonathan.
Gangsters smoking outside of Roscoe's.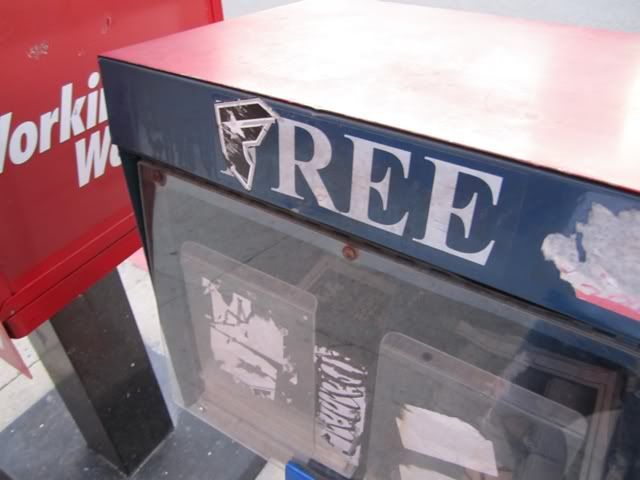 Free bitch baby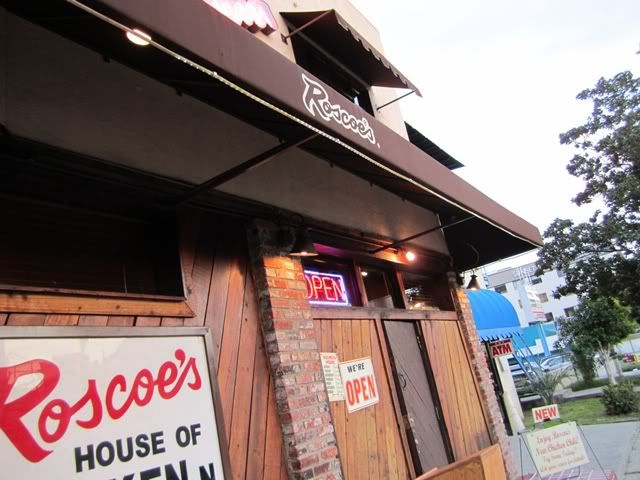 ROSCOE'S FTW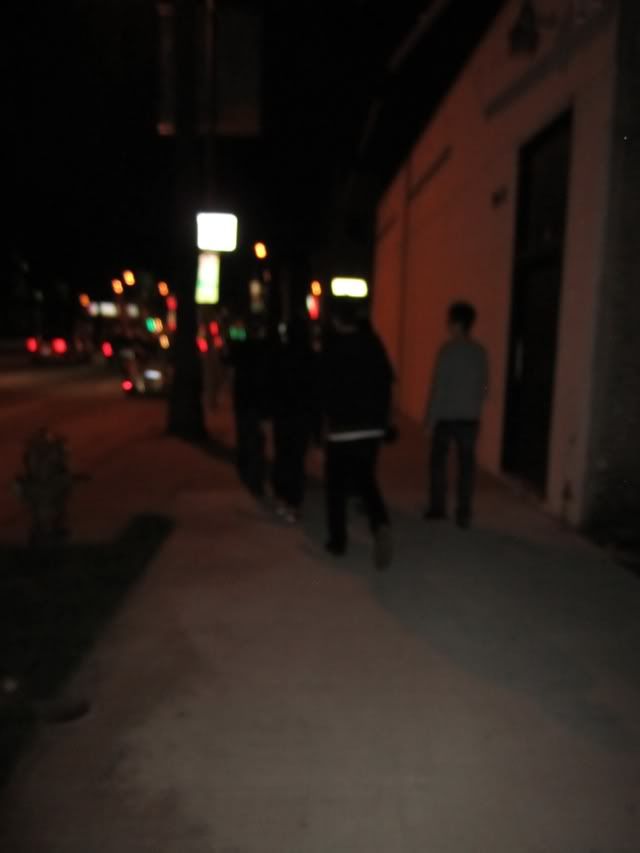 My bodyguards for the night.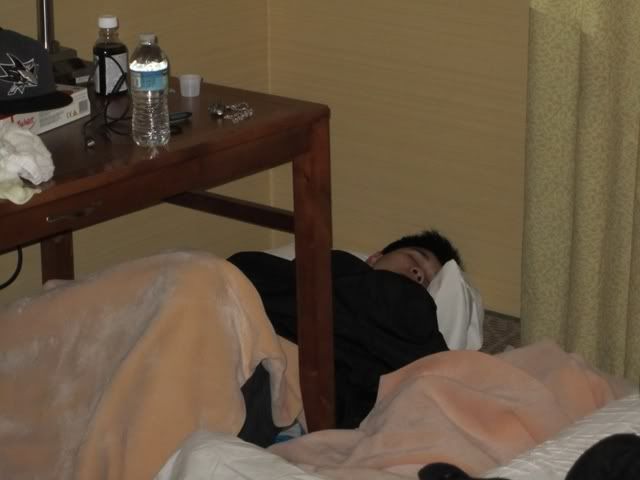 David is k.o!!!