Finally have my camera on me! Uploading pics while I'm typing up my blog. Sooo, yeah.
February 7th, 2009
Had to go the doctors and do my physical, but they were busy so I picked it up at like 2 someting. Went home after I picked it up. And then off to Victor's BBQ! YUMM YUMM YUMM. Got there about 5PM? Ate some food. Oh man all the bbq was hella salty, lol. Sat outside and talked to everyone for a little bit. Benny dropped like 2 really big mushrooms through the grill, a skewer, a burger patty, and I forget what else. Just not the day to for BBQ Benny, lol. Went inside to watch some basketball, but we came back out again for Vic's cake. Hella people got caked, lol. We went in at about 7PM to watch
Texas Chainsaw Massacre
UGH! It was so disgusting, I barely wanted to watch some of the parts. I got bored and tired of being scared after a little bit so I quit screaming. Victor's dad was filming everyone for home videos! Haha, word. We chilled after the movie for a little bit. Watched America's Best Dance Crew and Beerfest, lol. Hella funny. GO QUEST CREW! Left Victor's around 11PM ish? Idr, then Kev, Mars and me went to the busstop. We saw Tiff and Giang, so I guess we decided to go get dessert at 100%, but it was too full. We walked to My Fave Cafe, but it was too full too, and I didn't wanna go in. So we all left and took Mars to the busstop. WE WAITED 30 MINUTES FOR THE BUS, and she ending up not even taking it. She called a bunch of people so they could bring her home. LAWRENCE WOULDN'T DRIVE HER HOME! GRRRR.So we walked to the other busstop to wait for her friend, but I went home. Got home around 12AM. So tired and so full. Knocked out after a little bit.
February 8th, 2009
Gave Jeff his birthday present. OBSESSED WITH STAR WARS! Test your Star Wars knowledge! Haha, man he was sooo into it. Went to church, and yeah. Someone was acting like a snobby idiot. UGH, tell me about it. Girl please... Went home after church and then went to Rite Aid to get some whitening strips, lol. Didn't even buy them. Was about to go to the Cheesecake Factory but the weather was ugly and didn't want to leave the house. Went to Starbucks instead and got a tall double chocolaty chip, which was absolutely................... DISGUSTING! GROSS, it tasted like cold chocolate. Shoulda just got the Caramel macchiato. Got a blueberry coffee cake for my sister and a chocolate chunk cookie for me. Went to the cornerstore and bought Pirate's Booty and Flamin' Hot Cheetos. YUMMM! I love hot chips, lol. Went to work after a little bit. ONLY $4 TIP! Grrr, :[ Kinda slow, Lawrence came in and I yelled at him for not taking Mars home, lol. Eshole. Talked to everyone and made fun of stuff, but yeah. Went home after I ate.
February 9th, 2009
SCHOOL, ugh. 3 day weekend next week tho, so I'm happy! Nothing much happened. Had badminton practice but... couldn't go because I remembered when I opened my gym locker that I forgot to bring my change of clothes. UGH, how sad. Coach, gave ms stuff to do like start up the email list and stuff tho, so it was cool, I guess. Walked to the busstop and saw Amy called me like 6 times. :[ I guess she wanted me to work for her but it was too late. I went into work anyways to say hi to everyone. Made coffee for Luis and Antonio and then I left. Found out someone got fired! >___<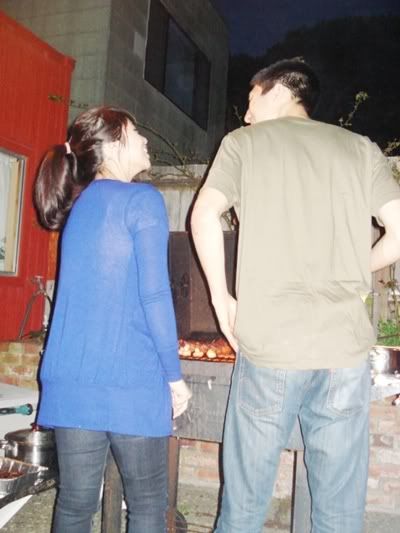 The love birds, Flora and birthday boy.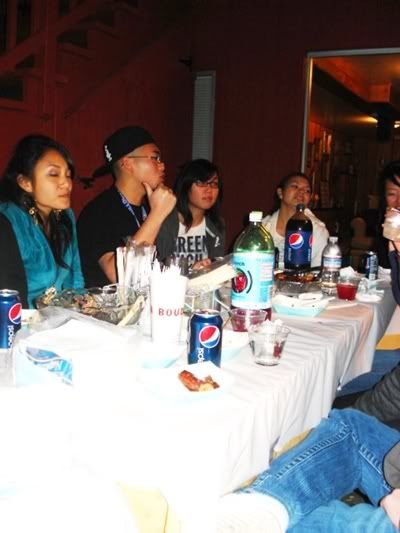 People.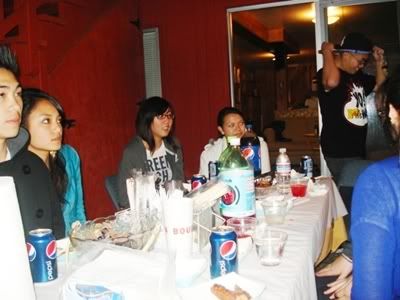 People again.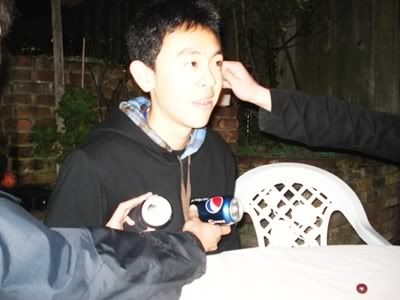 "Why so late Dog?" lol.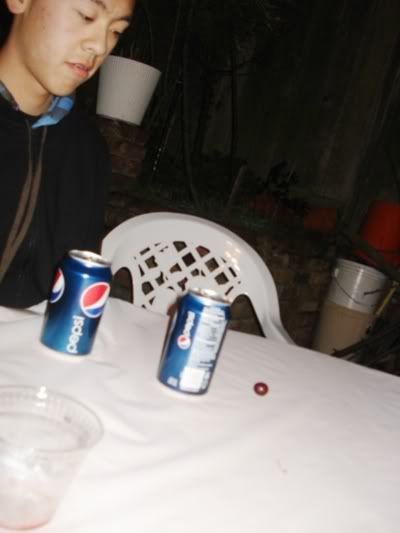 Sex in a can.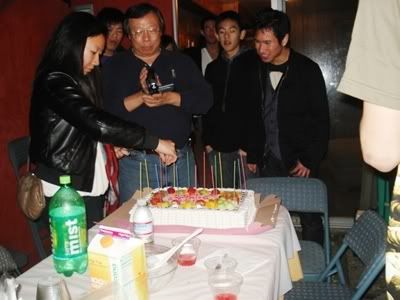 Happy Birthday!
Cake, mmmm.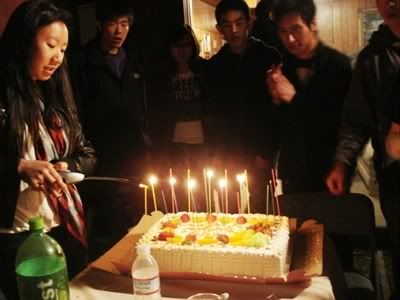 Lighting the candles.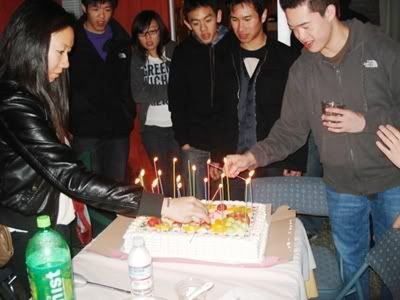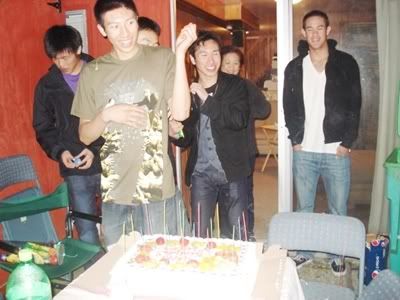 Cha cha cha!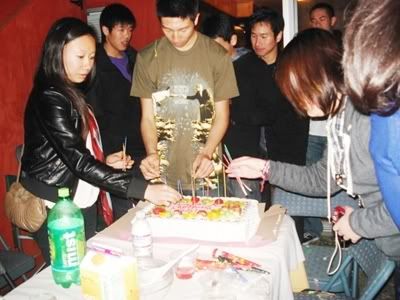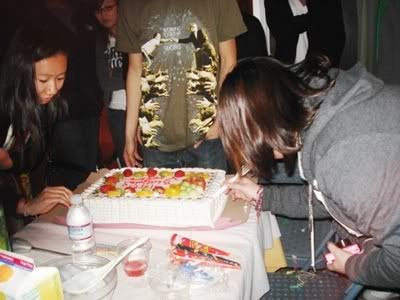 Picking the nasty candle wax off! YUCK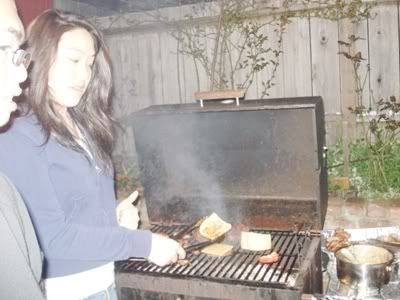 More BBQ!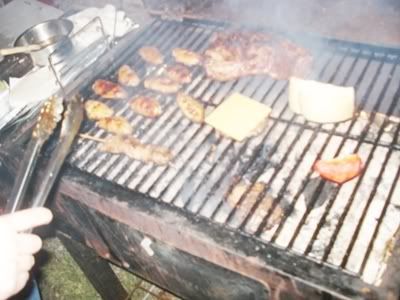 DEEEELISHHHH!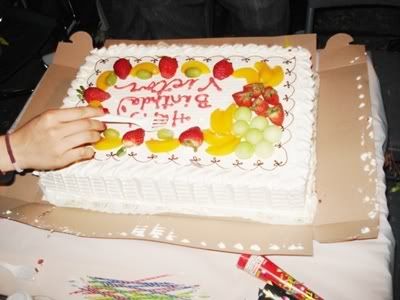 Picture of the cake.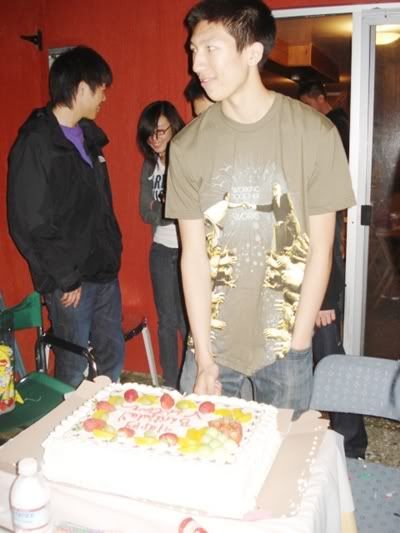 Chillen!
Vic and Standaman being stupid.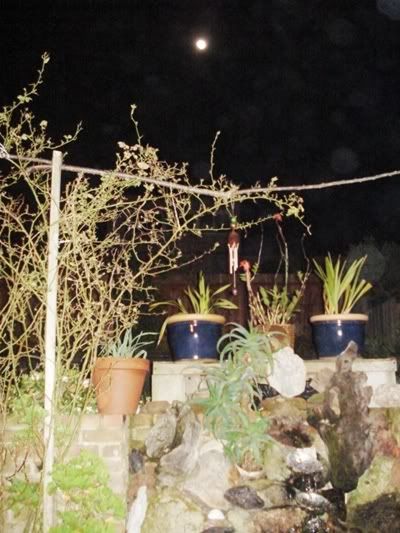 Pretty moon. :)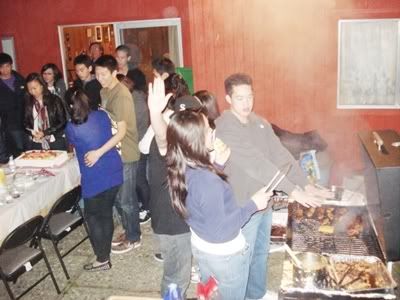 The cooks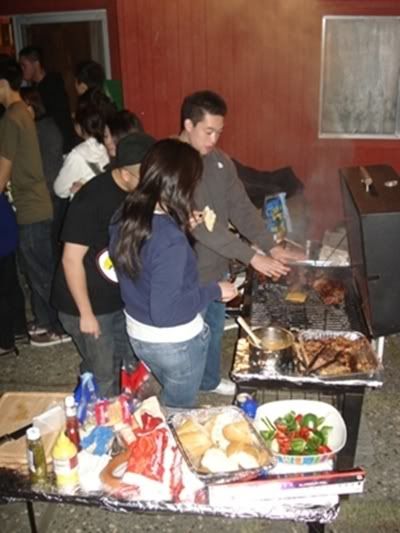 The cooks again!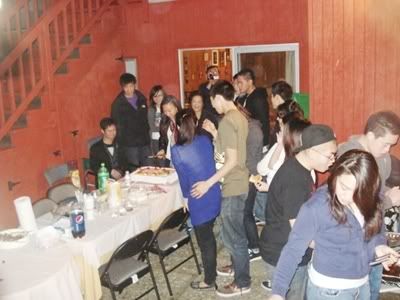 WHOO HOO
Cooks once again.
Dropping food between the grill, lol. Cooks.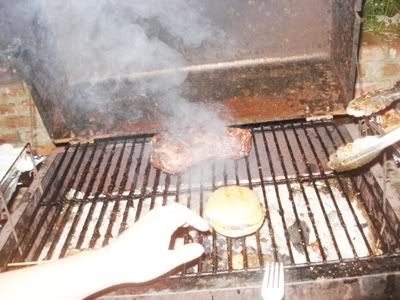 "I can haz cheez buhrguhr?"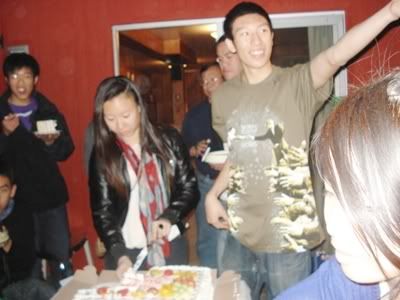 Being stupid?