HAI GAIS. Before I let you guys dive into part two of my Viva Las Vegas trip, I didn't blog about one very special event.
It was my boyfriend's birthday on January 8th, 2011. And he was turning the big two-two! (That's 22 for the slow ones.) So I surprised him with a dinner at Gary Danko.
Now, Gary Danko is this fancy shmancy restaurant a.k.a fine dining. I called them to make a reservation the previous Sunday and I actually got a seat for 2 on Saturday night! Talk about lucky!!! I was so excited you guys have no idea and I'm pretty sure that honey hadn't the slightest idea about what my plans for that night was.
I had the whole night planned out, my outfit and everything! I even had to order formal heels online and check the expedited shipping choice. I did a little shopping with Amy so I could find the perfect dress, and I did (even though it was a little big). The big night finally came - Saturday Night! I didn't see honey for the whole day so I wouldn't blab the whole surprise to him. I asked my friend Justin if he would take me near the restaurant to see where it stood and tell honey to meet me there.
I got ready around 6pm. I wrapped honey's gift, showered, put on my face, did my hair, prepped my bag, threw on my dress and shoes and I was out the door. Didn't take very long to get to the restaurant and I realized I could've just taken the taxi, oh well.
After we got there, I ended up at Ghiradelli square. I told honey to meet me there and we could walk to Gary Danko. After honey took about 2 minutes to walk, I got out of the car and waved Justin and Amy goodbye. Honey and I walked about a block and I told him, "we're here!" He gave me a small smile and from there the conversation was faint. I think he said, "here???" The doorman held open the door for us and we walked in. I checked into with the host and we were a bit early. The reservation was at 10pm, but we had gotten there at 9:45pm. The host kindly asked for our coats and we handed them over, then she told us we could have a seat at the bar.
There were no seats at the bar so we stood there like fools for about 10-15 minutes. When seats finally opened up, we both took a seat. The bartender asked us what we'd like to drink and we took a good look at the drink menu. I had a rosemary and lime drink I believe and honey just got a coke, straight up on the rocks (hahahahahahahahaha). Bartender even laughed at him, then he said he was going to get 3 shots of 151 because the bartender laughed at him (didn't happen). The host kindly let us know that our table was being set up and it would be in a couple of minutes. We thanked her and got back to our drinks. After a couple of minutes another bartender came up to us and thanked us for our patience and gave us a complementary appetizer. It was a flaky biscuit with raw salmon and caviar, so delicious!!!
After we finished, a different host showed us to our seat and told us, "we have a beautiful corner table for you." All due respect, I didn't know corner tables were beautiful.. and I feel like they talked too much, but I guess that's what I'm paying for. We took a seat and got settled down and talked a bit, honey was still a bit flabbergasted and kept saying, "goddamn it", and he was still surprised. After a couple of minutes we got our menus and took a look. We both decided on the 3 course meal.
Honey got a Risotto with Lobster, Rock Shrimp, Shimeji Mushrooms and Butternut Squash for appetizer, a Roasted Pork Belly and Tenderloin with Brussels Sprouts, Bacon, Parsnip Purée and Maple-Cider Glaze for entree and Trio of Crme Brlée with Assorted Cookies for dessert. I got the Seared Ahi Tuna with Avocado, Nori, Enoki Mushrooms and Lemon Soy Dressing for appetizer, the Coconut Thai Curry with Lemongrass, Calamari, Lobster, Scallions and Shiitake Mushrooms for entree and Cornmeal-Apple Upside Down Cake with Calvados Cream, Maple-Walnut Ice Cream and Apple-Ginger Sauce for dessert. All of which were damn good! We got our order taken and a girl gave us some bread and butter. I ate a bit of bread and the appetizer was in my face already! Honey's risotto was really good and I have never eaten this kind of tuna before. We finished our appetizer and our entree came next, I wish I had picked something different. I always tend to pick food that I'm familiar with, which leaves no mystery and nothing new. After our entree, our dessert came and needless to say the apple pie did not disappoint. Honey enjoyed his creme brulees, chocolate, pumpkin and original. After we finished our dessert, our waiter came back with a mini cake fully lit with a really long thin candle and the plate had "Happy Birthday". We also received a platter of mini delights on our table (so much complementary stuff!!!!!!). I told him to make a wish, so he closed his eyes, made a wish (I hope), then blew out the candle. He really enjoyed the mini cake, it was raspberry or cranberry I don't remember (some kind of berry). After dessert we flagged down a server to help us take photos. Then we sat back down and talked for a bit. We asked our kind server for the check, which came out to a total of roughly $160. It was believed that honey had the most expensive coke of his life. #.75 for a glass of coke and no refill! LOL
After paying for the check, we walked to the entrance and other hosts were there holding our jackets. (HOW IN THE WORLD DO THEY KNOW IT'S OUR JACKET?!?!?!?!?!?! ~mindfuck) The funny guy complemented on my bag and said that was the "bag of the year, and last year too". HAHA, oh man he's pretty funny. We walked outside so honey could help me take pictures, after one picture the two men that were holding out our jackets came out and surprised me and said, "HEY I'M SUPPOSED TO BE TAKING THE PICTURES." So one of the guys helped take pictures for us, then dragged us over to the other side so we could take another picture with the restaurant seal. The guy that complemented my bag said, he wanted to take a picture because he took high school photography, and the other guy said, "yeah, because that's your career right now, a high school photographer." /insert LOL here. (Okay it was fucking funny as hell, it's one of those you should have been there moments.)
After we finished taking pictures, we talked about the menu with the guys helping us take pictures, and he said it was a seasonal menu and they'll change it around March and I threw my hands up because that's when my birthday is! WHOOT WHOOT. The guy helping us take pictures was so kind, he told honey to hold on while he gets him a gift. He came out with a bag and inside was a wine opener. (HOLY SHIT SO MUCH COMPLEMENTARY STUFF!!!) We kindly thanked the guys and went on our way. Honey still hadn't opened his present. We opened it in the car and it was a quarter zip Armani Exchange jacket.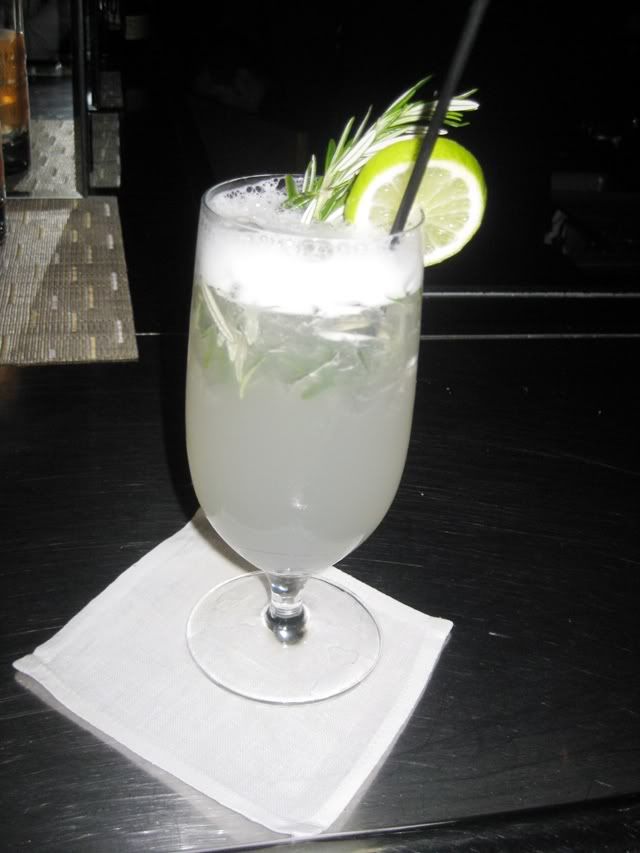 Sitting at the bar with my Rosemary Ginger Limeade, YUM! Didn't bother to take a pic of honey's boring ol' Coke on the rocks that cost me $3.75 a glass. LOL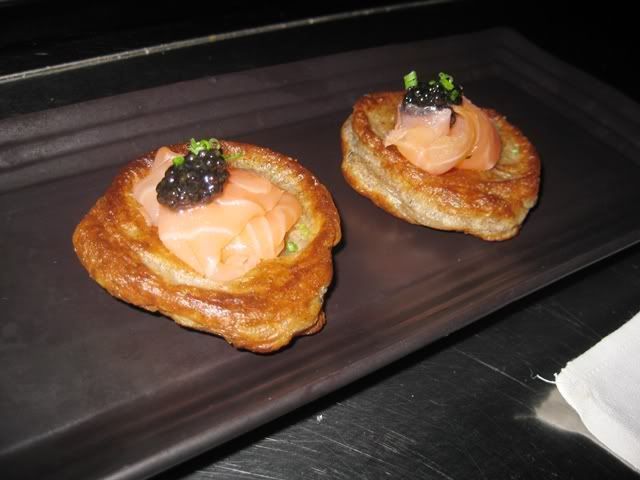 Complementary yum! Flazy biscuit, raw salmon and caviar to top it off.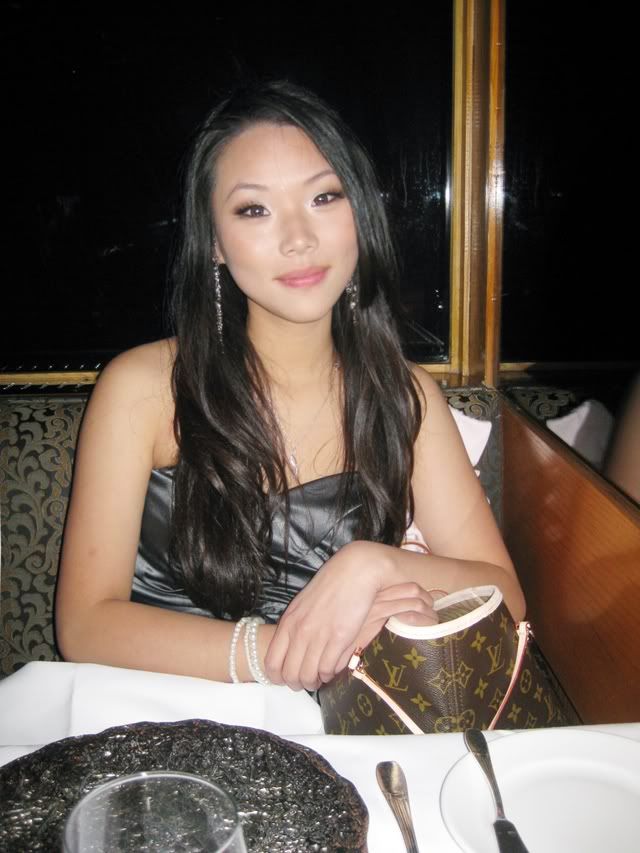 :)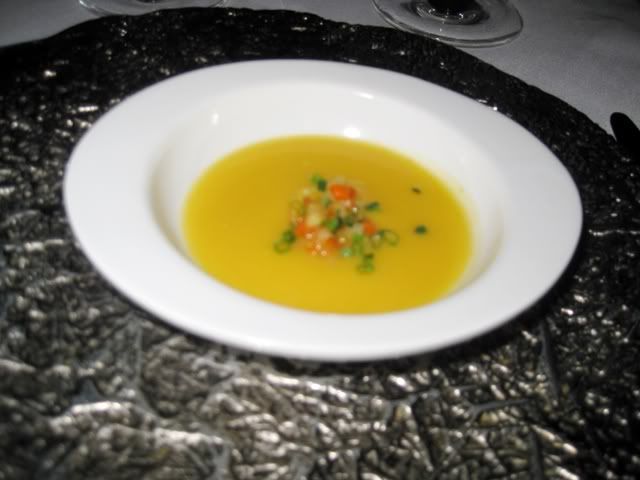 A very blurry picture of our soup to start. Didn't want to blind the patrons in the restaurant with my flash. So I guess this picture will have to do. :(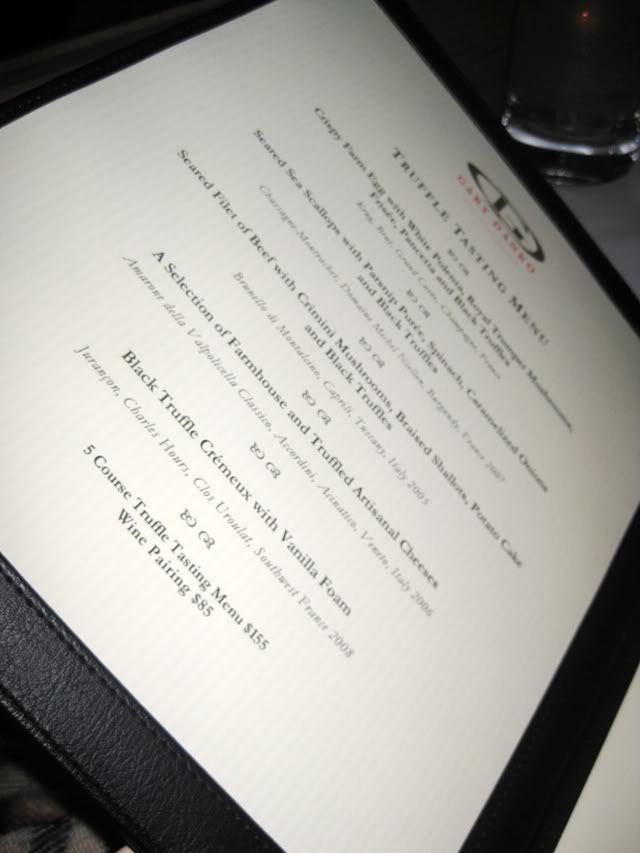 The menu.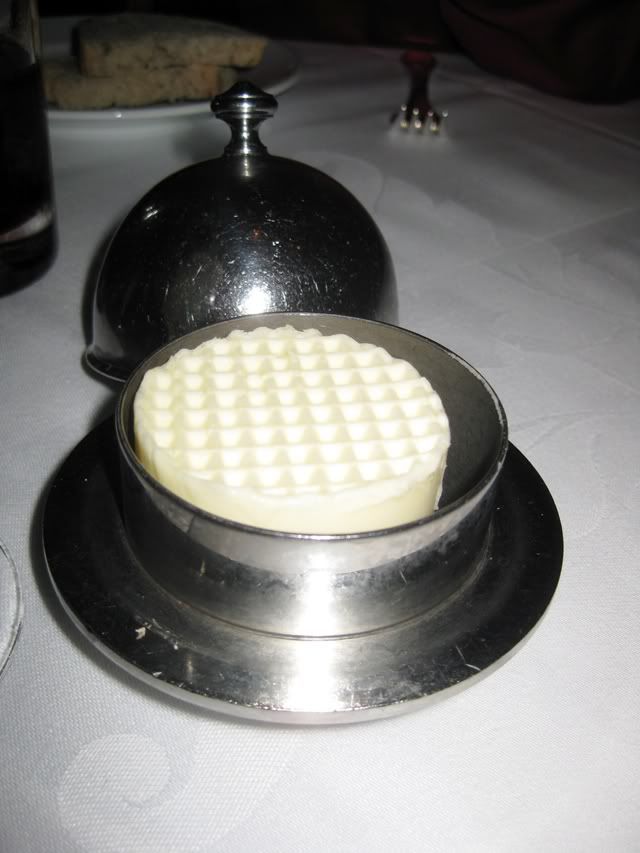 Our butter! Looks so nice for butter. O__o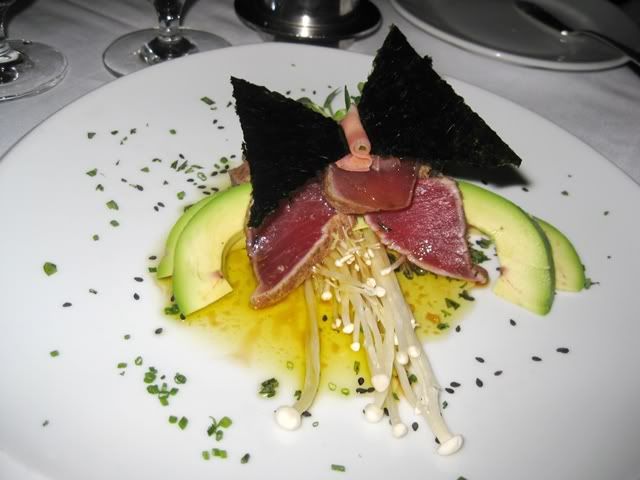 My seared Ahi tuna. Looks so pretty! @__@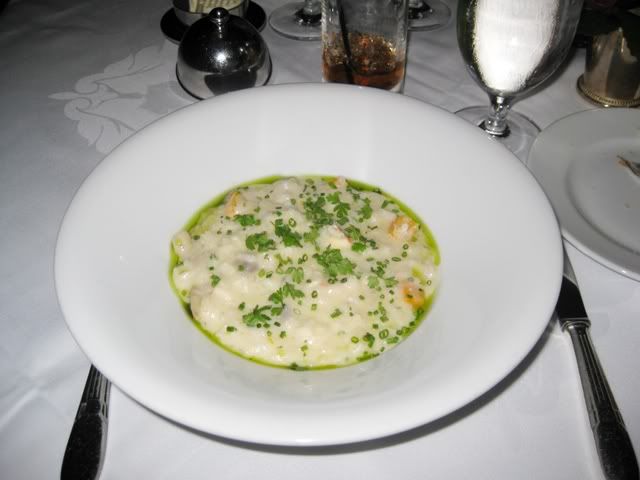 Darling's risotto, so yummeh!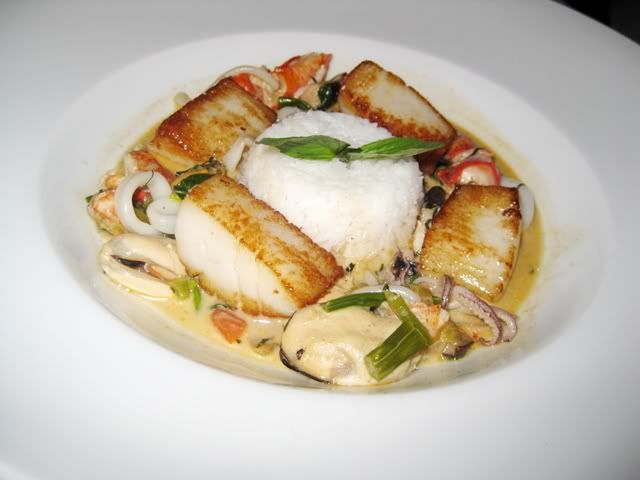 My entree.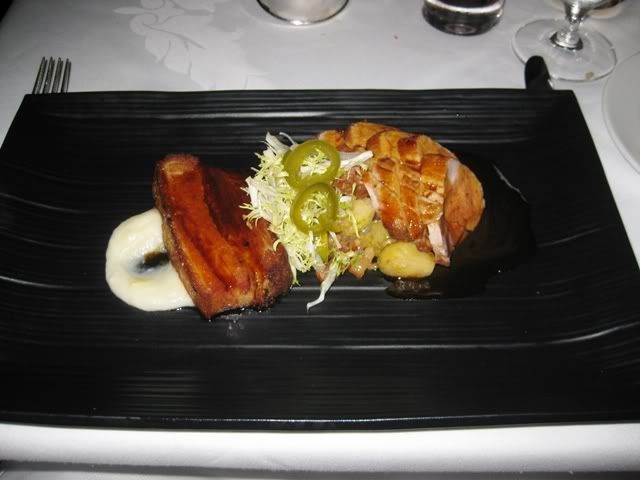 Honey's tenderloin.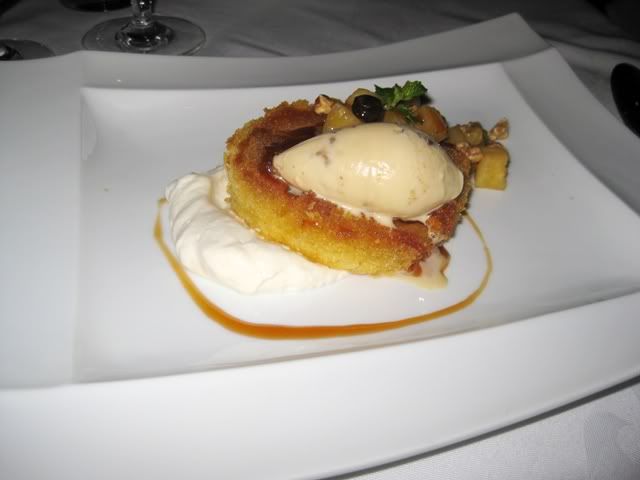 My dessert! Mad yummeh!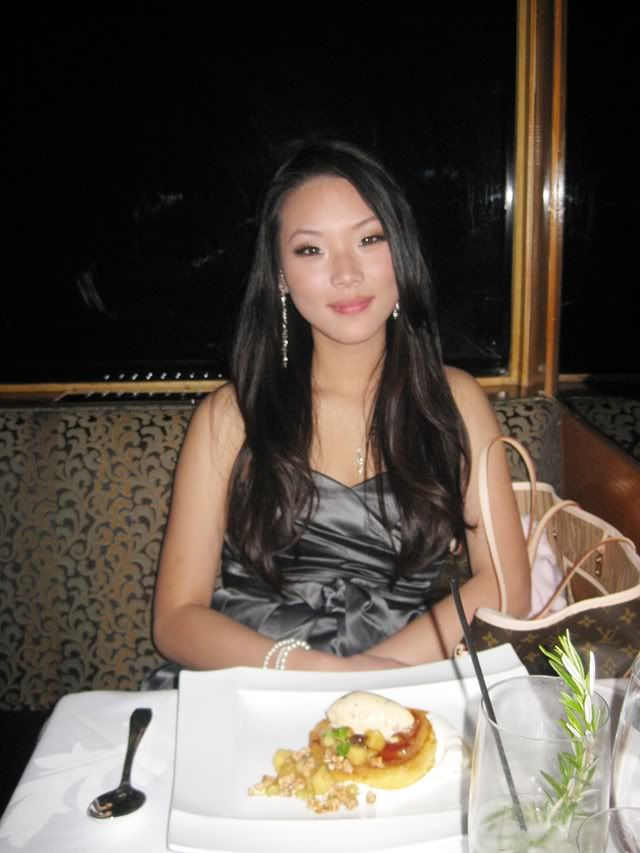 My delicious, mouth-watering, savory, delectable, satisfying, heavenly, pleasant, palatable dessert. ♥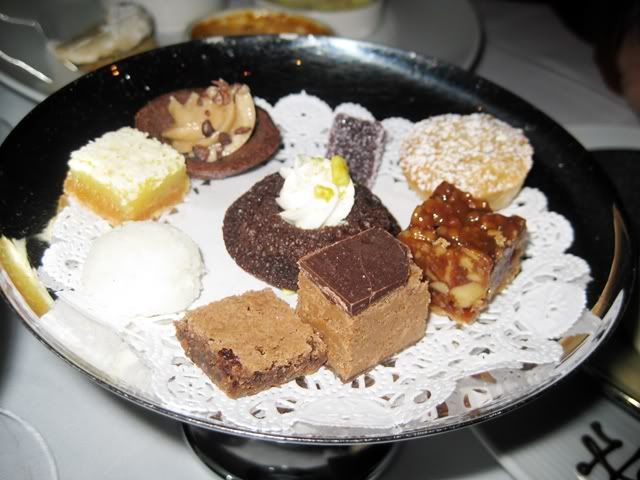 YUMMMMMMM
Da bill.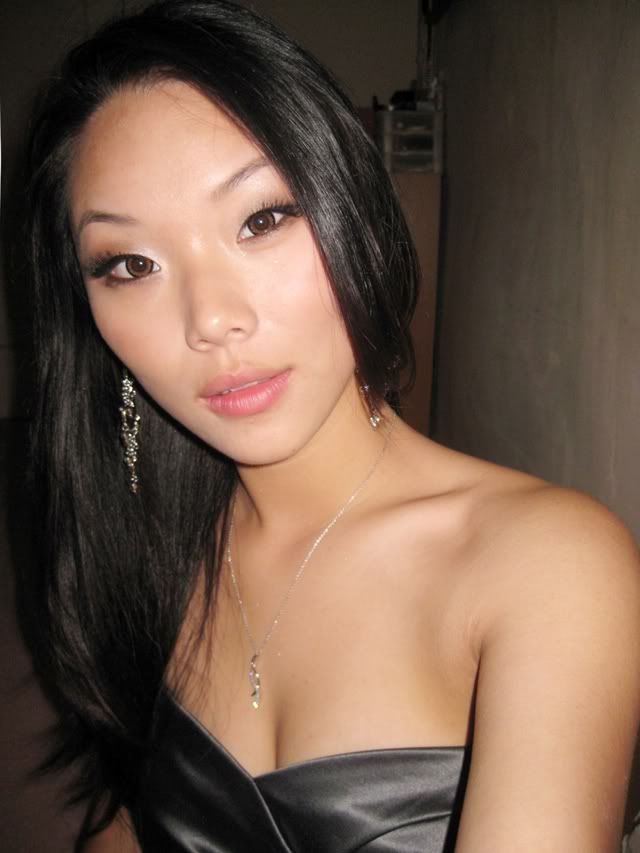 Cam whore pic.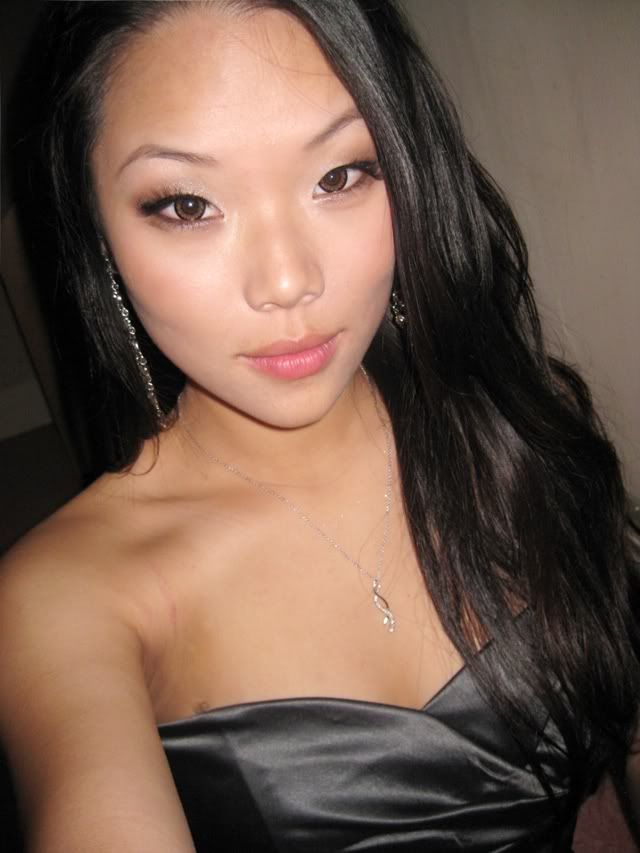 My eyelashes are falling down. >:[