So I started school on Tuesday, which sucked. But I'm totally excited for yoga class! I had it this morning and I'm looking forward to the next sessions, and if all goes well. I think I'm going to join Bikram yoga, which is yoga done in 105 degrees! Sweat that fat out!
So school, has been whack and I don't enjoy people in my class asking all these dumb questions that are directed at me and the teacher.
What a waste of time.
Excuse me if I'm being a bitch, but too damn bad
! I just hate when the teacher takes damn long at the beginning of school and then they rush the rest of the material at the end of the course! Which leaves me no time to ask questions or even to understand the materials.
I think I did a good job in choosing my teachers this semester. I went to ratemyprofessor.com to check each and every one of those teachers ratings. Some teachers definitely need to be blacklisted but some are good.
And since school was starting, I had to go on my search for a composition notebook. So honey and I went on a Target errand. Is it freaking me or does no one sell them anymore? I found an ad in the Target catalog that sold composition notebooks for $1! But they're not the original ones. These have different designs, but I bought 2 of them anyway. I decided to buy some lotion as well. I used Aquaphor for my tattoo and Aquaphor is manufactured by Eucerin, so I bought a large tube of Eucerin calming lotion and a small tube of lightly scented daily skin balance. So stupid of me to read the ingredients after I buy them, but they seem to have a lot of chemicals? Perhaps I should switch back to Aveeno lotion instead. I have super dry knees and elbows (not enough hydration). And when I was in Vegas, I felt my hands getting dry so I put on some hotel complementary lotion. It started itching and burning my hand!!! Little did I know, the top of my hand had micro splits, that could barely be seen with the naked eye, which is why the lotion burned my hand. My hand feels much better, but I have to remember to hydrate my skin every night with the large tube of lotion. (I forget which lotion brand advertised that you skin will get softer the more often you use it, some one care to tell me?)
I bought some new tubes of mascara because I'm long overdue for a new one. (I think I'm in love with lash blast.) I bought Maybelline One by One, Maybelline Great Lash, and Maybelline Falsies. Great lash is awful, the wand is too small, and doesn't even grab my lashes. I think the One by One is pretty good, it grabs my lashes pretty well, and I can continue to build up the lashes. I haven't tried the Falsies yet, but I heard it's pretty good. I still feel a tiny bit iffy about these and I'll go back to my lash blast later on in the future. What are you girls' favorite mascara?
Also took the liberty to buy some highlighters! I remember Yuko bought me a really nice pink highlighter from Japan and it was the frixon kind that you can erase, but it's all dried up now. :(
AND! If you guys have been following/reading my tweets, I've been super obsessed with blushes lately. I just don't think that using my bronzer as blush has been cutting it. Usually when I put on a full face of makeup, I use bronzer as blush, it looks alright IRL, but it just doesn't show up very well in photos. So I've been keen on the idea that I should go out and buy some blush! In addition, I turned obsessive with makeup brushes as well. I purchased some ecotools brushes and e.l.f. brushes (which have yet to come). AHH! So happy! :'D
And then... I ordered some sheercover! I haven't the slightest clue why I was so compelled to purchase sheercover over bare minerals, but I feel like bare minerals is too hyped up? Maybe it's the creamy concealer and all the free gifts in there, but I'm very excited to try it!
I'd also like to know from you gals, for those of you that use Maybelline's dream mousse concealer in the little glass container if you like it. Do you???
I also received a cute little chocolate covered marshmellow from honey's aunt! It looks and tastes so good! @___@ I hope I'll be able to do these things when I'm older, as in middle aged and making scrapbooks.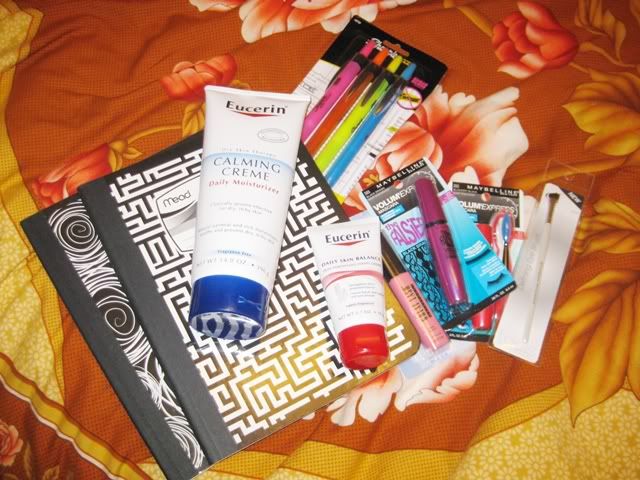 My Target loot!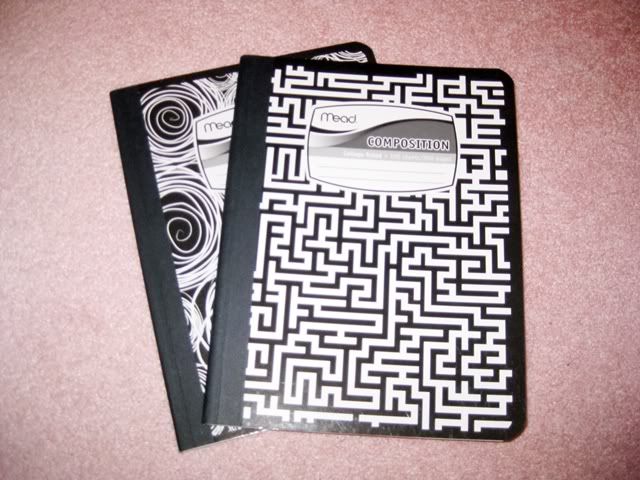 No more composition books from MEAD?
Lo tee on~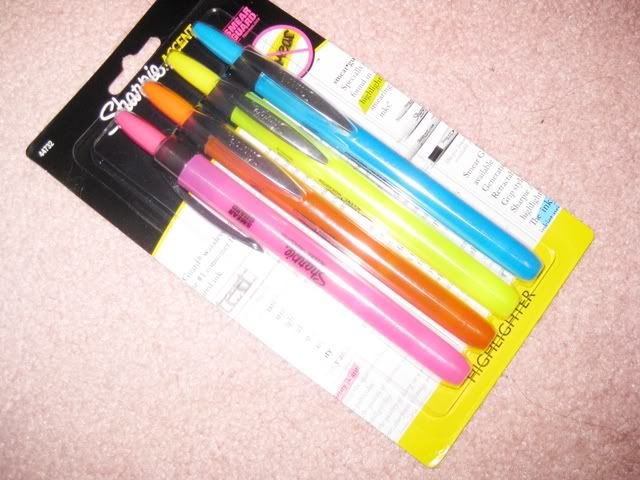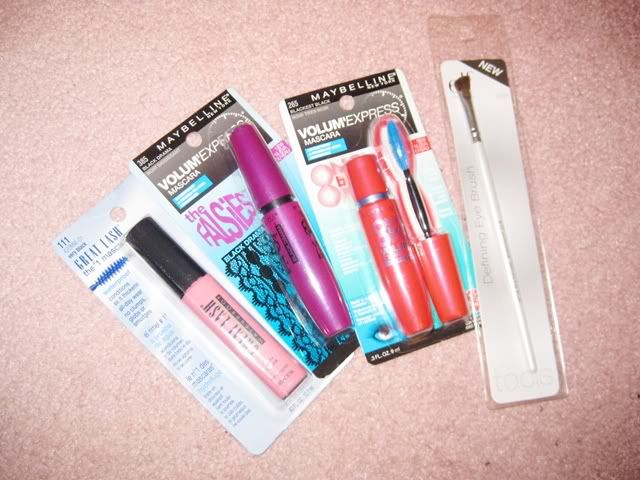 Mascara!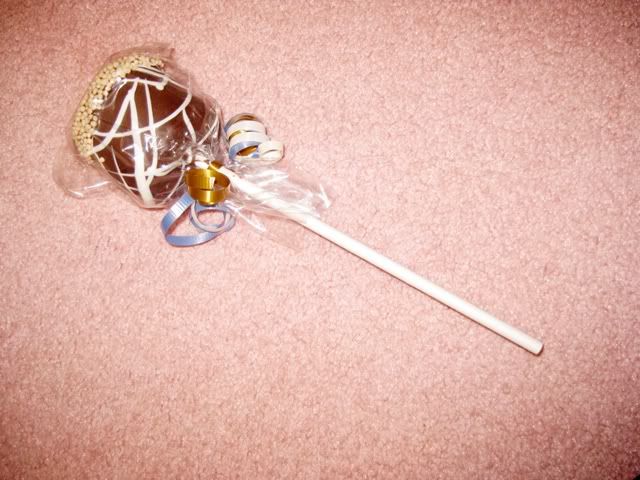 So pretty! @_@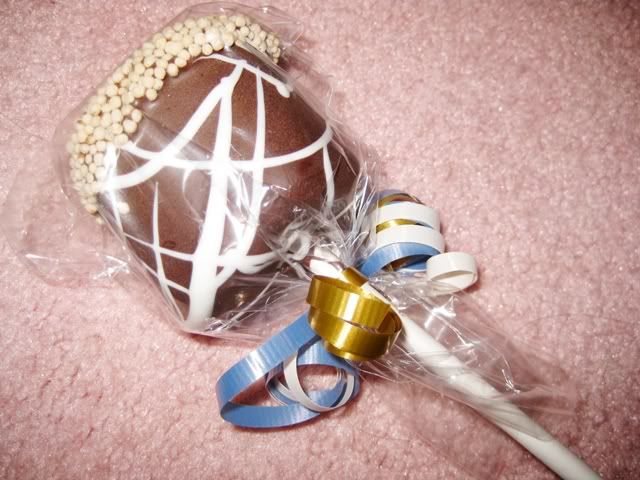 Nomz for meh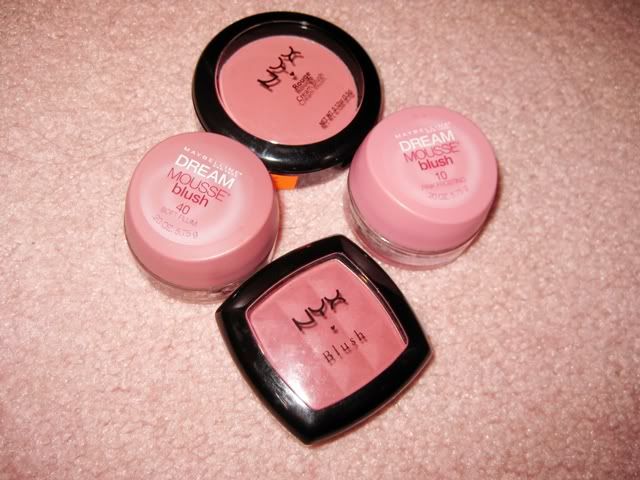 Blushes!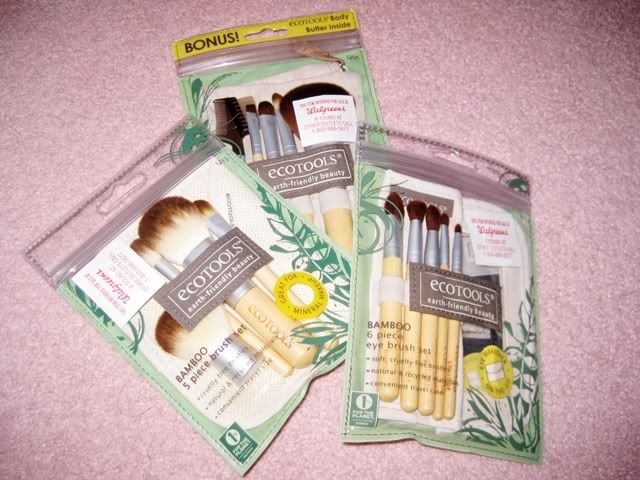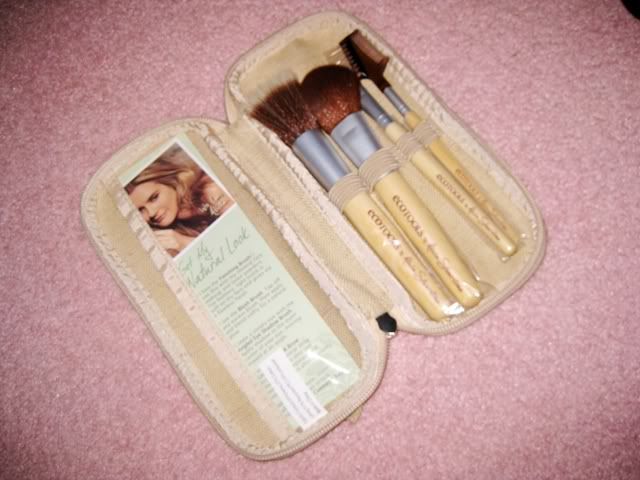 Alicia Silverstone edition of ecotools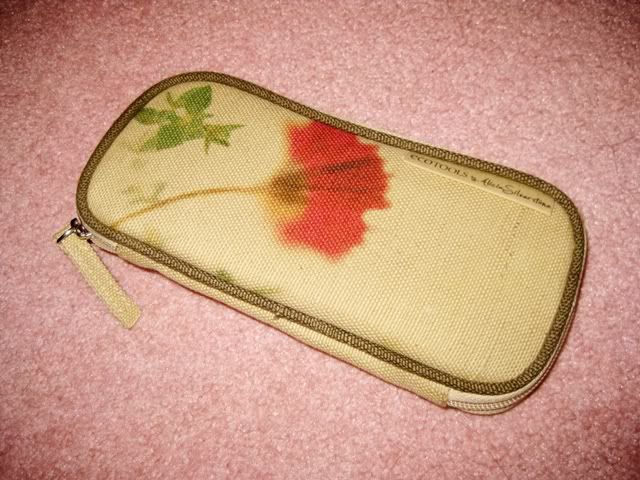 The zip bag it comes with.
Cam whore pic!
Love you guys! Mwah
P.S. You guys have bumped me up to 8,000+ hits total! TY! ♥