Ugh, totally forgot I had to study for a psych test for tomorrow! SCREWED! EEK. But I had a fun time today which was GREAT.
I woke up around 9AM, grr. I thought I'd be able to sleep in today, but I guess not. I got ready and then I cleaned up my room (total mess!) Got out the house around 1:45PM to take the bus to see my girlay Jennifer and carve up pumpkins for Halloween! YAYS.
We bused to Safeway so we could get pumpkins, man that was heavy, yo!
I saw ex, lol. Sipping on a juice box, weirdo. I waved hi and he looked as if "WHO THE FUCK ARE YOU?!"
Whatevs, time to shop for big pumpkins.
Bought one for like 4 bucks, cheap yo!
We didn't buy the carving kit cus we thought we could use regular knives, boy were we WRONG?!
We got ready for everything taking a few pics along the way. Unfortunately, as soon as I pulled my pumpkin out of the bag, it rolled down the hill. :/
I decided to do the autobots from Transformers, but that didn't work out so well. I thought it'd be unique, since I didn't see anyone else do the design as a pumpkin carving. DAMN HARD, LAH! Not so good at it, haha
PICS!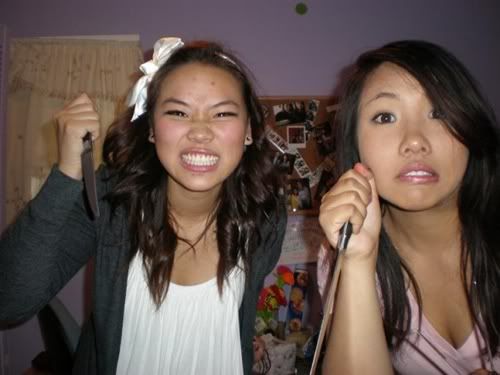 GRR!
I'm going to... CARVE YOUR PUMPKINS! MWAHAHA.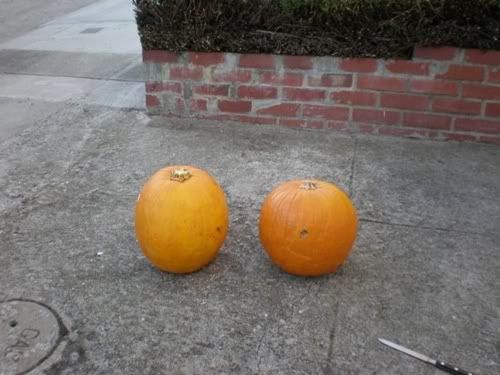 Before it rolled down the hill. :/
Still pre-hill rolling.
Stuck under a shitty Corolla type-S.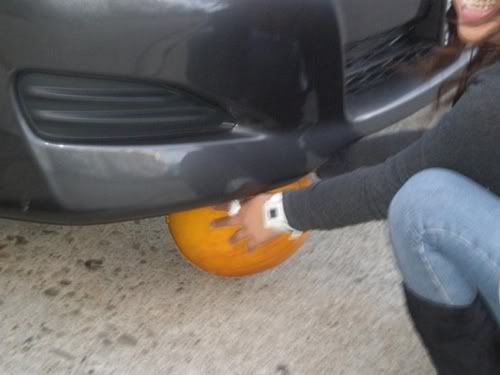 Laughing my ass off trying to get it out from under. :) :/
Drawing!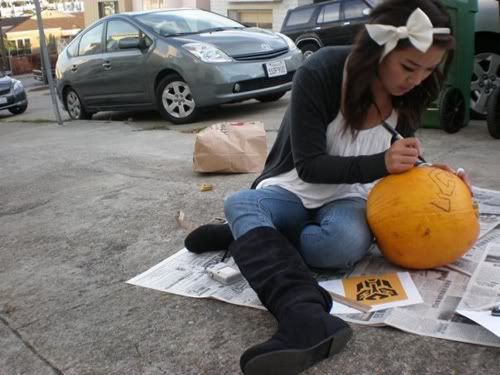 Looks artistic huh? :)
Jellyfish?
Autobots didn't work out... So I turned it into....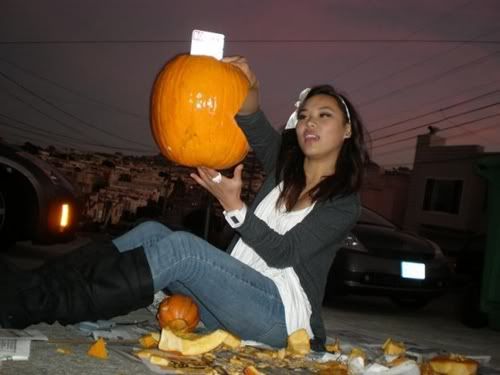 PACMAN!
< :)
And I made a baby. :)