I have to talk about my day! May be boring, but I must intrigue everyone with my boringness! Whole point of a blog, no?
So, I woke up at around 10AM. And I tried so hard to fall back asleep, no luck. So I stayed in bed, absentmindedly doing nothing. And then I remembered!
I took off the french pedi last night. Ugh, what a drag. I love my french pedis, not only cus they are pretty but because they're DAMN EXPENSIVE! I've gone to TIME FOR NAILS the last 3-4 times for my french pedi, cus their so nice. :) $17 but I pay $25 cus they treat me so nice and they do a good job.
Shit, no more french pedi, and I am not going out in sandals with ugly toes! And I vowed the last french pedi was the last one I got for the season because it's going to be winter soon. Who wears sandals in the middle of winter, lah?! Cold feet, haha!
Anywhooo, so I busted out my tray of drugstore nail polishes. A dazzling, sparkly red vs. a cute, innocent pink. I picked the red. DAMN WRONG MISTAKE! Should have went with the pink. I totally didn't feel like doing my toe nails today, but whatever. I painted the top coat, then 2 coats of red on top. Turned out not bad! No design, so it looked kind of disgusting. And then, [LIGHT BULB GOES OFF!] I saw some nail decals at the store. Time to tell baby!
So we were off. We went to eat first of course. Koi Palace chicken feet in black bean sauce is damn good, lah! We ordered a bunch of stuff that we couldn't even stuff down our throats anymore. We took the "yellow lava bun" home. DELICIOUS! Didn't take pictures. Whata loser.
So we went to the store after we ate, cus we were so hungry! I bought two packs of the decals and decided to put them on, BUT SHIT! My stupid peeptoe shoes fuck me over, lah. It rubbed off some of my hard work, so I'm fucked. Good for me, lah! I'm going to paint them pink and put the sexy decals on.
So then we ended up at 7-Eleven.
DID YOU GUYS KNOW THAT 7-ELEVEN IS NOW SUPPORTING DOMOKUN?! OMGOSH.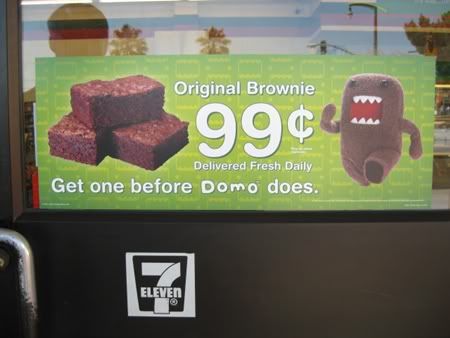 Front door of 7-ELEVEN.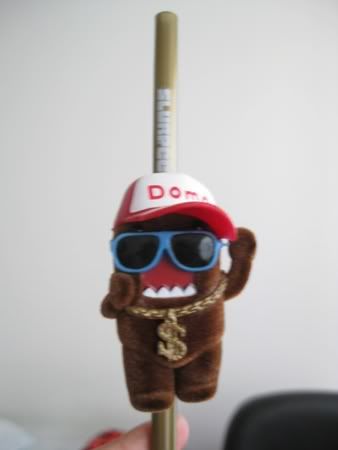 Gangster Domokun straw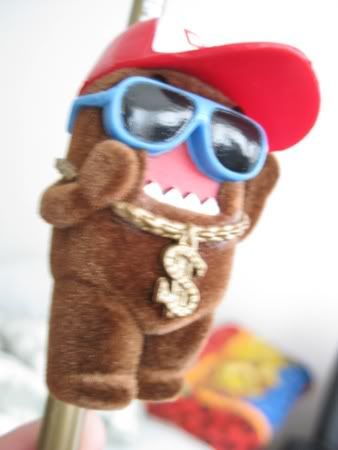 Slurpee!
There's collectable cups now too! D:!!!