Hello everyone! I'm bored and I must update! So I spent the majority of my time today looking at blogs and such. Stumbled upon a beautiful one besides
Xiaxue's
.
Ekimura
is the blog. Her header is really pretty, but the stuff under could use some touching up. Btw, I think she's pretty. Clear, pale, white skin and big round eyes, WHAT'S NOT TO LIKE?! :)
Saw one of her tutorials and I'm planning on buying that Panasonic eyelash curler. Probably going to Sephora tomorrow to purchase one similar. If the Sephora one doesn't work, I am most definitely going to order the Panasonic one from online.
With the new advances in nearly EVERYTHING! I cannot sit here using the same only $1.50 eyelash curler from Ichiban Kan. Cheap, yes! But it barely curls for me anymore. :/
Plus I've been having a bad week, I feel like I'm looking uglier by the minute. What is going on?! I must have done something wrong. I'm breaking out and the Likas soap is making me darker by the lather. Must do something about my barely visible "double" eyelids. Hmmm.. I must be putting it on wrong, looks damn ugly when I put on makeup, lah! Oh yeah and the eyebrows! UGH, I was so sick of having ugly eyebrows I just decided to use the eyebrow razors and make them beautiful like before. They used to be nice, I cannot tell you enough. I really don't know what happened! They just decided to turn oogaly one day. :/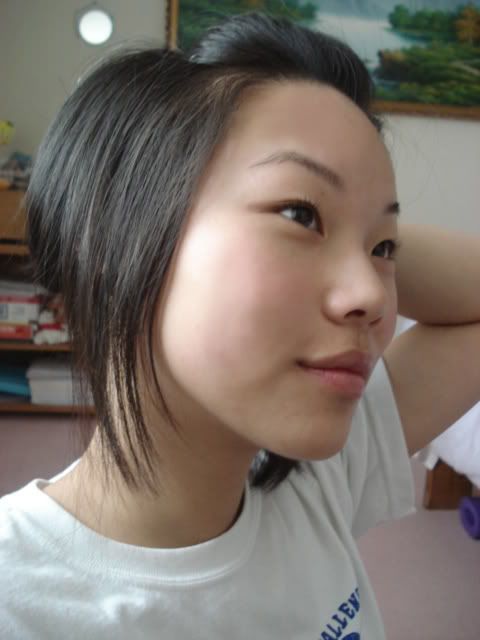 SEE!? Nice eyebrows! No photoshop! Natural and no makeup! WTH happened?! :/

After the failed attempt to get my eyebrows back to the way there were back then... I have to grow them out yet again. I will try with utmost restraint not to do anything to them until they grow out fully. Why couldn't I be blessed with nice eyebrows like my sister?! :/
Watch for my update on the eyelash curler! Hmm, must also try that Extra Virgin Olive Oil eyelash marinating. A soompier showed us that we can get longer, thicker lashes with a household cooking item! Whoo hoo.
NTS:
HP laptop
White peacoat
Tattoo
More cute clothes
Hair dye
Circle lens
Lighter skin, I'm feeling too yellow. (Which isn't a problem but clean, light skin is the bomb.)
Post: Products not to buy